04.23.08
home | metro silicon valley index | the arts | stage | review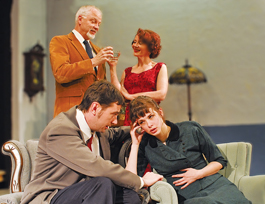 Photograph by Dana Grover
FACULTY FACE-OFF: George and Martha (above, Tom Ammon and Sarah Shoshana David) 'entertain' Nick and Honey (Jeff Wimett and Megan Wilson).
Get the Guests
Albee's couple play deadly verbal games in Northside's 'Virginia Woolf'
By Marianne Messina
BE WELL RESTED before taking in the wicked humor of Edward Albee's classic Who's Afraid of Virginia Woolf? at Northside Theatre Company. After the second intermission, the play's proto-American couple, George and Martha (Tom Ammon and Sarah Shoshana David), grow exhausting with their merciless "game" of lacerate the partner's psyche. Still, Meredith King's unconventional casting makes this Northside production among the funniest you're going to see. Martha: "I like your anger; you're such a simp." George: "In my mind, Martha, you're buried in cement." Martha: "You're going bald." George: "So are you."
Eagerly, these battle-scarred combatants drag newcomers like young, ambitious biology professor Nick (Jeff Wimett) and his younger wife, Honey (Megan Wilson), into the fray. George refers to not especially bright Honey as Nick's "baggage" in a money-based marriage, but at the conservative college where George has failed to move ahead, Nick and Honey have the right stuff. In the hands of costume designer Lisa Fisher, Honey is not dressed as ditz or mouse but packaged in conservative pearls, neat hair-knot and smart dress.
Throughout the first two acts Ammon's easygoing George, with his smiling eyes and pulled-back manner, maintains the engaging illusion that this intense verbal sparring is just a grueling competitive sport: "Martha and I are merely exercising. We're walking what's left of our wits." Ammon's George can shake off Martha's hits like the proverbial duck, embodying the strategy he recommends to Nick—"accommodation, malleability." Coifed fashionably, but more fly-away than Wilson, the red-haired David often eases up just before becoming overbearing, suggesting Martha's occasional satisfaction with George's ability to land on his feet—also rendering their relationship more nuanced and intriguing. Eventually, Martha's lightly cutting manner burgeons into balls-out and as incessant as her boast in a moment of triumphant one-upsmanship, "I am a Gatling gun!" David also brilliantly mixes bitch with sexuality, poured revealingly into her short (relative to Honey's) white (as opposed to honey's navy green) dress. Almost exhibitionist in her strutting, self-rubbing manner, she obviously enjoys likewise massaging double-entendres with her voice: "George didn't have much push" (emphasis on "push"), she says, bemoaning his failure. "He wasn't very aggressive; he was a flop."
Wimett's somewhat inscrutable Nick seems coldly opportunistic. Even through the gotcha game that George terms "get the guests," Nick seems to be a natural, unconscious gamer, signaling his sense of superiority in doubtful glances and too-much-information rolls of the eyes. "It's you ineffectual types that worry me," Nick says to George. Wilson's Honey is sufficiently dazed by alcohol to be unwitting as the butt of George's humor (making her a less tragic figure). As the drunken Honey struggles to maintain her proper veneer, Wilson's illuminating portrayal shows poise to be little more than a collection of trained habits.
Mostly, Albee's predatory irony finds comical egress in the play's metaphor—not simply marriage as war, but durable marriage as a kind of global trouble spot strengthened by periodic annihilation and reconstruction. But in Act 3, Albee must turn his joke on the audience with jugular-ripping bathos that goes on uninterrupted over speeches long enough to cause dehydration. Yet, within the requisite Albeean finale—broken people strewn over the ground—Northside's staging stresses the tenderness of the play's almost kind resolution.
WHO'S AFRAID OF VIRGINIA WOOLF?, a Northside Theatre Company production plays Thursday–Saturday at 8pm and Sunday at 3pm through May 11 at 848 E. William St., San Jose. Tickets are $12/$15. (408.288.7820)
Send a letter to the editor about this story.