04.23.08
home | metro silicon valley index | the arts | stage | review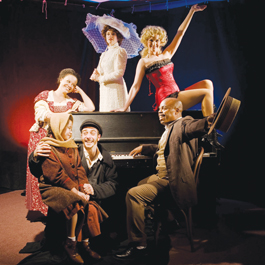 WEB OF CONNECTIONS: The fates of three families converge in 'Ragtime.'
What the Doctorow Ordered
CMTSJ's Marquee Productions look at World War I–era politics and society in 'Ragtime'
By Marianne Messina
SPEAKERS welcoming the pope to America couldn't resist our favorite narrative: disparate groups come together, struggle for freedom and follow the money, er, their dreams. If any musical captures this spirit without being lazy, bogus, sappy or self-congratulating, it's mega-award-winning Ragtime, with its score by Stephen Flaherty and lyrics by Lynn Ahrens. The show is now running in a  Children's Musical Theatre of San Jose Marquee Production (the company's annual adult show cast from CMTSJ alumni). Ragtime's strong plot centers around Coalhouse Walker Jr. (RaMond Thomas), an aspiring black pianist. Coalhouse appears to abandon Sarah (pregnant with his son), until things go right for his career and he returns to court Sarah (Malinda DeRouen). Having been taken in by Mother (Ariel Buck), Sarah refuses Coalhouse's overtures for a year.
Based on an E.L. Doctorow novel, the musical focuses on the struggle of three families to maintain cohesion against internal or external pressures of pre–World War I New York. In the wealthy New Rochelle family (nameless in a clever reversal), the relationship between Mother, Father (Mark Martinez) and Younger Brother (Ian Leonard) is strained by their differing views on civil rights. Representing the entrepreneurial immigrant, Tateh (Andrew Ceglio) struggles to keep and support his young daughter (a cute Isabella Wilcox, alternating with Jenny Chapman). Traveling from town to town in search of work and someone to buy his ideas, Tateh merges with the larger story line when he meets Mother, and his daughter meets Coalhouse III (a well-hailed Alijah Banks).
Three distinct choral parts in ensemble song-and-dance numbers often emphasize the merging disparate groups—blacks, blue bloods and immigrants—and this production enhances the effect by costume and choreography. Powerful singing in these numbers, especially when joined by minichoruses stationed at side balconies, can cause the skin hairs to shiver. Thomas' sweet-voiced Walker evinces an extra touch of vulnerability and renders the final anthem, "Make Them Hear You" (as Coalhouse sacrifices his future to "do the right thing"), especially stirring. The lead vocals are worthy of Flaherty's moving music, especially "Your Daddy's Son," a yearning song Sarah sings to her baby, and "Wheels of a Dream," the love duet between Coalhouse and Sarah. In this number, director/choreographer Kevin Houge has the couple slow-dance together, arms upheld for an embrace that never connects.
Projection artist Josh Miyaji (who miraculously also had time to play the Irish thug Willie Conklin) provides one of the production's most delightful elements. Miyaji's lighting effects help create a receding train and a shooting star, and in a touching duet between Tateh and his Little Girl, Miyaji's irresistible shadow-puppet-like images upstage the humans. Miyaji creates a wondrous plane traveling through the sky, which inspires Mother's Little Boy (Will Haubl, alternating with Trent Brunngraber) to say, "Warn the Duke!" Here, Miyaji's imagery allows the boy's statement (presaging the assassination of Archduke Ferdinand, the 9/11 of World War I) to combine both dread and awe. The story is dotted with historical figures, like bold-mouthed anarchist Emma Goldman (Kathy Burch), and an arrangement of glass-railed balconies often sets these characters aloft as towering voices of the zeitgeist. Throughout, the production brings clarity to the paradoxes of the times, full of wonders and brutalities, bubbling with possibility and seething with hardships.
RAGTIME, a Marquee Production by Children's Musical Theater San Jose, plays Thursday at 7:30pm, Friday at 8pm, Saturday at 2 and 8pm and Sunday at 1pm through April 27 at the Montgomery Theater, Market and San Carlos streets, San Jose. Tickets are $29. (408.288.5437)
Send a letter to the editor about this story.