April 25-May 1, 2007
home | metro silicon valley index | columns | silicon alleys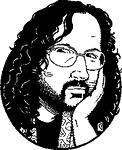 Silicon Alleys
Walking San Carlos
By Gary Singh
MANY FOLKS older than me have declared that the stretch of San Carlos Street between downtown San Jose and Valley Fair should be transformed into a grand promenade, not unlike Melrose or Santa Monica Boulevard in that City of Angels down south. After all, there exist long stretches of road in L.A., especially in the more nauseating parts like Carson or Torrance, that completely resemble San Carlos Street, but with just more strip clubs and adult bookstores.
So, being the adventurous type, I had to hit the pavement yet again and go re-explore some of that road's most compelling locales, beginning with, of course, two San Jose institutions: Falafel Drive In at the corner of San Carlos and Revel, and Just Leather, which is right across the street. That small gray motorcycle has been parked in front of Just Leather for at least 20 years. At Falafel, businessmen packed the place as I scoped it out.
From there, I ambled eastward to the intersection of San Carlos and Bascom, one of Silicon Valley's most beautiful junctions. You've got the Pink Poodle and Alex's 49er Inn, one of San Jose's legendary cocktail lounges. You've also got Saver's thrift store and—bada bing—Babyland. And don't forget Time Deli with that renowned clock that everyone's driven by for the last two decades. Alex's also now has prime rib dinners on Tuesdays for $10. That's a smokin' deal. Upon arriving at the scene, I sauntered behind the place since dive bars are always more fun to enter through the back. Two ice machine repairmen were working on something outside, and over behind the vacant building next door, someone had dumped a broken refrigerator and an old mattress.
It's only a hop, skip and a jump to the next locale where it's more fun to enter through the back: Y Not Adult Toyz. But since a rack of Metros occupies the front, I had to enter through that side instead. I poked around and then left. Y Not, I heard somewhere, was a bar at one time, which is why the "Y" resembles a martini glass. Also, there's nothing like seeing a pink banner that says, "San Carlos Street Business District" right across the street from Y Not Adult Toyz.
Moving even further eastward, I investigated a few vacant lots and then found Burbank Pet Hospital. The place has two doors. One says "Cat Entrance" and the other says "Dog Entrance." Man, there were so many establishments on that street to check out that I had to finally infiltrate a third place at which it's more fun to enter through the rear: The Red Stag, another legendary watering hole. Yeah, they fixed it up, but it's still a rockin' place anyway.
Speaking of the San Carlos Street Business District, there's even a brochure and a website: www.san carlosstreet.com. In the directory of businesses, Red Stag, Alex's, The Pink Poodle and Y Not are listed in the "Entertainment" section.
But this expedition did not stop there. I felt it necessary to pause for a moment at the corner of San Carlos and Willard where Fiesta Lanes used to be. The sign is still there, but the war on bowling alleys continues, I guess. Another great dive bowling alley bites the dust. The next recommendation as one continues east from there is a place that has the most ridiculous name anywhere: Casa De Mini Storage. I take all visitors to that place and I think someone once took a picture of it and the picture wound up on Johnny Carson, Letterman, Jay Leno, or some other show. I forget.
After all the antique shops, car lots and bizarre retail that line that strip, there is one and only one way to finish the sojourn: The Diamond Laundry and Cleaners building just west of Highway 87. It is a masterpiece, and the sign is one of San Jose's classic old-school oddities.
Apologies go out to all those places not mentioned here due to lack of space. San Carlos Street definitely rules.
Contact Gary Singh or send a letter to the editor about this story.