April 25-May 1, 2007
home | metro silicon valley index | silicon valley restaurants | feature
Photographs by Felipe Buitrago
Kaiseki master: Chef Katsuhiro Yamasaki cooks at Kaygetsu; the restaurant was ranked just below French Laundry and Gary Danko by Zagat.
Why I Left California Rolls
Sushi has long reigned as the quintessential Japanese food in America. But several extraordinary South Bay restaurants are ushering in a new era of sophisticated and diverse Japanese cuisine, featuring the country's more exotic cooking styles: kaiseki, kappo and izakaya.
By Stett Holbrook
TOSHI and Keiko Sakuma owned a popular sushi restaurant in Menlo Park for nine years, but the crowds and hectic pace were wearing them down. They needed to make a change.
But the husband and wife team didn't want to open just another Japanese restaurant. Fortunately, they had two chefs working for them trained in kaiseki, a rarefied culinary style that celebrates the seasons with multicourse meals that are as sublimely delicious as they are visually stunning. It's the pinnacle of Japanese cuisine, but it's virtually unknown in the Bay Area.
The Sakumas got encouragement for their new venture from the fact that a growing number of their non-Japanese customers were asking for dishes and ingredients that went beyond typical sushi bar fare.
"I said, 'Hmmm,'" Keiko Sakuma remembers, "I think there's potential here."
So three years ago, they sold the sushi bar and opened a restaurant in a converted Washington Mutual bank in an anonymous shopping center off Sand Hill Road in Menlo Park. They called it Kaygetsu—which means both "beautiful moon" and September, when the moon is said to be most lovely—and described it as "classic Japanese cuisine."
"It was risky for sure," says Keiko Sakuma, a soft-spoken women with keen eyes who runs the front of the house. Toshi Sakuma, a short man with a clean-shaven head, presides over the small sushi bar.
"In the beginning, we didn't know how customers would take it."
But the Sakumas' timing in opening the restaurant was spot-on.
Japanese have deep roots in the Bay Area, particularly the South Bay, where many immigrated to work in the once vast fruit orchards and nurseries of Santa Clara County.
Over the years, Japanese restaurants became as common as burger joints and taquerias. As such, these one-size-fits-all restaurants were geared more for Western tastes than traditional Japanese sensibilities.
As a result, even in Silicon Valley, classic Japanese food means dragon rolls, chicken teriyaki and sake bombs all served under one roof.
But there is a new era of Japanese dining dawning in the South Bay. Kaygetsu and a handful of other Silicon Valley Japanese restaurants like Nami Nami, Gochi and Ramen Halu are part of an emerging culinary trend: specialized restaurants that celebrate one particular school of cooking rather than the jack-of-all-trades approach that has traditionally defined Japanese food in America. The growing sophistication of Silicon Valley diners and the need for Japanese restaurants to distinguish themselves from the crowded field seems to be driving the trend.
While San Francisco and other parts of the Bay Area have standout Japanese restaurants, Silicon Valley has become the spot in Northern California for exceptional quality, specialized Japanese food where California rolls fear to tread.
Kaiseki Style
Kaiseki has its roots in Kyoto, the former imperial capital of Japan. Hundreds of years ago, Buddhist monks were said to tuck small warmed stones in the folds of their kimonos to assuage their hunger after long hours of meditation. The heated rocks pressed against their growling bellies and gave them a sense of fullness. Over time, the hot stones were replaced by small, minimalist dishes such as miso soup, grilled fish and vegetables. By the 16th century, these delicate meals grew into the culinary tradition called kaiseki.
Kaiseki meals are designed to precede a formal tea ceremony and more recently have developed to be served with sake. The food celebrates the seasons, in both the choice of ingredients and presentation. Even the plates and glassware play on seasonality.
Before digging in, it's important to take a minute to appreciate what's before you. A kaiseki meal is meant to be savored with the eyes as well as the tongue.
The first course, called sakizuke, is supposed to be the most seasonally evocative. At Kaygetsu, the first course on the current menu includes seared tuna belly nigiri, tiny Monterey Bay squid tossed with a vinegar miso sauce, wild yamaimo potatoes and snap peas, and a fava bean soup topped with tiny rice crackers.
Although kaiseki is a tradition-steeped school of cooking, the cuisine incorporates a few Western ingredients. At Kaygetsu, the current spring menu includes grilled ocean trout served with a Brussels sprout and orange salad. The dessert course is an East-meets-West sake crème brûlée.
Kaygetsu earned a food rating from Zagat just below the French Laundry and Gary Danko, two of Northern California's top restaurants. That's all the more impressive when you see Kaygetsu's kitchen. I've seen hot dog stands that are bigger. Chefs Shinichi Aoki and Katsuhiro Yamasaki work in a cramped by tidy space alongside two assistants and a dishwasher. It looks more like a ship's galley than a top-rated kitchen.
In spite of a slow first six months, Kaygetsu soon took off. I ate at Kaygetsu a few months after it opened, and the experience still shimmers in my brain. The food was superb.
Aoki and Yamasaki create a seven-course meal for $95. That may sound steep, but it's actually a bargain. In Japan, kaiseki meals can cost as much as $500 per person. In Japan it's the kind of meal most people eat once a year. Some kaiseki restaurants are so exclusive you must be a member or be invited to gain entry. The restaurant's principal customers are businessmen out to impress their guests.
"[In Japan] I don't know how many times in your life you can go to kaiseki," says Keiko Sakuma.
But at Kaygetsu, some customers come once a month, she says. Who can blame them?
Kappo Style
Restaurateur Keisuke Suga has introduced another school of Japanese food to Silicon Valley with his new Mountain View restaurant Nami Nami. The 3-month-old restaurant specializes in kappo-style cuisine. It's similar to kaiseki in that it is artful, labor-intensive, seasonally driven food associated with the city of Kyoto, but it's less formal and doesn't include prix fixe, multicourse meals. It's upscale Japanese bar food in which diners watch the chef prepare the food before their eyes. It's like a sushi bar, but the menu is broader and the chef's repertoire greater.
Kappo restaurants are also particularly popular with businessmen. The small plate, tapas-style approach fits well with Japanese social etiquette. The host always finishes first and let's his guests take their time to finish and dictate when the next course will be served.
"You can tell who is the host and who is the guest by looking at the plates when they come back," says Suga.
Nami Nami has a small bar, but most of the restaurant is given over to tables and chairs, so most diners won't get one-on-one with the chefs. And that's too bad because the three chefs are something to watch.
Suga worked with his cousin Shoichi Shiono at Hanmaru, a Sunnyvale sushi bar he's hoping to sell. Shiono spent six years training as a kappo chef in Kyoto but wasn't tapping this latent talent. Kappo chefs go through 12 years of training but Shiono cut out early to help his cousin.
"I didn't know how good he was," he says. "He can cook everything."
Suga brought over two other kappo chefs from Japan to open Nami Nami, and they all share equal cooking duties. Nami Nami's menu is vast, but for me the cold tapas, salads and sashimi best showcase the kitchen's talent. The baby ocean eel served in a ginger-spiked dashi sauce was a mind-blower. The shimmering, translucent eels float in a small wine glass above a few shiso leaves as their tiny, metallic eyes peer out. The eels don't have much flavor, but their clear, slippery texture combined with the crisp, briny, fresh flavor of the dashi and the bite of the shiso leaf made this an exciting dish.
The sashimi is outrageously good. Sashimi for three included luscious, shimmering slabs of exquisitely fresh tuna, tai snapper and amberjack. On another visit for lunch, the special bento box included the best squid sashimi I've ever had. It was as fat and creamy as a hunk of Kobe beef fat.
One of the standout dishes that showcased the kitchen's use of non-Japanese ingredients was the amaebi tartar salad. Raw, sweet shrimp are served in a bowl of light and tangy chilled tomato and vegetable soup that tastes a bit like gazpacho. The shrimp, shell and all, are lightly battered and fried and served on the edge of the bowl. The shrimp are young enough that you can eat the exoskeletons with a satisfying crunch.
Nami Nami is a hit with visiting and local Japanese. On my visits the restaurant was filled with an almost all-Japanese clientele. Suga says Japanese customers are the hardest to please and if they're happy he's doing something right.
"If a Japanese customer comes back then it shows success," he says.
I'm sure non-Japanese diners will become repeat customers as well.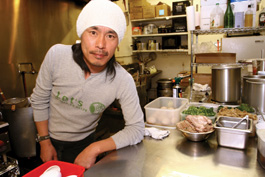 Slurp advisory: Ramen Halu's ramen master Kumao Arai surfs often with other members of Silicon Valley's Japanese food elite.
Izakaya Style
While Kaygetsu and Nami Nami are the sole examples of their respective culinary styles in the South Bay, Silicon Valley has a number of entries in the izakaya category. Izakaya is essentially Japanese tapas, small plates of food made to go with sake, beer and shochu. Because of the downturn in Japan's economy, many high-end kaiseki and kappo chefs lost their jobs and now cook in izakaya restaurants, a development that has elevated the quality and creativity of izakaya.
Silicon Valley izakaya restaurants include Tanto, Saizo, Yume-Ya and Gochi. While each has its virtues, Gochi is the most ambitious.
Masahiko Takei, Gochi's Japanese-born chef and owner, began working in izakaya restaurants in Singapore when he was 18. Now 34, he is one of Silicon Valley's top Japanese chefs. Masa, as he's known to friends and fans, developed his skills at Tanto in Sunnyvale, Blowfish Sushi in San Francisco and the great but short-lived Le Poisson Japonais in Palo Alto.
Takei, a thoughtful, burly man who sports a thin goatee, calls Gochi "Japanese fusion tapas." Most of the food is straight-up Japanese fare, but he throws in a few American, French and Korean twists.
Gochi's dinner menu (the lunch is much smaller) goes beyond traditional fried and grilled izakaya offerings to include salads, stews, rice dishes, soups, carpaccio, soups, clay pot dishes and more. It's more than 100 items long, so it helps to go with a big group so you can divide and attempt to conquer the menu.
The various seafood carpaccio dishes show off Takei's creativity. Thinner than sashimi, these dishes pair poppingly fresh slices of fish with inventive oil infusions, herbs and fruit decoctions. On one of my visits, the amberjack was matched with a delicious yuzu (a Japanese citrus), pepper and plum wine sauce and sprinkled with chopped chives.
One of the most memorable dishes I ate was the tako (octopus) salad. Chunks of tender and flavorful octopus were tossed in a haystack of fresh greens and anointed in a light, refreshing plum paste dressing I could eat by the spoonful.
Although I wouldn't have ordered it on my own, our waitress suggested we try one of the "fusion pizzas." The ethereal, blistered crust is made from rice paper and is wonderfully light and crunchy. Mentai kinoki is a rich, far-better-than-it-sounds combination of spicy cod roe, snow crab meat, wild mushrooms, bacon and cheese. The roe floated in a rich mayonnaise that formed the pizza's "sauce."
While Gochi's clientele was originally dominated by visiting Japanese businessmen in town for just a few days, its word-of-mouth popularity (Gochi doesn't advertise) has led to greater numbers of local diners, mainly Asian but not all Japanese.
And there's another change too, says Takei. As more non-Japanese discover the restaurant, many bring their families and order like they would in a traditional sit-down restaurant and eschew the slow-paced, eat-drink-chat-order more food-drink rhythm that characterizes izakaya restaurants.
Ramen
While izakaya and kaiseki are new to many dinners, ramen restaurants are probably the best known of the growing variety of specialized Japanese restaurants. Ramen shops are to Japan what fast food is to America. They're very popular and can be found everywhere. The big difference, of course, is that while American fast food is uniformly wretched wherever you go, the quality and style of ramen varies from town to town in Japan and in Silicon Valley as well.
And let's be clear, ramen is not that stale package of dried noodles and salty powder you heat up in the microwave. Ramen is a high form of culinary art made from subtle and sophisticated soup broths, handmade noodles and various fresh-cut vegetables and roasted pork. At its best, a good bowl of ramen is one of life's perfect meals. And for me, the best you'll find around here is at Ramen Halu, a 4-year-old temple of ramen in San Jose.
Ramen Halu's ramen master Kumao Arai was a full-time surfer and part-time ramen maker living in a beach town outside Yokohama when a friend convinced him to open a ramen shop with him in Silicon Valley.
"People needed his ramen here," says Hiroko Arai, his wife. She says other ramen restaurants in the area are too "Americanized."
In addition to ramen, Ramen Halu is dedicated to Arai's passion for surfing. Two custom surfboards hang on the wall. There are photos of surfing and beach scenes throughout the restaurant. A fish mural swims on the ceiling.
Surfing is a subtheme that runs through many of Silicon Valley's best Japanese restaurants. Suga, Nami Nami's owner, surfs. Gochi has a couple of surfers on its staff. The noodle makers at Mountain View's Maru Ichi, another top ramen house, also surf. And because it's such a small community, many of Silicon Valley's Japanese food elite surf together in Santa Cruz. After work, they'll hang out together and put back glasses of shochu.
Ramen Halu's menu makes numerous claims to healing and health benefits for all the ingredients that go into the ramen and Kumao Arai's emphasizes his reliance on fresh and natural ingredients and absence of MSG.
"I always use natural ingredients because I'm a surfer," says Arai, who speaks in halting English and wears a white towel around his head of long black hair. "The ocean gives me power and that power comes from nature." Makes sense to me.
There are several varieties of ramen on the menu, but for me the house special Halu ramen would be hard to beat. While the fat noodles are springy and fresh and the toppings of pork loin, bamboo shoots, Chinese black fungus, green onions, spinach and nori are all great, for me it's the broth that makes the ramen so good. Arai actually makes two broths (pork and chicken) and combines them to make his ramen. The result is a rich, gravylike soup of great depth and dimension.
There's nothing wrong with spicy tuna rolls and a bowl of boiled edamame, but given the quality and growing quantity of specialty Japanese restaurants in Silicon Valley there's a lot more to choose from. In the Bay Area, there's never been a better time than right now or a better place than Silicon Valley to explore Japanese food that goes way beyond sushi.
Send a letter to the editor about this story.