April 25-May 1, 2007
home | metro silicon valley index | the arts | stage | review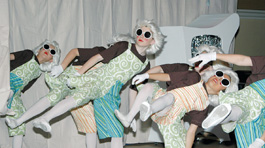 Larry Sacks Photography
Oompa band: The Oompa-Loompas kick up their heels in 'Charlie and the Chocolate Factory.'
A Dahl's House
Tabard Theatre brings 'Charlie and the Chocolate Factory' to life onstage
By Marianne Messina
IT WAS NEVER so obvious until the Tabard Theatre Company's production of Charlie and the Chocolate Factory, but little girls move a lot like Oompa-Loompas. Under the choreographic tutelage of Carol Anne Haws, this batch of small, blond-wigged, red-cheeked cherubs synchronized their moves to some rather complex staging as the ever-busy factory workers. In their winged jodhpurs, they divided and performed complementary movements from floor moves to lifts; they made human wheelbarrows; they kept the line together better than a lot of touring dance companies. And the quirky music, arranged by (director) Ana-Catrina Buchser and Bobby Buchser, had oompa gurgles and Loompaland weirdness, yet enjoyable melodies rendered in beautiful singing by the girls—these OLs have charming voices.
Based on the book by Roald Dahl, the episodic story carries less weight than its fantasy essence. And this production is well on the way to creating that fantasy with these ever-present, dwarfish folk. In the story, the goodhearted (though impoverished) boy Charlie Bucket (a pleasant Justin Isaacson) wins a free tour through a chocolate factory. Eccentric factory owner Willy Wonka serves as the tour guide to Charlie, his grandfather and four not-so-nice children with their equally unsavory guardians.
In addition to setting the fey tone, the other main delight to render from this material is the fate of each disobedient child: the spoiled daddy's girl, Veruca Salt (Hannah Harper), the overindulging chocoholic Augustus Gloop (Eric Colvin), the recalcitrant Violet Beauregarde (Eden Jackel), and gun-toting TV Western addict, Mike Teavee (Nick Iles). As each child does something Willy warns them not to do, it's like waiting for carnival targets to get dunked. In this carnival, streams of chocolate are made from billowing brown sheets held by Oompa-Loompas.
Playing the tour guide and factory owner, Andrew Ceglio maintains Willy's childlike moral compass (cynically speaking), somewhere between sadistic and oblivious. Ceglio sings well, produces a Witchiepoo laugh and looks colorful in his satin waistcoat and tall Victorian top hat. The bare stage moments that dished out backstory in lengthy narrations could have been helped along by visuals or stage business—a magician's bag comes to mind.
But these visual blank spots made the rich sampler of colorful and priceless set pieces—put together and decorated by the cast themselves—all the more impressive. The Oompa-Loompas have a great laboratory with cauldrons that actually bubble and steam, contraptions that work, forms of heads that rotate on mechanical wheels. Though the show occasionally trips along with the rumpled finesse of a school play, it makes up for lack of polish with gleeful ingenuity. In one of the most amazing bits of stage biz, Violet—the one who's told not to chew the new gum—actually blows up like a balloon, slowly, stealthily so you almost don't see it coming. Ms. Jackel handles it skillfully. And thanks to the Hoover stage's many levels (Tabard constructed a flooring across the pit), this production was able to make bad children really go down the drain.
Charlie and the Chocolate Factory, a Tabard Theatre Company presentation, plays Friday at 8pm, Saturday at 3 and 7pm and Sunday at 2pm through May 5 at the Historic Hoover Theatre, 1635 Park Ave., San Jose. Tickets are $10-$22. (408.679.2330)
Send a letter to the editor about this story.