April 25-May 1, 2007
home | metro silicon valley index | the arts | stage | review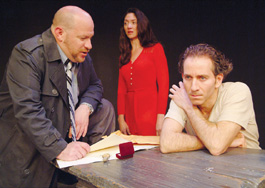 Photograph by Dana Glover
Russian to judgment: Rob Snevely (left), Veronica Spencer and John J. Hanlon star in 'Crime and Punishment.'
St. Petersburg, CSI
Northside Theatre digs into the Dostoyevsky
By Marianne Messina
THROUGH a script by Marilyn Campbell and Curt Columbus, Northside Theatre Company takes Dostoyevsky's arduous book Crime and Punishment and turns it into a quiet, sullen production, distilling the Russian novel into 90 stage minutes without intermission. Raskolnikov (John J. Hanlon)—whose name suggests a person split off from himself—contemplates the idea that an extraordinary person should be free to commit a murder if the death enables him to perform a lot of good for others.
The play starts with the gentle interrogation of Raskolnikov by Porfiry Petrovich (Rob Snevely). In order to test his theory, Raskolnikov commits the crime, begging one key question: the assumption that he is an extraordinary person. The question comes back to haunt him, both internally and externally, when the Columbo-like, trench-coated Inspector Porfiry hits on this Achilles heel (which is how we know he's smarter than he pretends to be). After following Raskolnikov's argument with sincere curiosity, Porfiry asks how anyone can be sure who's extraordinary and who isn't.
Director and set designer Richard T. Orlando sets the action of this play in one room, gritty, brown, horrific as Raskolnikov's self-described squalor and containing only a table and two stools. Surrounded by doors, the room is constantly breached from the outside. It works as a metaphor for Raskolnikov's inner world, startled by a lot of knocking from the outside, entries by other people who in turn transform Raskolnikov's tiny one-room apartment, whether by flashback, dreams or present reality, into a police interrogation room, the house of his friend Sonia (Veronica Spencer), the pawn shop of old Alyona Ivanova and the scene of the murder. This is a vision in which Raskolnikov's confining, stench-filled room is his mind.
Playing this promising but guilty student, Hanlon unloads his thoughts in the meditative, almost distracted cadences of a stoner. It's as if he needs time to let every spoken word settle in beneath the fog. When Raskolnikov's mother (Liz Prentice) enters, he seems hesitant to shift gears and engage her. Though Raskolnikov has planned to rid the world of one useless, money-gouging pawn broker and to do good deeds with her money, he conspicuously does nothing with the money once he's killed her. He buries it. Where the book shows a clear derailment of Raskolnikov's life after the murder, the play is not organized on either side of the murder, but moves in a nonsequential progression toward his confessions. It is this buried money that suggests that Raskolnikov's pre-murder inspiration is lost to him.
The dazed quality of this production works mostly in giving a sense of people dulled or detached from vital parts of themselves—maybe soul or love. As the pawnbroker, Janet Strangis' Alyona Ivanova comes from a place of distant apathy. Spencer's Sonia seems always like the sad icon of a martyred saint. It's as if they're mere thoughts or ghostly memories rather than people—a possibility that only magnifies Raskolnikov's state of narcissism, even solipsism. Dostoyevsky's issues of redemption, confession, pride, love, also take on a distanced quality. "Do you believe Lazarus was raised from the dead?" is repeated in different contexts like a chant. Bits of conversation are repeated; the murder scene plays out twice in succession, with eerie, monochrome lighting that renders it surreal. Interspersed through the scenes, violin music, often contemporary and jarring, strings the sense of displacement with tension.
The richest reward in this staging comes when Hanlon brings Raskolnikov into haunting interaction with the audience. He balances shakily on the stage's edge, enacting his description of a man standing on a ledge, buffeted by the wind, desperately fighting to live another day without falling, and he asks whether such a limited life has value. As Raskolnikov questions the audience about their response to his argument in favor of murder, Hanlon looks individual audience members in the eye. Not the happiest play out this spring, Crime and Punishment will put you in touch with enough chilling questions to complement a long, Russian winter night.
Crime and Punishment, a Northside Theatre Company presentation, plays Thursday-Saturday at 8pm and Sunday at 3pm through May 13 at 848 E. William St., San Jose. Tickets are $12/$15. (408.288.7820)
Send a letter to the editor about this story.