April 25-May 1, 2007
home | metro silicon valley index | silicon valley restaurants | review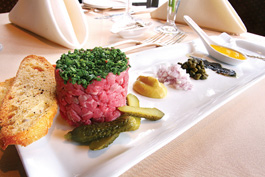 Photograph by Felipe Buitrago
Unusual suspects: Steak tartare at Zucca's
Zucca Punch
New Palo Alto bistro offers European union
By Stett Holbrook
Four-month-old Zucca European occupies a low-profile spot on Bryant Street, just off Palo Alto's restaurant-dense University Avenue. Since the area has more than its share of Italian restaurants, Zucca owner Praveen Singha sought to offer diners something other than another pasta-and-cannoli joint.
In spite of its Italian name ("zucca" means squash), the restaurant's menu leans heavily on France, but also touches ground in Spain, Greece, Turkey and northern Europe. Though covering so much ground risks offering a collection of greatest hits rather than a studied exploration of a single cuisine, more often than not Zucca manages to do justice to the dishes it serves.
The restaurant took over the space formerly occupied by Nouveau Trattoria. It's the sister to Zucca Mediterranean, a similar restaurant in Mountain View that features more pasta and pizza.
A long bar and wall of wine greets you when you walk in. Zucca has an eclectic, 2,800-bottle wine list that is one of its real assets. It's a long and narrow (and rather dim) restaurant that reveals more tables the further you walk back.
Once seated, you'll have to contend with two things: the large menu and the chairs. The menu is the easy part, so I'll talk about the chairs first. They're really uncomfortable. And they're on wheels. If you lean back, you'll find yourself drifting away from your table mates on the open sea of the hard-floored dining room. After squirming around and trying to get comfortable, I found the best way to sit was with my feet wrapped around the back of the front wheels. Thus secured, I dove into the menu.
Chef Cecilia Garza's menu includes small plates, appetizers, salads, entrees and specials. From the list of tapas I had two winners. The stuffed roasted piquillo peppers ($4.95) are particularly good. The slippery, smoky sweet peppers are stuffed with runny goat cheese. Don't miss the pommes frites ($4.95), either. The long, thin and crisp fries are liberally dusted with salt and pepper and served with harissa aioli. Too bad they weren't as hot as they should have been.
From the list of appetizers, the (mildly) spicy shrimp ($12) is another standout. The plump, curled shrimp are bathed in a velvety and luscious beurre blanc sauce and served with shatteringly crisp crostini. And just in case you want to fully seal off your arteries, the goose liver mousse ($9.95) is superb.
On to the entrees: the pan-fried monkfish special ($24) was one best fish dishes I've had in months. Seared a golden brown and lightly dusted with sea salt, the fish was ringed with a pea and fava bean purée and candy cap mushrooms.
Fish dishes appear to be a strong suit at Zucca, as evidenced by the whole roasted branzini ($27). The hulking fish arrives on a square platter about the size of a beach towel and is deboned tableside by owner Singha. The fish is exquisitely simple; it's seasoned with just a fresh squeezed lemon and extra virgin olive oil. Sautéed greens served on the side complete the meal.
The roasted chicken ($16.50) is decent but nothing memorable, though it is served with more of those excellent fries. Better is the bistro steak ($21), a thick rectangle of tender beef napped in a thick red wine sauce and served with fries.
Service is the weakest link of the restaurant. On one visit, even though mine was one of only three tables, I had to endure long waits for my food. On another visit, our waiter and other floor staff made too many visits to our table to ask how we were doing and then rushed to clear away appetizers to make way for the entrees, entrees that were actually headed to another table. That said, on both my visits the service was friendly and well intentioned.
Desserts are hit or miss. The goat cheese cake ($8) is a hit, creamy and rich with a pleasing chèvre bite. I loved the flavors of the housemade gelato ($8). It might sound odd, but the aromatic, maple syrup flavor of candy cap mushrooms is a natural for gelato. Only the icy texture of the gelato threw it off. The gianduia (chocolate hazelnut) scored on both flavor and texture. The almond financier ($8) missed completely. Looking and tasting like a small dry muffin, the deconstructed dessert placed the cake at one end of a long rectangular plate and a dollop of thick but somehow less than creamy whipped cream atop a thin slice of the cake at the other end. A mound of rose petal gelato melted slowly between the two. At least the gelato was good.
Singha says he's held off from hanging a sign advertising his restaurant until he works out a few kinks. But in spite of a few missteps, I think Zucca is ready. Hang up that sign.
---
Zucca European
Address: 541 Bryant St., Palo Alto.
Phone: 650.327.0132.
Hours: Lunch noon-3pm Mon-Fri and dinner 5-10pm Mon-Fri and 5-11pm Fri-Sat.
Cuisine: Pan-European
Price Range: $16-$26.
Send a letter to the editor about this story.