April 25-May 1, 2007
home | metro silicon valley index | columns | live feed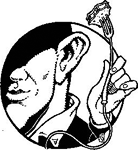 Live Feed
All Hopped Up
By Stett Holbrook
THE BEER-DRINKING habits of Silicon Valley's Mexican-Americans have caught the attention of a major Mexican brewer. Tecate, makers of the no frills, red-canned beer that goes great with a squeeze of lime, launched a new light beer in the South Bay last month. Silicon Valley is one of just five U.S. metropolitan areas where the beer was introduced. The cerveza is available in local stores now and will go national in September.
The beer maker's marketing strategy is based on some interesting research that targets second-generation Mexican-Americans. According to Tecate brand manager Carlos Boughton, second-generation Mexican-Americans, those born to Mexican-born parents, are moving away from traditional Mexican beers their parents drink in favor of lower-calorie, American-made light beers. It seems that part of becoming "American" means reaching for watery, low-calorie beer like Coors Light and Miller Lite.
"It's a little bit of a group mentality," says Boughton.
Boughton admits that the taste of light beers is not as full as regular beer, but beer drinkers appreciate its refreshing taste and drinkability.
There are 1.2 million Mexican-Americans in the San Jose metropolitan area, making it the sixth largest market in the United States, he says.
"San Jose is probably one of the most active markets."
Half of all beer sales in the United States are for light beer, but only 2 percent of those light beer sales are for imported beer. Tecate's strategy with Tecate Light is to capitalize on acculturated Mexican-Americans' taste for light beer while also offering the appeal of drinking a Mexican beer.
"This presents an amazing opportunity. Why not give them everything?"
But enough with the marketing babble. What does the beer taste like?
For me, light beer is bad beer. It's like eating popcorn without salt and butter. Why bother? As a result, I only drink light beer if the real beer is all gone. Or if it's free. So I was surprised to find I actually liked Tecate Light.
In the glass, it's the color of pale apple juice. The audibly bubbling head quickly dissipates like a fizzy soft drink. The beer has a clean, refreshing flavor that tastes a bit like corn tortillas. The finish is short and dry. It's a good, thirst-quenching beer for a hot Saturday afternoon after mowing the lawn. Some full- flavored brews taste best when served at cellar temperature (about 55 degrees), but Tecate Light must be ice cold for optimum enjoyment.
If part of becoming Americanized means drinking light beer, so be it. Part of being American also means choosing from a dizzying array of consumer products, and Tecate Light is a welcome addition to the light beer section of the cooler.
Send a letter to the editor about this story.