April 25-May 1, 2007
home | metro silicon valley index | the arts | stage | review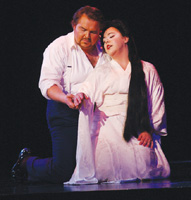 Photograph by Pat Kirk
Fated: Christopher Bengochea and Deborah Berioli embark on a love that can't end well in 'Madama Butterfly.'
Taking Wing
Opera San José delves into the tragedy of Puccini's 'Madama Butterfly'
By Scott MacClelland
THERE SEEMS to be no end of dramatic train wrecks in theater, opera and movies. And if it is surprising how few of them veer from the inevitable—in other words deliver a surprise ending—then you have not only the history of drama but also the history of a pervasive human appetite for unrelieved suffering. All of this flooded back on opening night with Opera San José's new Madama Butterfly at the California Theatre, a performance that lacked only one thing: a Sharpless who was—forgive me—sharper. Sharpless, the American consul in post-restoration Japan, is the Cassandra character who sees clearly how the tragedy of Cio-Cio San will end but is powerless to deflect it, much less prevent it. Like Cassandra, his is the greatest tragedy in the popular Puccini opera. And like the daily news stories that come out of Washington, it is this personal tragedy that underscores the ongoing confrontation of reality and denial.
Almost mocking, then, is the Illica/Giacosa libretto, fashioned from the Belasco play, that leaves only Sharpless room for character development. All any of the other cast needs to do is reiterate what we learn about them in the opera's opening moments. This disproportion of character development piles up on Sharpless, and in this one of two casts, Daniel Cilli came up short. Notwithstanding a fine vocal production and musical turn of phrase, Cilli did little more on stage than ape the role. He and stage director Brad Dalton missed an opportunity to turn Sharpless' dilemma into the central disaster that it is and, in so doing, make believable the catharsis Puccini had in mind.
That left the title character, as realized by Deborah Berioli, and the Pinkerton of (a slimmed-down) Christopher Bengochea to produce the desired effect. And they did, after overcoming the first-night jitters that took the edge off. Against that, conductor David Rohrbaugh and his orchestra did fine work in providing a solid musical foundation. Even so, and thanks in part to Puccini's exposed vocal writing, pitch accuracy between these two "main" characters was dicey in the early stages of the performance. Berioli, moreover, took longer to develop the intensity demanded of her tragic character.
Bill Welch was suitably obnoxious as the smarmy marriage broker Goro; Jason Sarten kept his regal composure as the ridiculed suitor Prince Yamadori; and Carlos Aguilar made a fearsome impact as Bonze. (The 5-year-old son of tenor Isaac Hurtado, of the other cast, was a scene-stealer as Butterfly's child, here called Sorrow.) Michele Detwiler, in her final OSJ role, flowered as the sympathetic Suzuki in the last act. Sets, costumes and lighting conspired to produce colorful, artistic tableaux, though the American navy officers looked strangely out of time and place in their Air Force uniforms.
Before this final production of the season, Talise Tervigne, a featured artist of the resident company, had pulled up stakes and moved on to "an opportunity she couldn't pass up" in London, as publicist Christine Spielberger put it. Meanwhile, 2007-08 ticket-buyers can look forward to Lucia di Lammermoor, Werther, Rigoletto and The Magic Flute.
Madama Butterfly, an Opera San José production, plays April 27 and May 3 and 5 at 8pm and April 29 and May 6 at 3pm at the California Theatre, 345 S. First St., San Jose. Tickets are $65-$85. (408.437.4455)
Send a letter to the editor about this story.