April 25-May 1, 2007
home | metro silicon valley index | the arts | dance | review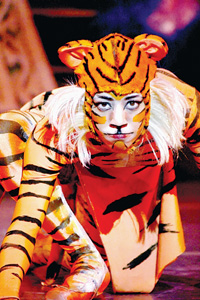 Photograph by John Gerbetz
Hold that tiger: Ballet San Jose's 'Middle Kingdom—Ancient China' boasts a menagerie of colorful costumes.
Kingdom Come Again
Ballet San Jose restages its historical epic 'Middle Kingdom—Ancient China'
By Marianne Messina
ACCORDING to Ballet San Jose's artistic director, Dennis Nahat, "a ballet foments and matures" in the two-year span between a premiere and a reprisal. "It's still in the dancer's body," he says referring to the company's 2005 epic collaboration (with Chinese Performing Artists of America), Middle Kingdom—Ancient China. Taking advantage of this gestation period, Karen Gabay as the Earth Goddess has made the dance her own, says Nahat, which encouraged him to refashion the entire dance en pointe. "It's hard," Nahat admits. "Nobody does ribbon dances like that on pointe. But this is a ballet."
Middle Kingdom—Ancient China commemorates great moments in Chinese history, enacting some of the nation's significant contributions to humanity—the printing press, calligraphy, gunpowder. In the sequence demonstrating the initial unification of the tribes to form one China, warriors from three different regions converge to do battle, each group bearing a different weapon. The stylized weapons, Nahat tells me, are historically accurate. In an exciting cultural exchange, Nahat brought the original weapon designs to China to be constructed along with all the costumes. "When we got to China the wardrobe masters there looked [at the weapon designs], and they said, 'Wrong shape for this era.' And they gave us the right shape."
Two years ago, the warriors were danced by the Chinese Performing Artists of America, including the very acrobatic former Beijing Opera dancer Yingchou Zhang as commander Chi Yau. This year, Nahat rechoreographed the martial arts sequences on this much larger Ballet San Jose company. "I gave them ballet martial arts," says Nahat. He drew ideas from paintings, lithographs, and from asking questions: "How does your body form around this weapon? A spear ... you center it."
When watching the warrior sequence, the similarity between the body forms and the weapon shapes is striking. A tall, straight spear is handled with leaps, and straight, elongated limbs. Though ballet dancers are comfortable with leaps, the angular cutting tool, wielded from squatting, squared forms, was another matter. "Dances of this nature are earth-bound," Nahat explains, "and so we changed the technique of how we work and how we practice."
In the role of commander Chi Yau, Easton Smith wields a serrated, saw-like weapon that encircles his arm, and he continually shapes his body to echo its jagged curves. For Nahat, this synergy is all about "making the props a part of your body. ... Even Karen's sleeves, her beautiful silk, I mean her body, the whole thing is rippling. Her back takes on the shape of that ribbon; the whole body becomes the ribbon." Gabay's ribbon dance comes in the creation scene, along with the cosmos and the dragon, and even in the bare lighting and pared down costume of rehearsal it looks as if her ribbon is spinning out the world.
Middle Kingdom—Ancient China, a Ballet San Jose production, plays Thursday-Saturday at 8pm and Sunday at 1:30pm at the San Jose Center for the Performing Arts, 255 Almaden Blvd., San Jose. Tickets are $25-$78. (408.288.2800)
Send a letter to the editor about this story.