April 25-May 1, 2007
home | metro silicon valley index | movies | current reviews | film review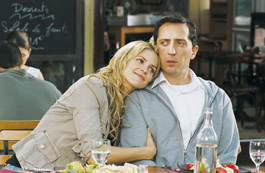 Photograph by Dominque Le Strat
Paid to room: Alice Taglioni and Gad Elmaleh make an unlikely couple in 'The Valet.'
Franglais
Francis Veber's French comedy 'The Valet' is already built for an American audience, no translation needed
By Richard von Busack
WEBSTER'S Unabridged Dictionary online defines the word "Doublure" as "sorry, not found." That's because the word is in French. Larousse says it means a person who has been held back a year in school and who grows up into the type of wretch who uses the ever-popular "Dictionary Definition Lead." In America, Francis Veber's La Doublure has been renamed The Valet. The remake, and there probably will be a remake, may be called something even more reductive. The Farrelly brothers are supposed to be attached as directors of the English-language version. Ahoy, Jimmy Fallon!
The Valet of the title is François Pignon (Gad Elmaleh), a Steve Carell guy with slightly mismatched eyes. He has a thing for the girl who used to live down the street; she now runs a small bookstore and is in a considerable amount of debt.
Sure that she will be charmed by an engagement ring, François springs one on her, but she turns him down flat. She thinks of him as a little brother, and his job parking cars at the café at the Chaillot Palace isn't very inspiring to the lady. Destiny steps in when François crosses paths with the parallel story.
We have also been watching a much-loathed billionaire named Pierre Levasseur (Daniel Auteuil) caught by a paparazzo's camera as he meets with his mistress, the renowned supermodel Elena (Alice Taglioni). When Mme. Christine Levasseur (Kristin Scott Thomas) has her breakfast disrupted by the newspaper photo, she confronts her husband, who claims that Elena's true escort is François. Thus, he and his lawyer (Richard Berry) pay the pair to live together, to make the phony alibi stick.
Elena has been strung along for two years while Levasseur dawdles over getting a divorce. The supermodel agrees to the ruse, but only if Levasseur will put down a play-or-pay deposit of 20 million Euros. François, being a true lover, only wants enough money to give his bookstore-running sweetheart.
Formerly a nobody, François is now a minor celebrity, a car-parker who lives with a goddess. The engine of farce is primed, now; even though Levasseur has paid for the arrangement, he quickly becomes jealous of his own beard.
The Valet represents a bounce back to usual form from Francis Veber's last few movies, which were actually quite good: Le Placard (The Closet) and Le Dîner de Cons (The Dinner Game). This mediocre, slightly risible farce stops and starts until it smashes into a brick-wall ending, as if the film had run out in the camera. And what an ending—oh, those chix with dix at the Bois de Boulogne, you've just got to watch out for them!
With similar abruptness, The Valet carves out its own intermission during a fashion show where Chanel's latest is pranced around. Haut-couturist ringmaster Karl Lagerfeld—he of the albino mullet—cracks the whip on his ponies.
Director/writer Veber is not a household name, but he's made his mark. With the inexorable cruelty of a serial killer striking again and again, Veber's films have been remade in the United States ever since 1972's The Man With One Red Shoe. The litany includes La Cage aux Folles—the movie that gave us Groening's Conundrum: "The French are funny, sex is funny, comedies are funny, and yet the French Sex Comedy ..." Less successful were such desperate Veber remakes as The Toy with Richard Pryor, Three Fugitives with Martin Short and My Father the Hero with Gérard Depardieu. The last comedy was a movie that helped suggest a literal translation for Depardieu's name: "God has departed from us."
What seems especially unfair for all these remakes is that Veber (currently a Los Angelean) directs with a studied eye for American audience. There are no peculiar French institutions to explain to the world in this film. And as in many 1980s comedies, the visuals include numerous scenes of the hoods of gleaming cars pushing through uninteresting neighborhoods, as a rock soundtrack drones away.
Veber's use of slapstick is genuinely tragic; it has the one-take clumsiness of lesser Blake Edwards. He's better with the wisdom of the French farce, but he uses it sparingly here: the only quotable couplet is "It's wrong to cheat on your wife," "Wait until you're married to say that." And the sensual highlight is a sleeping man's accidental breast grab.
There is something happy in here, though, and that's Taglioni, who just about raises The Valet to the watchable level. Elena is an underwritten character. I can't tell if Veber had anything in mind for her, other than to be a gorgeous girl who discombobulates all the men. But like Amanda Peet, Taglioni is really trying to make something out of a part she probably could have coasted through with a wide, bright smile.
Elena doesn't overdress when she bunks in François' tiny apartment and handles everyone with calm; the lack of a grand manner is what you see other beauties—say Jessica Simpson—trying to do on camera, and failing. Taglioni seems to have it naturally. An ordinary supermodel couldn't have played this part quite so well. With a chillier core, this farce would have seemed even more mechanical than it does already.

The Valet (PG-13; 85 min.), directed and written by Francis Veber, photographed by Robert Fraisse and starring Gad Elmaleh and Daniel Auteuil, opens April 27 at Camera 7 in Campbell.
Send a letter to the editor about this story.