April 25-May 1, 2007
home | metro silicon valley index | the arts | stage | review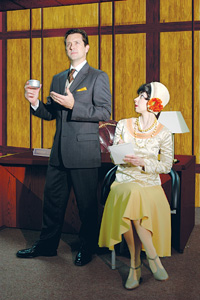 Office politics: Michael Mulcahy and Elizabeth Earnheart negotiate the business world in 'Thoroughly Modern Millie.'
Moderne
'Millie' stays forever up to date at Children's Musical Theatre
By Marianne Messina
AT A Corcoran Gallery exhibit in Washington, D.C., called "Modernism: Designing a New World," director Paul Greenhalgh ponders a 1921 drawing of a glass skyscraper, calling it a "fantasy" of the Moderne era (1914-1939). "The great hope," he explained on the PBS NewsHour, "was that the city, new technology, would transform people's lives, would improve people's lives, make them healthier, make them better, and kind of put people in control of their lives, you know, the idea that people determine their own lives."
The musical Thoroughly Modern Millie is set one year after that drawing was created, and Millie, a Kansas girl hitting the big lights of New York City, is in this sense thoroughly Moderne. Millie quotes Vogue saying that marriage is "a business arrangement," and she devises a game plan to control her future: find a single boss and marry him. Under artistic director Kevin Hauge, the set for Children's Musical Theatre San Jose's current production of Thoroughly Modern Millie captures both the design elements and the hopeful "sky's the limit" perspective of the moderns.
Hauge and nationally known set designer Jean-Francois Revon decided "Let's try to figure out a way to capture the buildings of New York. Let's sit up in the buildings." If you focus on the set, you can feel amazingly like a bird soaring among the building tops. The dizzying feeling intensifies the scene in which Millie (Elizabeth Earnheart) finds love interest Jimmy Smith (Ian Leonard) standing on a ledge outside her 20th-story (or so) office. But Hauge points out that while the story and the look come from the 1920s, it was a contemporary audience that awarded the musical its six Tony Awards in 2002. "Although it's a sentimental sweet story, and funny, it does have the sensibility of a new millennium audience put against it; it runs cinematically; it's fast paced; I think there's maybe two black outs in the whole show."
Hauge pushed the actors to move the lines along, especially the more stereotypical characters like Millie's boss, Mr. Trevor Graydon (Michael Mulcahy), whose patter song emulates the "very model of a modern major-general" (Gilbert & Sullivan). Nods and winks aside, Millie has its genuine moments, many of which go to Millie and Jimmy. For Leonard, in the role of the reformed-playboy Jimmy, most of those moments come in the second act. "It sits in a deeper place; you see a lot of heart; you see sincerity, which is not really typical of the golden age of Broadway ... you see mistakes." Using an apt metaphor from his memorable skyscraper scene, Leonard finds the erratic love and fear of commitment true and ageless. "You see people scared to jump off that precipice."
As a Marquee production, Thoroughly Modern Millie features former members of the CMT family, many of whom have gone on to successful careers. Leonard toured the United States and Asia before returning to his native Bay Area, where he and Earnheart worked together four years ago in Some Like It Hot. Playing Muzzy Van Hossmere, Robin Boshears used to direct the company's tours. "Michael [Mulcahy] was a director when I did my first show, so he was like the big boss," says Leonard, outlining his connections in the cast. "I've directed some of them, been directed by some of them; and been in shows with them." Though both critics and other production companies doing Modern Millie have found chemistry problematic, this CMT production's old-home-week vibe should have no problems there.
And for real aficionados of Thoroughly Modern Millie, a chance to compare and contrast two versions of the musical awaits. After CMT's production, Saratoga Drama Group offers its take on Millie, running May 12-June 19 at the Saratoga Civic Theatre.
Thoroughly Modern Millie, a Marquee Productions presentation by Children's Musical Theater San Jose, plays Thursday at 7:30pm, Friday at 8pm, Saturday at 2 and 8pm and Sunday at 1pm through April 29 at the Montgomery Theater, Market and San Carlos streets, San Jose. Tickets are $28. (408.288.5437)
Send a letter to the editor about this story.