April 25-May 1, 2007
home | metro silicon valley index | movies | current reviews | film review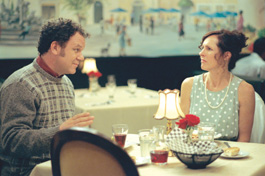 Photograph by Suzanne Tenner
My date with Marty: John C. Reilly channels Ernest Borgnine for his night out with Molly Shannon in 'Year of the Dog.'
Animal Farm
'Year of the Dog' proves again that 'SNL' alums should stay off the big screen
By Richard von Busack
WHEN A DIRECTOR has to puzzle over why someone would love a dog, maybe it's evidence he'd be better off in a more abstract realm of the arts—making stainless-steel sculptures or recording ambient music. In Year of the Dog, Molly Shannon stars as Peggy, a bookkeeper from Duarte in love with her beagle, Pencil. She pampers the little creature. She trails her fingers over its belly and rubs skin cream into the pads of its paws. When the beagle turns up accidentally poisoned, she's ruined. She can't be consoled by a friend at work, Layla (Regina King). And her sister-in-law, Bret (Laura Dern), is so enamored of her own children that she doesn't have much room for sympathy. After a very bad date with her neighbor (John C. Reilly, at Borgnine levels of crudeness), Peggy befriends Newt (Peter Sarsgaard) at the pet clinic. He hooks Peggy up with a rescued dog, a temperamental German shepherd named Valentine (played, brilliantly, by local canine thespian Rocket). Peggy believes that they will all be a family together, even though it's apparent that Newt must be short for "neutered."
Neither Newt nor the new dog work out, and Peggy is pushed to more extreme forms of animal love. She becomes a vegan; director/writer Mike White treats this sensible choice as if it meant Peggy went around announcing she was from Vega in outer space. After Peggy tries to haul her niece to a chicken slaughterhouse to make her witness the horrors inside, it's clear she's headed to the deep end of the pool. She has to go further into obsession before a final moment of redemption every bit as unbelievable as the moment of redemption at the end of White's previous film, The Good Girl.
One performance enlivens this cold, flat movie. It's a kind of caricature, too; Laura Dern's Bret, fussing over her children as if they were next in line for the royal succession. As seen in Inland Empire, Dern has the kind of plasticity of expression that lesser actors strain themselves to get though overacting. White might have made Year of the Dog work if he had cast someone like Alison Janney in the lead, so we would be able to feel the bruised embarrassment and loneliness in Peggy. Unfortunately, like many late-period Saturday Night Live vets, Shannon made a face, and it stayed that way. Shannon is a plain woman who became interesting with wit. And here she plays someone without it: a Cathy Guisewite fan. Peggy has the face of someone detecting a foul odor, and she's dressed in jumpers, rompers and nighties that look as stout as sailcloth.
As a born supporting actress stuck in the lead of a film, Shannon can't break through White's level of condescension. Maybe White is trying for serious uninflection, a story where the detachment tells it all. Perhaps he had in mind something like Flaubert's A Simple Soul, about a dull woman whose tender nature is expressed in her passion for a mean parrot. But the moment of cheap lyricism at the end of Year of the Dog is pure Hollywood upbeat, just as the rest of the film is a slicker's contempt for the squares that live on the wrong side of the Harbor Freeway.

Year of the Dog (PG-13; 97 min.), directed and written by Mike White, photographed by Tim Orr and starring Molly Shannon, plays valleywide.
Send a letter to the editor about this story.