April 26-May 2, 2006
home | the papers | metro silicon valley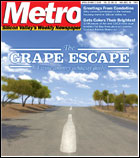 Wine Country Guide
We all know Napa and its surrounding areas are considered the crown jewel of California's wine country, and make for a great weekend getaway. But how much do you really know about where to find your northern varietal paradise? Check out our comprehensive guide to all the getaway spots, both fact and fikshun.
Wine List
So you made it to wine country. Now what? Here's where we pull out all the stops.
Santa Cruz Wines
You don't have to go far to get away to wine country.
Harbin Hot Springs
One of the wine country's more offbeat attractions, and a total escape for getaway seekers.

News: Condos in Cupertino
Locals are finding plenty of pitfalls in condo conversion. So why is it the hottest housing trend in Silicon Valley?
The Fly
President Bush swaggered his way into San Jose to take part in the most boring panel discussion ever.

Silicon Alleys: Downtown When It Rocks
Be careful, Mai Bock is a devil in disguise. It sneaks up on you. In any event, you should support local beer. That's the point.
Technology News: The Great Email Debate
Is Goodmail's email certification plan a way to charge for email?
Car Culture
Gas Prices Have Nowhere to Go But Up: Do any alternative fuels make sense?
Sports Preview: Melanie Laspina
The San Jose Spitfires' pitcher has started the California Women's Baseball League, the first of its kind in the Bay Area.

Movie Review: 'Hard Candy'
Director David Slade turns a fairy tale into a horror-movie revenge orgy.
Movie Review: 'Akeelah and the Bee'
The mush will make you blush in this spelling-bee uplift epic.
Movie Review: 'The Celestine Prophecy'
Because there's a seeker born every minute.
Movie Review: 'The Mistress of Spices'
Film version of local author Chitra Bannerjee Divakaruni's novel gives food erotica a good name.
Cult Leader: Cult Movies on TV
You haven't lived until you've seen Henry Rollins bark 'This week, the films of Rainer Fassbinder!'
MORE MOVIE REVIEWS
MOVIE TIMES
Music Preview: The Go! Team
The sampler is making a comeback, thanks to this dope British band, which counts Thurston Moore and Dennis Hopper as among its fans.
Music Essay: 'Vans' by the Wolfpack
A Berkeley hip-hop group makes comfortable footwear fabulous.
Club Life: Santana Row Summer Jazz Series
Tha Row gives a reason to stiff the Domino's guy on 2-for-1 pizza night as they host a regular Tuesday night jazz series.
Music Preview: San Jose Jazz Festival
The Neville Brothers and Dr. John are among the scheduled headliners.

MORE MUSIC AND NIGHTLIFE

MUSIC AND CLUBS LISTINGS

MUSIC AND NIGHTLIFE CALENDAR PICKS

Restaurant Review: Rinconcito Colombiano
Columbia is the gateway to South America, and Rinconcito Colombiano is Silicon Valley's gateway to Colombia.
Live Feed
Protecting Lunch Is Not Enough.
5 Things to Love
Spring Vegetables You Should Plant Now.

BOOK A RESTAURANT RESERVATION

FIND A RESTAURANT REVIEW

Visual Arts Review: Gustavo Ramos Rivera
The San Jose Museum of Art and the San Jose Institute of Contemporary Art make a convincing case for the Bay Area abstract master.
Stage Preview: New Works Festival
The Future Is Now: TheatreWorks showcases new works at festival in Mountain View.
Stage Review: Ballet San Jose Silicon Valley
Company hits on three out of four pieces in season ender.
Stage Review: 'Steel Magnolias'
Heavy Metal: Northside Theatre Company visits a small-town salon.
Stage Review: 'Don Giovanni'
Mozart's Man: Opera San Jose finishes season with a marvelous production.
Book Review: 'Warp Labels Unlimited'
Rob Young looks back at a pivotal '90s British electronica label.
Book Review: 'Who Controls the Internet?'
Law professors Jack Goldsmith and Tim Wu analzye the ways in which territorial laws can be used to trump the transnational architecture of the Internet.
Book Review: 'Storm From the East'
Milton Viorst traces Arab resentment of Western meddling.