04.29.09
home | metro silicon valley index | music & nightlife | band review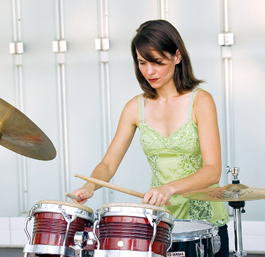 BEAT MISTRESS: Lisa Pegher solos on the marimbas for Mission Chamber Orchestra on Sunday.
Classical Moves
By Michael S. Gant
Contemporary composer Kevin Puts has provided a number of important pieces for the Cabrillo Festival of Contemporary Music. He heads up a roster of American composers for the Mission Chamber Orchestra this Sunday. Guest percussionist Lisa Pegher will perform Puts' Marimba Concerto. The afternoon also boasts two world premieres: Bay Area composer Nancy Bloomer Deussen's Trinity Alps and Allen Cohen's Two Twilight Sketches. Also scheduled are works by Sondra Clark, Arthur Foote and Carlos Surinach. Sunday (May 3) at 2:30pm; Le Petit Trianon, 72 N. Fifth St., San Jose; $5–$22; 408.236.3350.
Also in a nationalist vein, the Nova Vista Symphony presents "Easy Way to Be American," a program of homegrown compositions, from West Side Story Selections to Copland's Symphony no. 3. In a decidedly quirky diversion, Nova Vista will also perform Michael Daugherty's tribute to the flamboyant Vegas star pianist in Le Tombeau de Liberace. The movement titles capture the fizzy flavor of the piece: "Rhinestone Kickstep," "How Do I Love Thee?," "Sequin Music" and "Candelabra Rhumba." Russell Hancock does the keyboard honors. Saturday (May 2) at 8pm at the Mountain View Center for the Performing Arts, 500 Castro St., Mountain View; $11–$18; 408.624.1492.
Fans of Stanford Lively Arts are already familiar with resident chamber stars the St. Lawrence String Quartet. The ensemble—violinists Scott St. John and Geoff Nuttall, viola player Lesley Robertson and cellist Christopher Costanza—help close out the 2008–09 series of Sunset Concerts. The program ranges from Haydn's String Quartet in E-Flat Major and Mendelssohn's String Quartet in F Minor to Canadian composer/oboist Elizabeth Raum's Table at the Bushwakker and Berg's Lyric Suite. Friday (May 1) at 8pm; St. Luke's Church, 20 University Ave., Los Gatos; $10–$25; 408.354.4560.
The Ives Quartet winds up its South Bay season with Beethoven's Quartet in D Major, Dohnanyi's Piano Quintet in C Minor (featuring guest artist Christopher Basso) and a new work by Dan Becker commissioned for the group. Friday (May 1) at 8pm; St. Mark's Church, 600 Colorado Ave., Palo Alto; tickets are $15–$25; 650.224.7849.
Send a letter to the editor about this story.