04.29.09
home | metro silicon valley index | silicon valley restaurants | review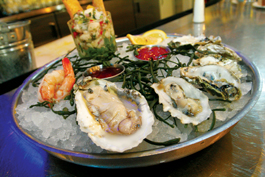 Photograph by Felipe Buitrago
CONSIDER THE OYSTER: Plump Choptank Sweets fill a platter at Yankee Pier.
Shell Game
In search of fresh-shucked briny goodness in Silicon Valley
By Stett Holbrook
DECADES before sushi bars proliferated across this land, the oyster bar was the pre-eminent place to consume raw seafood. Traditionally presided over by brusque but efficient men in starched white jackets who pried oysters open with blunt knives and a quick twist of the wrist, the oyster bar remains a great American culinary tradition. We Americans are pretty timid eaters, but we've long enjoyed slurping down briny, slimy blobs of live shellfish.
Boston's Union Oyster House claims to be the country's oldest restaurant. It has been serving bivalves by the bushel since 1826. Many of the most storied oyster bars are on the East Coast, but the West Coast has its share of classic oyster bars, too, particularly in San Francisco, where the Gold Rush fueled a hunger for the pricey mollusks.
The family-owned Tadich Grill—open since 1849, but under different names and in different locations—is the city's definitive old-school restaurant and purveyor of bracingly fresh-shucked oysters and its famous Hangtown Fry. The bacon and oyster omelette was reportedly invented in Placerville (once called Hangtown) for a hungry prospector with a bag full of gold who wanted the finest, most expensive food in the house—bacon, eggs and San Francisco Bay Olympia oysters.
San Francisco Bay once teemed with oysters, but overharvesting after the Gold Rush did them in, while pollution and loss of habitat have kept them down, although there is a small native population under study. (Read Jack London's "A Raid on the Oyster Pirates" for a great tale of oyster thieves on San Francisco Bay.)
Along with the Tadich Grill, San Francisco's Swan Oyster Depot, Anchor Oyster Bar, Zuni Restaurant and the Ferry Building's Hog Island Oyster Co. keep the San Francisco Bay oyster tradition alive. 
Alas, Silicon Valley is not as rich in oyster bars and has little oyster lore, although downtown San Jose once boasted two beloved oyster restaurants: Pete's Oyster House (opened in 1910) and the Oyster Loaf (1912). But during lunchtime a few weeks ago, I developed a powerful craving for fresh shucked oysters and set out to see what I could find.
Long story short: Silicon Valley lacks a classic, high-volume oyster bar where the mollusks are shucked before your eyes by knowledgeable men and women, and the beer and sancerre flows (my favorite oyster accompaniments). But, there are still some good oysters to be had.
Today, most oysters are farmed. Oysters go by a wide variety of names based on where they're raised (Fanny Bay, Wellfleet, Hood Canal, Brewster), but there are only four kinds of farmed oysters: Pacific, Eastern, European and Kumamoto.
The diverse nomenclature isn't all marketing. Depending on where an oyster is raised, it will pick up distinct flavors from the water. A European oyster farmed in Marin County's Tomales Bay will taste quite different from the same species raised in the Atlantic waters of northern France.
The Fish Market offers the best oyster bar experience in Silicon Valley. Each location has a proper bar where you can watch your oysters being shucked. It also offers a number of cooked oyster dishes and other shellfish specialties made with mussels and clams like a good oyster bar should.
I went to the San Jose location on Blossom Hill Road. The restaurant is strangely dim, but it's easy to let that go during the restaurant's happy hour (3:30–6:30pm, Tuesday–Friday and noon–4pm on weekends), when select oysters are 75 cents each. Last week, it was Miyagi oysters. That's a great deal.
On my visit, they were also serving Pearl Point, Kumamoto and Island Creek oysters. It wasn't happy hour, but a dozen very fresh shuckers went for $12.25, a good price considering some of the pricier places I visited.
Like Steamer's Grillhouse in Los Gatos. Steamer's is a classic South Bay seafood house, and I figured they would have an impressive selection of fresh oysters served at a cool bar. Well, they do have a bar to sit at, but it's not a dedicated oyster bar. It's just a counter in front of the kitchen. And you have to stand up to be able to see the guy opening your oysters.
As for selection, all they had were Blue Points and Malpeques, the Budweiser and Coors of the oyster world, given their ubiquity. Six of each went for $33. At $2.75 each, that's quite steep for such commonplace oysters. The only other raw bar offerings were a boring bay shrimp cocktail ($9.95) and forgettable chilled Mexican white prawns ($13.95). But given all that, the oysters were spectacularly fresh with a briny, metallic bite.
Yankee Pier in Santana Row has a little oyster bar with tagged bags of oysters resting on a bed of crushed ice. Although few people probably ever look at them, the tags are proof of the oysters' place of origin and your best assurance that you're not being sold a lesser-quality oyster under a different name for more money.
The woman tasked to shuck my oysters seemed a little ill at ease with the job. I asked for a combination of six different oysters, and she apparently opened the wrong ones and had to start over with another dozen. But the restaurant's changing lineup of oysters was quite good and included several I've never had before, such as the deep-cupped, intensely oceanic Bagaduce oyster from Maine and the wonderfully creamy and salty Brewster oyster from Massachusetts. Six "select" oysters and six "premium" oysters were $34.45. The restaurant also offers Skookum oysters for $1 each on weekdays, 3–5pm.
San Jose's McCormick and Schmick's Seafood Restaurant loses points because it doesn't have an oyster bar. Just as sushi wouldn't be as enjoyable if it were made behind closed doors, for me oysters lose some of their appeal without the visual experience of a skilled shucker wedging open a dozen before your eyes. But I wanted to include them because like Yankee Pier they offer an interesting and changing selection of oysters. On my visit, that included Hood Canal oysters from Hood Canal, Wash.; Buckley Bay oysters from British Columbia; Skookum oysters from Puget Sound in Washington; and Steamboat oysters from Hood Canal, Wash.
I like the two raised in Hood Canal best. The eponymous oysters were meaty, yet delicate and sweet, while the Steamboat oysters had a lively, sparkling fresh flavor with a long and refreshing finish.
I paid $24.95 for a sampler of 12 and could have easily slurped down another dozen. Oysters are good like that.
THE FISH MARKET
Several Silicon Valley locations including 1007 Blossom Hill Road, San Jose
408.269.3474.
11am–4pm Mon–Sat and noon–4pm Sun; 4–9:30pm Sun–Thu and 4–10pm Fri–Sat.  
STEAMER'S GRILLHOUSE
31 University Ave., Los Gatos
408.395.2722.
Open daily 11:30am–10pm.
YANKEE PIER
78 Santana Row, San Jose
408.244.1244.
Lunch from 11:30am daily; dinner 5:30–9pm Sun–Thu and 5:30–10pm Fri–Sat. 
MCCORMICK AND SCHMICK'S SEAFOOD RESTAURANT
170 S. Market St., San Jose
408.283.7200.
11:30am–11pm Mon–Thu, 11:30am–midnight Fri–Sat and 11:30am–11pm Sun.
Send a letter to the editor about this story.