04.29.09
home | metro silicon valley index | movies | current reviews | film review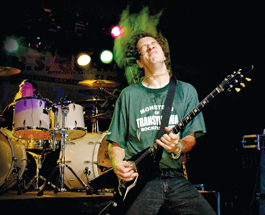 VLAD THE ROCKER: Anvil's Lips Kudlow storms Transylvania.
Anvil! Chorus
'Anvil! The Story of Anvil' documents the hopes and dashed dreams of a real-life Spinal Tap
By Richard von Busack
LISTED in some dyslexic's dictionary between the McKenzie Brothers and Metallica: Robb Reiner and Steve "Lips" Kudlow, the suburban Toronto power duo who founded and made up the core of the all-too-real band Anvil. The two men's devotion to the Dark Gods of Metal deserves some kind of sainthood. They got very close to the top; the new documentary Anvil! The Story of Anvil brings in celebrity endorsers to cite the influential quality of Anvil's 1982 Metal on Metal album.
Lemmy from Motörhead, Slash from Guns N' Roses and Lars from Metallica (describing Anvil as "the real deal") testify in the band's favor. And in vintage 1980s clips, we can see that Anvil was a serious influence on the fictional band Spinal Tap, directed by that different Rob Reiner.
Kudlow's leather bondage outfit may have been aped by Harry Shearer's Derek Smalls, though the Anvil singer/guitarist's trick of making barre chords on his Flying Vee guitar with a jumbo dildo would have been too much even for the Tap.
On an episode of CTV's The Shirley Show, Anvil's lyrics are read aloud as an example of how smutty heavy metal is. It was remembered ever after as the day Shirley Solomon used the phrase "rubbing their beaves" on TV.
It has been said that all successful documentaries have clear villains and heroes, just as all successful feature films do. In Anvil! the villain is, clearly, time itself. The two musicians have to deal with the possibility that time has passed them by. During an endless mid-oughties Canadian winter of discontent, we see the trek of a group perhaps too old to rock & roll—and definitely too stubborn to do anything else.
The first part of the film consists of a failed European tour, conducted by a semi-English-speaking pro-am manager who promises "passion" as one of her good points. What follows is a slashingly edited view of Europe's less popular corners. Things go well in Sweden, with the band flagging down some of their contemporaries from the class of 1984, and Anvil rocks a large group of devil-sign-flashing Scandinavians. Things fall apart from there; a brilliant idea on paper, the Monsters of Transylvania tour falls into ruins when the Romanians stay away in droves.
The band gets damned lost in traffic in Prague, and this ordeal is followed by a runaround from a rathskeller owner who tries to pay them off in bowls of goulash. There are sold-out trains, missed planes and colds that just won't quit.
This poverty-inducing tour is Lips' annual vacation from his day job, working at an industrial caterer; even though he has passed his 50th birthday, he is still driving a company van. Reiner has a mortgage of his own. The European defeat makes both men consider packing it in.
Then they have an inspiration: maybe their 11 albums since Metal on Metal haven't sold because of lousy production. Thus they get in touch with their old collaborator Chris Tsangarides, now a portly, serene record producer on the Dover coast in England. Tsangarides judges that the new series of songs has something and that £13,000 or so might tease it out. The pursuit of this one last gamble involves a detour through a boiler-room sales office straight out of a Mamet play—and a big strain on both musicians' families.
The documentary follows the different side of these two Siamese-twin-like buddies, so physically alike that sometimes one has a hell of a time telling them apart. Friends since age 14, they get into fistfights, which end with touching apologies. They're not complete monomaniacs, being good family men.
Reiner is an accomplished Sunday painter. His subjects range from somber Hopper-like cityscapes to a more secret canvas of something he saw on tour once: one of those bizarre German platform toilets, fully loaded. (A man who does a portrait of a piece of shit is certainly saying something about being in disgrace with fortune and men's eyes.) 
Seeing the two men joking together makes you think of Jewish humorists like Abbie Hoffman and Paul Krassner; they're warm, deadpan joshers. When they go on a field trip to Stonehenge, they spend a little time discussing whether it was Satan or Merlin who built it.
There may be better movies about heavy metal than Anvil! , but you'll never see one that's more tender. The current craze for bromance ought to make this wincingly intimate yet uproarious true-life story a major hit.
Kudlow and Reiner, and their respective families, put a lot of trust into director Sacha Gervasi, and that trust is completely rewarded. Anvil! is an affectionate tribute to heavy metal rather than a mockery, in which both the theatrical silliness and the hard work are honored for what they're worth. The clowning and preposterous occultism of heavy metal have always been welcome in those remoter parts of North America, those places where people take themselves so terribly seriously, and the God-bothering just never, ever, stops.
I would love to know what younger audiences think of Anvil! ; the movie might look like a study of two foolish oldsters who ought to know that their time is up. Thing is, all human endeavors are delusions of permanence. The only way to function with that knowledge is to follow Kipling's advice and treat both success and failure as imposters.

ANVIL! THE STORY OF ANVIL  (Unrated; 90 min.), a documentary by Sacha Gervasi, opens May 1.
Click Here to Talk About Movies at Metro's New Blog
Send a letter to the editor about this story.