04.29.09
home | metro silicon valley index | movies | current reviews | film review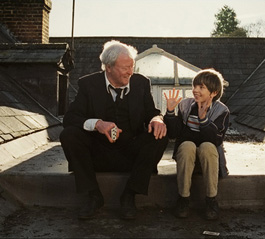 MAY TO DECEMBER: Young Bill Milner befriends Michael Caine in 'Is Anybody There?'
Old Love
Michael Caine is the draw in 'Is Anybody There?', a depressing tale of the final curtain
By Richard von Busack
IN THE HANDS of someone more sure and less gentle than director John Crowley, Is Anybody There? could have been something like Michael Caine's King Lear. As things stand, it is a strangely distressing film, a queasy mix of the realistic and the inspirational. Crowley (Boy A) stages this end-of-the-line drama at a Yorkshire retirement home in early spring 1987. Since his parents run the place, young Edward lives there; he is played by an excellent young actor, with that supernatural cast the best child actors have: Bill Milner of Son of Rambow. Edward is fascinated with ghosts and secretly tape-records the last sighs of the old retirees as they expire.
Then one day, a really interesting old man turns up: Clarence, once "The Amazing Clarence," a former stage magician who is beginning to go forgetful. After a half-hearted stab at suicide, from which he is rescued by Edward, he befriends the kid and even holds a sťance for him and an exhibit of birthday-party magic. Clarence then begins to pour out his own secrets and bitterness. Meanwhile, in sort of a Come Back, Little Sheba subplot, Edward's father falls in love with the young cleaning woman, Tanya (Linzey Cocker, a burst of youthful prettiness in a movie that needs it).
When Caine raises his still-commanding voice to rally Edward's birthday party to come watch his magic or to discourage the kid, describing him as "a cross-eyed little Herbert," something stirs inside you. You don't want to watch Caine defy death, you want to watch him survive it. Any constant filmgoer might feel that he has more friends among the dead than the living, or that there's more life in 24 frames of Cary Grant or Peter Lorre than there is in the actual living Matthew McConaughey. Watching Caine totter through the part and, as if we didn't get it, reciting the famous line about death "Do not go gentle ..." makes you feel that he's rehearsing his own wake. There's something indecently early about these movies of doom, something that isn't the perfect use of Caine; it's seeing some waning power squandered. Both he and the little boy are playing characters that seem older than they are.
The 1987 setting is used because of the politics; Thatcher's dark shadow lies over this old folks home, even though I didn't recall any specific mention of the Iron Baroness. But Crowley doesn't show any particular sensitivity to these aged actors; they play their parts broadly, like extras in TV's Waiting for God. Still, among the palsied oldsters at the home is Rosemary Harris, a still-vital actress. Harris is Aunt May from the Spider-Man movies, her most popular if maybe not her best work. I remember something better, how well her own precision and staginess worked when she was the Player Queen against Charlton Heston's Player King in Kenneth Branagh's Hamlet. Here she plays a dancer with a plastic leg, mooning over the shoes she once wore. It's not a part that goes anywhere—she's just there to grieve—but a movie this clumsily edited can use any star power it can borrow.
The title shows some kind of proud anti-entertainment streak, a terrible lack of show business acumen that isn't justified by the Mike Leigh–style toughness that could have been brought in. As it happens, I saw it in an empty theater: a self-fulfilling prophecy fulfilled.

IS ANYBODY THERE? (PG-13; 95 min.), directed by John Crowley, written by Peter Harness, photographed by Rob Hardy and starring Michael Caine and Bill Milner, plays at selected theaters.
Click Here to Talk About Movies at Metro's New Blog
Send a letter to the editor about this story.