04.29.09
home | metro silicon valley index | movies | current reviews | film review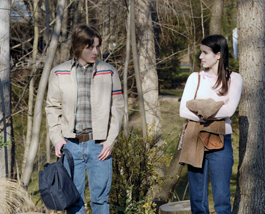 READ ANY SALINGER LATELY? Rory Culkin beats around the bush with Emma Roberts in 'Lymelife.'
Long Island Lolita
'Lymelife' is a '70s-era romantic satire that doesn't need to traffic in simple nostalgia
By Richard von Busack
WHEN Adventureland came out, I mentioned that part of the film's charm was that it was obviously made by people who realized that Holden Caulfield was a snob. In the highly ticklish Lymelife, there's a scene in which the seemingly all-knowing but troubled girl Adriana Bragg uses the word "phony." Her best pal, Scott (who longs to be her boyfriend), steps up to the plate: "Phony?! Are you reading that book about the kid who runs away from private school?" Set in a tick-bitten Long Island Railway suburb during the late '70s, Derick Martini's deft romantic comedy follows Scott's seemingly hopeless thing for Adriana. She is played by Emma Roberts, Eric Roberts' daughter and the niece of Julia, in a true breakout part. Roberts seemed pretty enough in Hotel for Dogs, but there wasn't a sense of any reserves; here, she zeroes in on the kind of oddball heartbreaker that makes a movie worth seeing more than once. Airily talking about the older guys she likes to date, this 15-year-old swans around in a jumbo-necked sweater and oversized beret, undoubtedly the "bippity-boppity hat" David Bowie was singing about in "Queen Bitch." During a Christmas party, Adriana's dark hair is adorned with a cluster of artificial mistletoe. "When a girl wears mistletoe in her hair, it usually means one thing," she says, trying to help Scott out. It takes Scott a minute to get her meaning.
Rory Culkin plays the discomfited Scott, who is migrating out of Star Wars fascination into more interesting realms. Just back from Army boot camp is his older brother, Jimmy (Kieran Culkin, another member of this suave, cream-colored, oddly depressed-looking acting dynasty). It seems likely Jimmy will be deployed to help the British Army in its Falklands adventure: "o be shot by Spics" is the way these fatalists suggest it will happen. Scott's father, Mickey, is played by Alec Baldwin, at his most portly and snake-eyed. Like so many beefy, self-important Realtors, Mickey is a philanderer, cheating on his wife, Brenda (Jill Hennessy), with Adriana's mom, Melissa (Cynthia Nixon). Meanwhile, Adriana's cuckolded father, Charlie (Timothy Hutton), pale as King Hamlet's ghost, sweats his way through a terrific bout of Lyme disease. "It's like a perpetual acid trip," he says. Chimerical deer, like the bucks whose ticks gave Charlie the sickness, keep appearing at the window of the house, undeterred by the rifle he's carrying around the place.
Despite the tendency for the grandeelike Baldwin to tip the film in his own direction, Lymelife seems one of the most acute comedic memoirs of that bad era. It only touches on '70s nostalgia, such as Scott practicing his Travolta moves in the mirror, when not poring over Oui magazine, so useful for the masturbating-for-dear-life adolescents of the period. On the scale of satire, it's closer to Peter Bagge's comic-book stories of Jersey than The Ice Storm, a look at the same era that is more suffused with moral tragedy. Oddly, Mickey's eventual redemption seems less like the wrap-up of a sitcom than a mirror for the Reagan era's return of paternalism: a new and different kind of hustle for a hustler to play.

LYMELIFE (R; 95 min.), directed by Derick Martini, written by Derick and Steven Martini, photographed by Frank Godwin and starring Alec Baldwin, Rory Culkin and Emma Roberts, plays at selected theaters.
Click Here to Talk About Movies at Metro's New Blog
Send a letter to the editor about this story.