04.29.09
home | metro silicon valley index | movies | current reviews | film review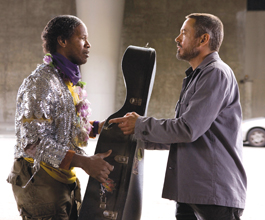 Photograph by Francois Duhamel TAKE MY CELLO, PLEASE: Jamie Foxx (left) finds a champion in Robert Downey Jr. in 'The Soloist.'
Strings Attached
A newspaper reporter and a musician artist prove that it takes two to make 'The Soloist'
By Richard von Busack
THERE IS very effective material in The Soloist, despite how terrible the trailers look. Robert Downey Jr. is, of course, excellent. The real highlight, however, is director Joe Wright's vision of a massive homeless encampment in downtown Los Angeles. The sequence is filled with nonprofessional actors and looks like something out of Bosch. One lunatic wears a traffic safety cone on his head as he raves. The wind whips around, and a neon heart leers from the top of a skyscraper, giving its ruddy glow to the roiling mess of suffering humanity below. Downey has been public about the there-but-for-the-grace-of-God side of his own personal problems; he must have responded to a role of a reporter harrowing Skid Row. Downey plays Steve Lopez, a Los Angeles Times columnist, wounded from both a divorce and the aftereffects of a bicycle accident. Wandering in Pershing Square, Lopez comes across a street violinist leaning under a statue of Beethoven. Nathaniel Ayers (Jamie Foxx) was a Juilliard student who cracked. Using his newspaper column, Lopez tries to rescue Ayers. Thus the movie's double-ended title; as a writer, Lopez himself is a kind of keyboard soloist. The public responds to Lopez's column; one reader, a former musician, sends the homeless genius the cello she can't play anymore because of her arthritis. As in any unequal friendship, there is strain. The attention paid to Ayers flares up his paranoid side, and Lopez is startled because all he has seen previously is the musician's beatitude. Lopez' editor and ex-wife (Catherine Keener), a character fictionalized for this otherwise nonfiction movie, becomes a girl version of jesting Pilate when Hayes' difficulties turn out to be too much for the reporter to handle.Foxx does some artistically athletic turns—he switches gears fast—but his hammy, babbling rain-man gets on the nerves. The Soloist demonstrates one of the essential marks of simple-minded scriptwriting: the idea of that the disturbed have a special conduit to the divine. The script gets a dig in at a member of an atheist group. There's another incidental character here, a born-again musician (Tom Hollander) who helps Hayes. Wright poses this musician next to a cheap painted Jesus on the side of a church, as if to let us know he's siding against overt evangelizing. Of course, it's easier to put your guard up against the overt kind. In a popular movie about faith moving mountains, faith means what its makers want it to mean. So the Paraclete-like pigeons flying over downtown, feathered angels moving heavenward by Hayes' music—that's less of a cornball image than Jesus and his sheep? The movie conceals its essential snobbishness—one street schizophrenic has a gift, and that makes him more precious than the army of others, displaced by California's health system and kept shelterless by speculators. Ben Hecht, who co-wrote the play The Front Page—once said that the newspaperman was like Galileo: "He knows the Earth is round." The Soloist emphasizes Lopez's uselessness until he coming to terms with faith: it suggests that a journalist is not ready until he knows the earth circles God.

THE SOLOIST (PG-13; 109 min.), directed by Joe Wright, written by Susannah Grant, based on the book by Steve Lopez, photographed by Seamus McGarvey and starring Jamie Foxx and Robert Downey Jr., plays valleywide.
Click Here to Talk About Movies at Metro's New Blog
Send a letter to the editor about this story.