04.29.09
home | metro silicon valley index | music & nightlife | band review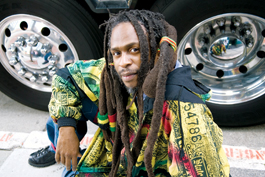 FORWARD HINDS: Steel Pulse's David Hinds keeps the reggae faith.
Steel in The Game
Steel Pulse's David Hinds sounds off on the past and present of roots reggae
By Curtis Cartier
IT'S TOUR TIME for Steel Pulse. Plane tickets have been booked, backup singers hired and hotel reservations made. David Hinds is in Birmingham, England. In less than two weeks, he'll be in San Francisco, kicking off the latest leg of the tour. But after 35 years as frontman for the iconic roots-reggae set, he's got the process down to a science and is a sea of calm amid the last-minute preparations.
"I'm really looking forward to coming to Santa Cruz again," he says of his May 6 gig at the Catalyst. "I've been there a million times, and I always love coming back."
Hinds' excitement seems genuine; his cultured Birmingham British accent only slightly marred by occasional dips into the London cockney. The giddiness is refreshing, given the sour outlook many musicians possess after decades of records, gigs and interviews.
For Hinds, despite watching 12 members, including four founders, quit, wash out or move on, and despite bitter fallouts with three major record labels, touring is still a time when it's all about the music.
"It's always been a struggle," he says. "A lot of people still don't get what we're trying to do, you know. But on the road we can just concentrate on the music."
Steel Pulse, however, has never been only about the music. From the group's first record, Handsworth Revolution, in 1978 to its latest, African Holocaust, in 2004, a rebellious political spirit and a fundamental Rastafarian message have permeated the substance of both music and musicians. And though the group now sits comfortably as the most successful reggae act to come out of the U.K., it's been a long fight to get here.
"Reggae music came to the U.K. from people like us—children of immigrants who migrated after the war," says Hinds. "Back then, our music was never taken seriously. We were black Britons and we were used to getting the racial slurs in school. Venues didn't want to play us because we had a protest message."
Hinds describes the mid-'70s as one of the most trying times for his young band. A strange thing happened in the late '70s and '80s in London, however, and reggae music soon found itself championed by unlikely supporters.
"Punk rock came along around then. The punk rockers were interested in supporting anything that the system was opposing. And at that time, the system was definitely opposing reggae music," Hinds explains. "We were never really into punk but we started to realize the similarities between reggae and punk and started playing with a lot of the bands."
Fast-forward to the present and punk rock is all but dead. Reggae, with the passing of its prince Bob Marley in 1981, might have died also, but thanks to acts like Steel Pulse, Buju Banton, Junior Reid and the Wailing Souls, roots reggae can be now heard everywhere from head shops to supermarkets. Hinds says he's thankful for the longevity of his music and the increasing demand, but at times, he's still surprised by it.
"As far as the media was concerned, when Marley died the music was over. That wasn't so," says hinds, his voice quickening. "People tried all kinds of new subject matters and styles to keep up the popularity. They started drifting away from the spirituality. But we've always been about deeper things, you know."
It's these "deeper things" that Hinds says Elektra, MCA and Atlantic record companies could never understand. Those companies "turned their backs on us, so we turned our backs on them," according to Hinds, and today Steel Pulse is represented by the small, reggae-only, RAS label.
"Every time reggae bands were signed to a major label they were thrown into the black category or R&B. We never saw any of the money they promised," he says. "Now with the Internet and pirate radio stations, we get more exposure than we did with the major labels."
In Santa Cruz, Steel Pulse has had plenty of exposure. Hinds says the town is always a must-stop on any American tour, and with tickets expected to sell out, it's clear that local fans feel the same way.
"The people in Santa Cruz have been wonderful to us over the years," He says. "We feel deeply indebted to everyone there. Thanks for all the love."
  STEEL PULSE plays Wednesday, May 6, at 8pm at the Catalyst, 1011 Pacific Ave., Santa Cruz. Tickets are $26 in advance and $30 at the door. (831.423.1336)
Send a letter to the editor about this story.