04.29.09
home | metro silicon valley index | music & nightlife | band review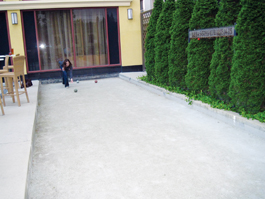 Photograph by Felipe Buitrago ROLL PLAYER: The bocce ball court at Mosaic attracts a neophyte player.
Rolling Greens
By Colleen Watson
HIDDEN BEHIND a row of thick hedges next to the Hotel Montgomery in San Jose are two bocce ball courts, a pastime that I thought was mainly for older Italian men. But looking for something new to try, I thought I would give the sport a shot. My friend decided to try out the game with me, so we hoofed it to Mosaic. He bought some drinks, and I went to the front desk of the hotel to grab the bocce balls, and then we headed to the courts.
We looked up bocce rules online—basically, players aim to get their bocce balls closer to the pallino, a small white ball, than their opponents' balls by rolling them down the court. One point is awarded for being closest to the pallino and two points for touching it; we played to 15, because that was what the scoreboard went up to.
What started out as a friendly game between two newbies quickly devolved into heckling and trash talking. There was a lot of screaming and jumping around, but it ended with me the victor and him writhing in pain on the court and then demanding a rematch, which I gave him. He preceded to lose again.
Mosaic is not the only bar with bocce. If you head over to Los Gatos, Campo di Bocce has indoor and outdoor bocce courts as well as an Italian restaurant. I could definitely see coming back on a warm night and tossing the bocce balls around while sipping on some fruity drink. It's always nice to be outside.
Mosaic
Hotel Montgomery; 211 S. First St, San Jose; 408.282.8800.
Campo di Bocce
565 University Ave, Los Gatos; 408.395.7650.
Send a letter to the editor about this story.