04.29.09
home | metro silicon valley index | columns | style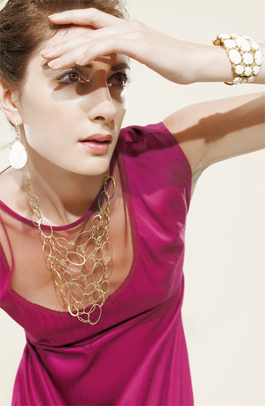 MISSING LINK: Style it up with the elegant gold tone look of Nordstrom's link bib necklace.
Style
Bib and Tucker
By Alexis Mendoza
THE décolletage is one of the best bits to dress it up with eye-catching accessories. Plain necklaces with one measly charm hanging down just won't do. To call real attention to the area requires some larger accoutrement, like the bib necklaces that are so popular this spring.
What exactly is a bib necklace? Basically, it is a voluminous, sometimes chunky necklace that drapes over one's collarbone, usually in a triangle shape. Bib necklaces can be made out of pretty much anything; feathers, chains, beads, leather and flowers have all been spotted on celebs recently. Even the classic little black dress can be enhanced by draping a chunky, gold-chain bib necklace around the neckline. If that is a bit too much, the look can be dressed down with some shiny feathers splayed about the chest. But remember, bib necklaces aren't the same thing as bibs—wearing one does not permit fits of messy eating.
These necklaces come in all shapes and sizes, from daringly bold, huge baubles to dainty collections of hundreds of chains draped just so. These looks can be found in almost every collection this season, ranging in price from economic (Nordstrom's link bib necklace, $88) to supersplurge (the Kiki de Montparnasse black Fringe Benefits necklace, $595). For an L.A. chic day look, there is the chain-mail necklace by Haute Hippe, or Lee Angel Jewelry's Anik beaded necklace, both found at shopbop.com.
Urban Outfitters carries fabulous jewelry at low prices. If the ensemble calls for something a bit more elegant, look no further than iconic designer Jean-Paul Gaultier's antiqued silver-tone brass bib necklaces with crystal glass. Stores like Nordstrom and Bloomingdale's are a sure bet for the largest variety of bib necklaces to be found.
Send a letter to the editor about this story.