04.29.09
home | metro silicon valley index | columns | Wine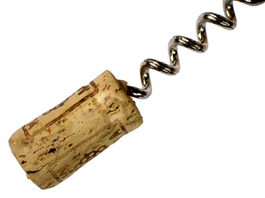 The Wine Column
Corking High Fees
By Stett Holbrook
RESTAURANT wine markups are a sore point for me. Restaurants deserve to make a profit on the wine they sell, but at what point do markups above retail price become unreasonable? Two hundred percent? Three hundred percent?
Given the high cost of restaurant wine, it's natural for diners to seek ways—like bringing their own wine to dinner—to avoid the price gouging. Some diners just like to bring in special bottles of their own. But restaurants often charge steep corkage fees, a surcharge for pulling the cork out of your bottle and pouring the wine, another pet peeve of mine.
Some fee is justified, but when restaurants stick it to customers for $20 or more I think that becomes unreasonable. Like "convenience fees" for concert tickets or random bank charges, high corkage fees serve no purpose other than to squeeze more money out of diners. 
While restaurants may make a few bucks. I think unruly corkage fees are ultimately self-defeating for restaurants because they tend leave a bad taste in diners' mouths. Some restaurants wisely waive the corkage fee on the first bottle of wine or offer everyday low corkage fees like $10 or $15 dollars. That's reasonable. After all, you are using their glassware, dishwashing services and having someone open and pour the wine.
I'm convinced more reasonable corkage-fee policies would generate goodwill among customers that would in turn drive more business, which seems like a better long-term business strategy than steep corkage fees. 
There are a few Silicon Valley restaurants that charge small corkage fees or don't have fees at all for bringing your own bottle. I like these places. To help sort out the reasonable restaurants from the gougers, check out gobyo.com, a website that allows you search by city, zip code, type of restaurant and other parameters and compare corkage-fee policies and other details.
Using the free service, I was surprised to find more than 100 South Bay restaurants that charge $10 or less for bringing your own wine. Many charge no fee at all. Sure, many of these places are taquerias and strip-mall Chinese restaurants, but in this economy every dollar counts and it's nice to know you can still go out to eat and not have to budget extra money for toting your own wine.
Send a letter to the editor about this story.