04.30.08
home | metro silicon valley index | the arts | books | review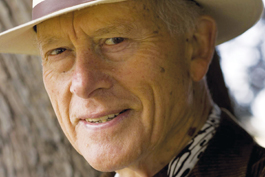 Tracing the Light: Jim Houston takes local geography as the cue for his new book of essays and stories.
Golden Homeland
In a new collection of essays and stories, James D. Houston pens a love letter to California
By Traci Hukill
JAMES D. HOUSTON'S new book opens with a deeply affectionate portrait of Santa Cruz, his home for 46 years. A half-hour from the Santa Clara Valley of his youth, the beach town where he learned to surf and lost his virginity is painted in shades that anyone who has ever settled into the gentle curve of the Santa Cruz shore will recognize. "A lot depends on the light here," he writes.
"Down along the river that runs through town, the light swells up under a cloud of seagulls as they rise in a swirl. ... In later afternoon the light turns the bay white. It catches eucalyptus trees with their undersides up, like a thousand new moons."
Houston surveys Santa Cruz's history and peers into its future. The city is under pressure from the expanding Santa Clara Valley. The year is 1964, and Houston, the son of an East Texas father and an Alabama mother who moved to San Francisco just before his birth, is conflicted. Better jobs and better weather pulled his family here. "Have I any claim on a view?" he wonders. "Can I begrudge the multitudes who continue to arrive, for the same reasons?"
That tension—between a powerfully experienced connection to place and the heartbreaking knowledge that it's evolving faster than you can file your memories of it—undergirds Where Light Takes Its Color From the Sea: A California Notebook (Heyday Books; $21.95). In two dozen essays and stories written between 1964 and 2006, Houston writes about his house in Santa Cruz; Russian River artists; the rejuvenating springs at Tassajara; friendships with Raymond Carver and Wallace Stegner; the Loma Prieta earthquake. In every piece, California is present: golden, promising, occasionally punishing, like a mistress who has figured out her worth.
I met with Houston one recent morning to discuss the book. Now in his 70s, he's tall and fit. Clad in fleece vest and hiking shorts, he led me through the dark, fragrant cool of the East Cliff Victorian where he and author Jeanne Wakatsuki Houston raised three children. As we talked, a delighted smile would suddenly light up his face, like a personal form of punctuation.
As the idea began germinating for a book drawn from 40 years of essays, geography emerged as a theme: "The relationship between place and life has always interested me a lot. If you grew up in Hawaii, or in the desert, that informs the way you organize your days, the way you see yourself, even the way your nervous system works. It shapes your expectation of what the world looks like."
Asked how a first-generation immigrant to the western edge of the continent developed such love for soil beneath his feet, Houston points to his Southern roots. "I've had family in North America for 240 years," he says. "My grandmother on my mom's side lived in the Cumberland Mountains of Tennessee for eight generations. My mother was from Alabama. People in the South are very attached to places and habitats. That was a legacy that I absorbed from them."
Change is another theme. Having grown up on a farm on Pierce Road in Saratoga in the 1940s, Houston remembers the springtime sea of pink and white blossoms, the flowering of 6 million fruit trees. "Now it's TV aerials!" he exclaims. The change has challenged him. "The rate of growth in California is greater than most places in the world have to cope with," he says. "We constantly have new waves of immigrants, new waves of development, so you have to accept the idea that anything can be shifted in your world at any time. Even if you're well settled here, you have this underlying feeling of 'What are they gonna do to me next?'" That smile. "It's an endless, endless struggle that people in most places have not had to cope with."
Houston's attitude isn't all philo-sophical resignation. Maybe it's the native optimism of the Westerner, but Houston sees something fascinating taking place in his old home in the valley. A recent assignment took him there, and he discovered markets redolent with curry, four newspapers published in the languages of India and several blocks with street signs in Korean, no English translation.
"This mix of races and cultures and ethnicity—that's the thing we're going to have to grow into and learn about if we're going to survive globally," he says. "This whole part of California is an extraordinary kind of social experiment."
Send a letter to the editor about this story.