04.30.08
home | metro silicon valley index | music & nightlife | band review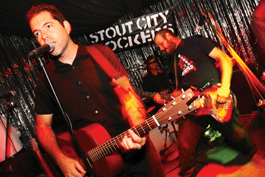 Photograph by Felipe Buitrago

United We Strum
Stout City Rockers isn't just the name of the loose collective of South Bay rock artists who produce compilations under the same name. It's more like a way of life. Can they put the local rock scene on the map?
By Mike Connor
"I WORK WITH PROS, man," saya Dave Miller. He's referring to the Stout City Rockers, the supergroup of all-stars he's put together to up the profile of the talent in the local rock scene. As the driving force and primary songwriter for the group, Miller wrangled together musicians who have played in South Bay bands over the past twenty-odd years, and made them play his songs.
Miller is also in local bands the Odd Numbers, Commercial Static and Church of the Saturday Saints, so he stays plenty busy as a bassist, guitarist and singer (he also can be found working in the lobby of this very newspaper). He's put out a couple of compilation CDs of local bands on his label, Scary Records. So why take on a complicated project that relies on a slew of scenesters who are about as easy to herd as an extended family of short-tailed cats?
"He's fuckin' backlogged," says Gary Sunbury, Miller's friend and associate who sings on a few tracks and assembled a batch of eight SCR music videos. Sunbury also has a cooking show called Eat Me with the Forgotten's frontman Gordy that will soon appear on the Food Network, so he's also quick with the food metaphor.
"There's so many different people," says Sunbury, "it's just ingredients for a good dish."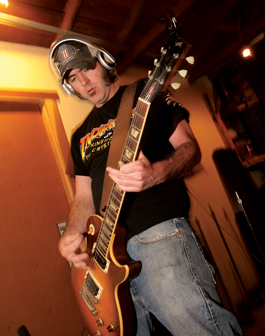 Photograph by Felipe Buitrago

Pros and Bros
The supergroup's name comes from the Stout Recording Studio in Oakland, where Miller's longtime friend Randy Burk lives and works. Once a month, Miller drags an assortment of pros (who also happen to be his bros) up to record a song.
In March, the group recorded "Subway Station," a straight-ahead snappy rock song with a catchy call-and-response chorus, and a deceptively tricky structure.
At the session, Shawn Packer, who also plays lead guitar for the Shitkickers and the Saturday Saints, has his lead part down but is declining beers and practicing diligently.
"I kinda have a pretty good idea of what I'm gonna do, which sometimes isn't the case," says Packer, sitting on a couch in the tiny studio while riffing on his guitar. "Sometimes I come here and I don't have the slightest idea of what I'm gonna do until we plug in. I know what key it's in, that's about it."
This is standard operating procedure in the SCR project, showing up to record after having only rehearsed once or twice, if at all. The person singing lead vocals on the track, Brian Dupras—a big guy who draws favorable comparisons to the Star Wars character Chewbacca—says he only wrote the lyrics a couple of days prior.
"Miller kinda had lyrics and a little melody," says Dupras. "This is probably the third time I've sang it."
A successful recording seems so unlikely given the lack of familiarity with the song, especially as I watch them struggle with the confusing turnarounds, and missing changes left and right.
"This one is a little more off the beaten path—it doesn't sound like it, but it is," says Packer, adjusting his mesh cap. "The parts are not well-defined. They will be in the end, but as you're writing it and coming up with parts, it's not well-defined at all."
Having never heard the song before, Burk puzzles over a few details as he writes out his drum part, and quickly nails it on the spot. During the first few run-throughs, Chris Smith's bass part sounds good too, but Dupras urges Miller not to settle for "good enough."
Or, as he puts it: "No 'good enough-itis.' I know how you are, Miller."
"Well, look who I'm playing with!" says Miller, who once kicked Dupras out of a band they were in together called the Implants. Packer twists the knife:
"When you're playing with a bunch of rookies, you gotta have 'good enough implants.'" says Packer, flubbing the insult. "I mean 'good enough-itis.'"
It's a weird dynamic, this sudden professionalism among friends. Honest criticism is absolutely necessary, but potentially awkward. Dupras doesn't seem to mind.
"Certain people will just play the songs," says Dupras, "but I played with Miller in another band before, so some of the things he does, I'm just like, 'No.' And I've never stopped."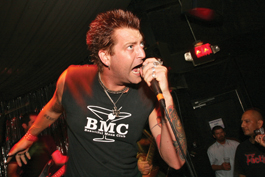 Photograph by Felipe Buitrago

The Stout City Rockers' first album, Found Alive, is—against the odds—filled with professional playing and production. Like some of Miller's work in other bands, the album has a retro feel that harkens back to early punk and ska, as well as English rock and psychedelic rock from the '60s and '70s, but with a surprising range of deviations.
When the subject comes up about "2012," a jangly pop song about the end of the world, Dupras is derisive, and Miller goes on the defensive.
"You always hated that song and I've always liked it," says Miller. "I've had people tell me that that's the raddest song I've ever written."
Dupras isn't swayed.
"No," he says. "Now concentrate on the task at hand!"
The song evolves in layers, taking on more texture and mood as the day wears on. The mood is light, but it's obvious they're taking their parts seriously and want to get it right. Well, everyone except Sean Bjordahl, a gregarious dude with drowsy eyes who also happens to be hungry.
"All I know is we got a veggie sandwich on hand," says Bjordahl. His backup vocal part is comically simple—he learns it in less than a minute. "I could have emailed this in," he says.
"That's the one of the best parts of the song!" says Miller. He's earnest, and clearly selling it.
"That's how Millhouse works," Bjordahl tells me. "He sells it all the time, dude."
It goes over well, though, thanks to Miller's humble nature. He's the kind of guy that seems to be congenitally lacking mean bones in his body. Closing in on 40 years old, Miller is like the big brother everyone should have had, which probably explains why people like hanging out and recording his songs with him. For his part, Miller says this project is easier than having his own band.
"Because you're dealing with them for only a week." says Miller, "For the most part, no one's ever mad, it's really laid-back, everyone's really professional. It's only one song you so wanna make it your best."
"Sometimes when you have a band together, people are fighting for control, Miller continues. "So they're kinda giving it up, but I'm also giving it up, too."
"It's fun," says Bjordahl. "And it's funner when someone else is writing it, and I don't have to fuckin' worry about it ... or pay for it. That's the best part."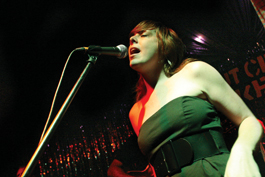 Photograph by Felipe Buitrago

Burn the
Disco Down
The local live music scene has been in decline over the last few years, with many live music venues changing their formats to DJ and dancing clubs or ultralounges. Miller's efforts fly directly in the face of that trend.
He has issued two previous compilations on his Scary Records label—You Are Here and In the Kitchen, which was actually recorded in his kitchen on an eight-track—both of which were very much about the local scene.
Over the years, the phenomenon of the compilation album has proved itself to be a powerful force in energizing, defining and popularizing local music scenes around the country. The Hell Comes to Your House compilation helped the Los Angeles punk scene in the '80s, and features the first studio recordings of Social Distortion. In the early '90s, the Kill Rock Stars compilation, which included Nirvana, Bikini Kill, the Melvins and Bratmobile, put Olympia on the musical map as Seattle's little sister that wouldn't sell out.
Miller's compilations have gathered together many of the heavy-hitters on the local scene, including the Shitkickers, the Forgotten, the Feathers, the Cliftons, the Odd Numbers, Whiskey Sunday, Pimpsticks, 4banger and lots of others. While the Stout City Rockers project employs members from bands across the scene, in practice it's not so much a compilation album as it is a compilation band.
And as a collaborative effort, songs addressing perceived problems in the local scene seem to carry more weight. Take "The Disco," the first track on Found Alive, a celebration of "the action of the punk show" and a call-to-arms against the perceived shallowness of club culture. Gordy Forgotten sings the song with an almost Dicky Barrett-like growl, grousing about the "roofie-laced" drinks and champagne rooms, and winding up the song with the question,: "How much ya gonna pay/ just to get laid?" But the kicker is the chorus, an oi-like shout of an army of punks singing, "Down, down, down, burn the disco down!" as if their lives depended on it.
Live at the Rose Garden
When I showed up at Dave Miller's house in the Rose Garden neighborhood, I found Stout City Rockers loitering in his back yard with beers in hand, just outside of a small back house reverberating with the muffled sound of live rock & roll.
Two of the band's singers, Dover and Sunbury, were discussing an early experience in a recording studio.
"I had never even heard my voice," says Sunbury, "and I was like, you guys let me sound like this for this long? We played tons of shows!"
He's speaking to the fact that you're playing live rock music, everyone gets to hide behind the wall of sound coming out of the speakers, but in the studio, tracks can be easily isolated to embarrassing effect, as Sunbury relates with an interesting metaphor.
"It's like, basically, you're at a party and you go into the bathroom to take a dump, right," says Sunbury, "and all the walls drop and the whole party's just looking at you, sitting there ... and it's recorded. It's awesome."
But here at the practice spot, the amps are cranked and the music is loud. The back house is filled with toys for big boys—guitars, amps, a drum set, lots of recording equipment. A big white board on the wall is full of lyrics for a new song, plus a setlist that will help them work out the logistics of playing a show with a rotating lineup at the tiny Caravan.
Miller explains that the project came about when he was recording some B-sides for his bands up at Stout. "I'm all, 'Fuck, you know what, why don't I just write these songs and have my friends singing, because they sing 'em way better than I do."
The project picked up steam during skating sessions. Sunbury with another food analogy: "There's creativity going on ... it was just like a smorgasboard of just whatever ... Packer's playing a lead on one thing, Mike Fox is doing something on another, it just exploded. [Miller was] the kernel, and it was popcorn ... with different people."
Some of the band members left the rehearsal to go see their friend Mike Fox playing guitar for the Dwarves at the Blank Club. "He just got back from Spain with the Dwarves," says Sunbury, "He's an old-school punk rocker—he's in the Faction, Los Olvidavos, I mean, crazy. And he's in [Stout City Rockers], and he's also in Whiskey Sunday with Dover. But I mean he loves to play around here because he'll just play a show and just fuckin' rock, and you know, tons of people they have no idea who the fuck this guy is, and that's the beauty of it. And he doesn't care either."
Sunbury also has a theory about what motivates people to participate in the project, and it definitely is not the money, because there is none.
"It's not low budget, it's no budget," says Sunbury. "But things mean a little bit more when you don't have that devil on you, which is money. It's like, 'Dude, what do you got? I don't care if you don't have money, that doesn't matter. What can you offer as an individual, as a person?' That's your money, it's like your human barter system, talentwise. I don't know how you put it ... your soul. It makes your soul feel good."
Back inside the practice room, Bjerdahl sings the chorus to one of his songs. "All we are is all we are/ All we are is all we ever are!"
"It's free," continues Sunbury. "I don't wanna get too hippie on you, but it is."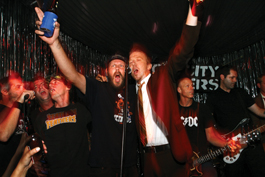 Photograph by Felipe Buitrago

Scenesters Retreat
The closest this group gets to being hippies is their annual trip to Yosemite, which Miller says has been going on for about 25 years. Drawn together by a common musical and skateboarding culture back in the day, they gather in Yosemite each July with their families and instruments.
On Found Alive, Miller and his 8-year-old daughter sing the outro on the song, but she gets her own song on the next album, and he says he's including his wife on it, too. Along with a couple of the other kids at Yosemite, Sadie is in a three-piece kid band called the Dinosaurs.
"It's a good crowd," says Miller, "People bring up tons of bongos and guitars, Randy brings his glockenspiel, there's always a guitar laying around in the dirt."
Not that punk rock has ever been clean, and a lot of these people met in a place that was beyond dirty, at the Rock Garden on South First Street, a run-down building with 31 band practice studios, which was condemned back in the summer of 1999.
"Sometimes there'd just be like junkies in there," says Sunbury. "That's how we met Dover, he was in a band upstairs. It was Whiskey Sunday back then, but we called 'em the Venties because we heard 'em through the vent."
"It was really scummy, dude," says Miller, "But it was so awesome. Downtown was so much cooler then. That was unity there, you know?"
As a longtime fixture on the downtown scene, Miller is the first to cut himself down to size.
"I have to say that downtown has changed, and I'm not really a part of it," he says. "There's a whole new thing coming up and they're doing their thing, and maybe I'm not the one that represents San Jose. ...There's always something new. Stout City Rockers is new for me, but realize this is a guy who's almost 40. I'm not the guy running the scene."
Send a letter to the editor about this story.