04.30.08
home | metro silicon valley index | silicon valley restaurants | review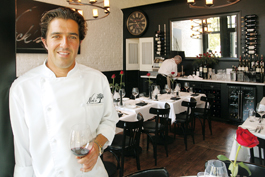 Photograph by Felipe Buitrago
Nick of Time: Nick Difu's new restaurant is a perfect match for contemporary Los Gatos.
Local Boy Makes Good Food
Nick's captures essence of Los Gatos style and appetite
By Stett Holbrook
YES, Los Gatos is a ritzy Silicon Valley enclave that has Rolls Royce and Lamborghini dealerships across the street from each other and a median housing price greater than the GDP of some developing countries. But for all its trappings of wealth and exclusivity, L.G. is a friendly small town at heart where people greet each other on the street and are more comfortable in jeans and sweatshirts than suits and ties.
The city's spirit of upscale leisure extends to its taste in food and drink, too. While Los Gatos has its share of fancy, special occasion restaurants, it's the casual but refined places that seem to attract the most loyal followings. Veteran Los Gatos chef Nick Difu knows the city's appetites as well as anyone, and he has hit the mark with Nick's on Main, a relaxed but elegant bistro that's full of neighborly charm and is a showcase for his full-bore style of cooking.
Eight-week-old Nick's is a cozy space that borders on cramped when it's busy—and that's often. Step inside and you're virtually standing on top of the unlucky table near the door. There's no buffer zone or host station. But that elbow-to-elbow crowd is also part of the restaurant's appeal. This is a local's place where everybody seems to know each other and everyone knows Difu, who frequently steps away from the stove to walk around the bustling dining room to chat with customers. The exposed brick wall, beautiful glass facade and collection of black and white family photos add to the convivial atmosphere and call to mind a classic New York bistro.
Professionally speaking, Difu gets around. He has chefed at the now defunct Café Marcella, the Wine Cellar and 180 Restaurant and Lounge. As a result, the city has come to know him as one of its own. While he's cooked around town for years, this is the first place that is all his, and it's well suited to his generous style of cooking because of its intimacy and small scale. While it's not cheap—entrees range from $22 to $34—Nick's is a place for a casual midweek meal where neighbors end up sitting next to each other, but it's still nice enough for special occasion weekend dining, too.
As for the food, Nick's is a continuation of the hedonistic comfort food Difu displayed at 180. Some of the dishes, like the mussels, baby back ribs and meatloaf, bear striking resemblances to those at 180. At its best, Difu's cooking is decadent and deeply satisfying, the kind of belt-loosening food where you chuck concerns about calories and cholesterol out the window and just revel in a meal of well-executed excess. The food hurtles over the top with sybaritic abandon.
Take the "Not Your Traditional Caesar Salad" ($7). The salad combines butter lettuce, spinach and radicchio and tosses them in a creamy, garlic-spiked vinaigrette with blue cheese, bacon, capers, olives and, last but not least, anchovies. It's an everything-but-the-kitchen-sink salad that's salty, rich, creamy, crunchy and delicious. Or there's Nani's meatloaf ($22), a calorific ode to Difu's grandmother. The pan-roasted, caramelized hunk of meaty goodness is draped with twin ribbons of velvety mushroom gravy and creamy veal demi-glace. Light but rich whipped potatoes and sautéed broccolini round it all out.
Some of Nick's starters, like the duck confit-risotto tower ($13), could double as entrees. The multilayered dish tops a molded mound of creamy lemon risotto with duck confit and a nest of shaved Brussels sprouts. It's a filling, rootsy dish that is best shared. Steamed mussels are standard fare, but Nick's version, Prince Edward Island mussels in a spicy, Thai-inspired broth and cilantro butter ($11), creates a truly delicious appetizer that had me looking for a straw so I could slurp up all that rich, buttery, aromatic, spicy broth.
Other standouts include the pan-roasted halibut with bacon, sautéed asparagus and caramelized onions embellished in a luxurious Dungeness crab beurre blanc ($25) and the tender-roasted lamb rib eye with whipped potatoes, ratatouille and a muscular balsamic demi-glace ($34).
Not all dishes hit the mark, and desserts ($6) are a mixed bag. The individually baked bread pudding, pleasingly crisp and crusty outside and moist and chewy inside, is a wonder, but the overly gelatinous panna cotta and goopy apple tart left me flat.
The California-centric wine list features many Santa Cruz Mountain wines full of big, fruity flavors like the 2006 Testarossa "Palazzio" Pinot Noir and La Rusticana d'Orsa 2004 cab-merlot blend that stand shoulder-to-shoulder with Difu's cooking. Many are available by the glass.
Service is generally friendly and professional. At the end of the meal, the check arrives tucked into a worn culinary reference book. Inside, the pages are scrawled with the words of well-wishers, satisfied diners and one guy hassling Difu about his golf game. It reads like a yearbook signed by old friends. Difu is playing to a friendly hometown crowd that's fond of him and his food. At Nick's, he's returning the affection with his hearty and generous cooking.
---
Nick's on Main
Address: 35 E. Main St., Los Gatos
Phone: 408.399.6457
Hours: 11:30am–2:30pm and 5–9:30pm Tue–Sat
Cuisine: American
Price Range: $22–$34
Send a letter to the editor about this story.