04.30.08
home | metro silicon valley index | movies | current reviews | film review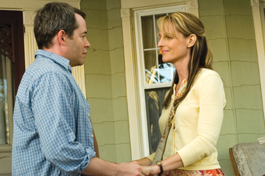 SHE COULD DO BETTER: Matthew Broderick has the nerve to walk out on Helen Hunt in 'Then She Found Me.'
Baby Fever
Helen Hunt in 'Then She Found Me' has too much dignity, not enough impudence
By Richard von Busack
APRIL IS a devout Jewish school teacher who is just hitting 40. Her husband (Matthew Broderick) left her, a particularly serious development because she longs for a baby right now. At this point, the birth mother who gave April up for adoption materializes, which catalyzes her problems rather than solving them. Helen Hunt, who directed, co-wrote and stars in the baby-feverish comedy/drama Then She Found Me, is not a smiler. She's more of a wincer, really, in a business where people are always telling you to smile, always. Hunt looks great; as a director, she gives herself more than a few scenes to prove that a 40-plus-year-old woman's body is still alluring. The field is fertile, and only the seed is wanting, like. Hunt's raptorlike focus and profile remain sharp. Age has pulled down her jaw line a bit; the look of serious concentration is evolving into a mask of sadness. Showing it unaltered by face-lifts proves Hunt's integrity.As Hunt's birth mother, Bette Midler shows off a face that is a miracle of plastic surgery, a smiling false front. She has crescent-shaped eyes and a toothy smile of high halogen-wattage. Midler's inner Mae West is out for keeps. She plays a morning chat-show host of much fame and personal affability, without a mean or a truthful bone in her body. Here, Midler plays a bright shining liar, and showing that is her own integrity. Then She Found Me presents a clash of two vastly different types—a force of sincerity and a force of insincerity. Why, with all this conflict, is the film so weak? The crediting of three writers adapting Elinor Lipman's novel suggests that this was a troubled script from the beginning.
Men ought to go to chick flicks, if only to see a mirror of how little women get out of dick flicks. Then She Found Me provides an extreme example of this chicklash. Colin Firth co-stars as one of the most emasculated leading men I have ever seen in a film. He plays keep-away with such infantile hurt feelings and fitful walkings-out that I felt like the theater seats were coated with itching powder. Funny thing, though, that the film doesn't raise his more likely objections to getting together with April—Firth's character has two children under age 10 in New York; he is raising them by himself on the salary he makes writing book-cover blurbs; and he will be legally actionable if he impregnates this woman whose biological clock is a 50-bell campanile.
No, Firth is resistant because—better say it—he is jealous of April's ex-husband Matthew Broderick, who has been playing dweebs for decades. This film is not a high point for Broderick, either, who gabbles out some half-scripted objections to being married and then moves in with his mother. In this tetchy, unreal story, Midler's sleek falsehood wins out. In some scenes, Midler seems to be parodying her starring role in the worst-ever version of Stella Dallas. When she looks at Hunt with her slitty eyes and delivers a line like, "I feel like you're a reward for everything I did right in my life," you just have to laugh whether you're meant to do so or not.

THEN SHE FOUND ME (R; 100 min.), directed by Helen Hunt, written by Hunt, Victor Levin and Alice Arlen, based on a novel by Elinor Lipman, photographed by Peter Donahue and starring Helen Hunt and Bette Midler, opens May 2 at Camnera 7 in Campbell and at CinéArts Santana Row.
Send a letter to the editor about this story.