04.30.08
home | metro silicon valley index | music & nightlife | band review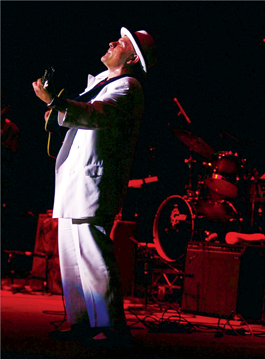 Even Bandleaders get the Blues: Ron Thompson is this year's San Jose Blues Week honoree.
Paint the Town Blue
San Jose Blues Week uses blues appreciation to lend a helping hand
By Jessica Fromm
BLUES may have once been characterized as the devil's music, but San Jose Blues Week couldn't be using its influence for a more virtuous cause. This year's Blues Week, running May 5–11, is dedicated to raising funds for the family of Christopher Rodriguez, a 10-year-old boy who was struck and paralyzed by a stray bullet during a piano lesson in north Oakland.
"I wanted to remind people of the plight of Chris," said San Jose Blues Week creator Ramon Johnson from the hospital after a recent emergency appendectomy. "His story was big in January; it was big news and got a lot of media coverage. But when the spotlight fades, his family is still stuck with the hospital bills," said Johnson.
Johnson's first thought while recovering from his operation was how his medical condition has slowed down efforts to raise funds for the Christopher Rodriguez Trust.
"This emergency, it couldn't have come at a worse time; it's been a real setback," he said. Once Johnson is well enough to be discharged from the hospital, he said he plans to continue seeking donations and organizing door prizes to raise cash for Chris's family.
Kicking off May 5, San Jose Blues Week will feature an eclectic palette of blues stylings from both national and Bay Area blues musicians. Artists will perform at 14 separate events at such varied venues as the San Jose Improv, Poor House Bistro, JJ's Blues Club, San Jose State University and the Clarion Hotel Lounge. A celebration of live music in San Jose, Blues Week is a chance for blues enthusiasts, musicians and club owners to come together and showcase local talent while promoting blues appreciation and raising the consciousness of the community.
As always, the week's events will cumulate at the 28th Annual Metro Fountain Blues Festival on May 10. Produced annually by the Associated Students of San Jose State University, this year's concert extravaganza will host celebrated Grammy Award–winning headliners the Robert Cray Band and Koko Taylor and Her Blues Machine, along with singer/slide guitarist Sonny Landreth. Also playing the free festival held at SJSU's San Carlos Plaza are the Smokin' Joe Kubeck Band featuring Bnois King, the Shane Dwight Band and Maxx Cabello Jr.
Every year since its inception in 2006, San Jose Blue Week has recognized a local blues musician's contribution to the arts. Previous years have honored San Jose harmonica player Gary Smith and celebrated blues guitarist Rene Solis.
This year's honored performer is bluesman Ron Thompson, the longtime bandleader of the late great John Lee Hooker. Hailing from the East Bay, Thompson has toured the country and played with numerous blues legends over the years, including B.B. King, Big Mama Thornton and Etta James. A master keyboardist and rhythm and blues guitarist, Thompson was officially honored by the city of San Francisco in 2007 for his musical contributions to the Bay Area.
"It's so sad that a situation like that happens," said Thompson regarding Christopher Rodriguez. "I felt so bad about that situation. I'm proud to be part of doing something; it's a really good cause."
Rene Solis, last year's official Blues Week honoree, said that he looks forward to getting a chance to jam with Thompson and Smith during "Chef Ramon's Talking Blues" on May 7 at the San Jose Improv. Merging a scholarly panel discussion on the history of blues with live performances, Talking Blues will also be broadcast live on KSJS-FM (90.5).
"The prime moment for me will be when Tom and Gary and I play together. It's really cool that the city recognized three artists," said Solis.
Johnson is also looking forward to Talking Blues this year, an event that he originally organized in 2005. "It's moving to the Improv, I'm really excited about that," said Johnson. "The gang that comes together for Talking Blues, all the usual suspects are there ... they really do a wonderful job."
For many in the San Jose blues scene, and particularly JJ's Blues Club regulars, Blues Week is a chance for this often overlooked musical community to unite and raise awareness.
"It's always interesting to see the JJ's Blues Club family tree come out," said Johnson. "San Jose has a rich history of blues. A lot of bands that are currently very successful got their beginnings at jam sessions at JJ's. It was a great training ground for people, a place for people to hone their chops."
One act that got their start at San Jose's JJ's Blues Club are blues singer Lara Price and guitarist Laura Chavez. As Lara and Laura Unplugged, the duo will preform their acoustic mixture of blues and rock at the Blues Week events Talking Blues and Smokin' Blues at the Poor House Bistro on May 8.
Price discovered a passion for singing the blues after meeting her band at a JJ's jam session in 2000. She said that San Jose Blues Week is one of her favorite events to perform at.
"The crowds are so generous; these are all my people," said Price. "It's come full circle, we've been pretty tight for the last eight years. The blues scene here, it's underrated. There's a lot of talent in the area, but not enough publicity about them. We got a good thing going on here."
But for Ramon Johnson, the most satisfying thing about San Jose Blues Week is seeing the San Jose musical community come together to raise awareness and help out the less fortunate.
"You know, what we do as people who entertain, we're not scientists," he said. "As a musician, you can't cure paralysis. But what we can do is raise awareness, doing what we do. The musicians [playing at Blues Week] don't have to do something like this. It's very rewarding, it's great when they come together."
SAN JOSE BLUES WEEK happens May 5–11. For a full schedule of events, visit www.sanjose bluesweek.com. The 28th Annual METRO FOUNTAIN BLUES FESTIVAL happens May 10 at San Carlos Plaza located at San Jose State University. For more information visit www.fountainbluesfestival.com.
Send a letter to the editor about this story.