04.30.08
home | metro silicon valley index | the arts | stage | review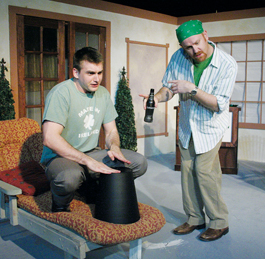 CLIQUE COUNTERS: Jack Starr and Michael Champlin fool around in 'The Country Club.'
Sting Like a WASP
Dragon's 'The Country Club' skewers the social pretensions
By Marianne Messina
THERE IS something ironic about a country club clique being ironic about being a country club clique, and Douglas Carter Beane's witty play The Country Club exploits that conceit with wry brilliance at Dragon Productions. After living, loving and divorcing in California, Soos (Katie Anderson) returns to her Wyomissing, Pa., country club. "I've worked so hard to forget these people," she laments to her friend Pooker (Sarah Cook) in the country club's Cub Room, the set for the entire show. Pooker tries to help Soos reacclimate by translating English into WASP. How do you say someone's Jewish? "They're such a character." How do you discuss a sordid entanglement among friends? "Pass the peas." Thinking the move back is only temporary, Soos takes up with her high school sweetheart Zip (Jack Starr). The only dynamic characters, theirs is the central relationship in the play. But Zip soon falls in love with Chloe (El Beh), who happens to be engaged (and then married) to Zip's best friend, Hutch (Michael Champlin).
In this play, every holiday gets a club party, and every party gets a new scene, and director Meredith Hagedorn helps us keep track of the holidays by tacking the appropriate banner—"Happy ..." (Dr. Martin Luther King Jr. Day, St. Patrick's Day, April Fools' Day)—on the bar. This "series of snapshots" device sends the theater into darkness every few minutes for a choppy, commercial-TV kind of experience, minus the ads and a trip to the refrigerator. Beane glides his characters along the edge where ironic meets amoral, and Hagedorn seems to have directed the actors to keep that boundary fuzzy. Only the course of events shakes out the one from the other as characters put actions to their words. Cook plays the WASP translation scene so casually it's hard to tell how seriously Pooker takes her WASP lexicon. But when Soos tries to out her friends' dirty laundry, Pooker doesn't want to hear it. "We all have our little stories and no one brings them up. That's what's known as community spirit."
Star gives us an easy, likeable Zip, someone we want to hope is more self-aware than he probably is. But like Pooker, only Zip's actions pinpoint his moral compass. The way Anderson's multimessaging expressiveness dominates a scene, her Soos is as sympathetic as she is funny. When she first bumps into "Froggy"—an overtly vapid version of the more discreet Pooker—Anderson turns and makes the facial equivalent of a shudder, while carrying on genial conversation. Froggy (Mary Lou Torre) thinks of Italian Catholic Chloe (El Beh) as "a climber" and her Italian wedding as "a sea of tackiness." To make Chloe stand out in the understated country club wardrobe, costumer Melinda McDermott wickedly introduces her in a bright red dress with lips to match. Yet anywhere else, the dress would be considered attractive and flattering (especially on Beh, a former leg model). Perhaps in her exaggerated way, Froggy speaks to the larger issue when she explains, like a kind of Mrs. Dalloway caricature, that she depends on events like the country club parties to get through life. "I have to sublimate terror in activity." Perhaps that's all the commentary Beane has to make.
THE COUNTRY CLUB, presented by Dragon Productions, plays Thursday–Saturday at 8pm and Sunday at 2pm through May 11 at Dragon Theatre, 535 Alma St., Palo Alto. Tickets are $15–$20. (650.493.2006)
Send a letter to the editor about this story.