04.30.08
home | metro silicon valley index | the arts | stage | review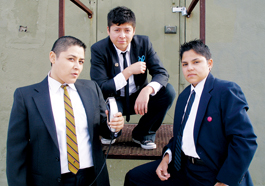 BOUNDARY BUSTERS: The members of Butchlalis de Panochtitlan look at what it means to be queer and Latino.
MACLA Mashup
The Chicano-arts hot spot delivers plays, poetry and art for spring
By Michael S. Gant
IN A MASHUP of major proportions, queer meets punk meets Chicano history meets all kinds of identity politics in The Barber of East L.A., a new play by Butchlalis de Panochtitlan. The multimedia production is being workshopped by the group during a spring stint at MACLA in downtown San Jose. Mari Garcia, Raquel Gutierrez and Claudia Rodriguez make up Butchlalis de Panochtitlan, a theater outfit that styles itself as "genderqueer" and "multi-genre margin walkers." Luis Alfaro directed The Barber of East L.A., whose skit-driven narrative bobs and weaves through a gallery of real and fictional characters and seminal moments in Eastside L.A. Chicano life—especially centered on the Chicano Moratorium against the Vietnam War, the rise of the gay civil rights movement and the early days of the Reagan administration. Proudly butch, the members of BdP redefine "macha."
The group is returning for a second turn at MACLA. In 2006, BdP put on Teenage Papi: The Second Coming of Adolescence. More than a performance, this residency is a community-embracing project. The events begin with a Meet & Greet on Monday (May 5) at 7:30–9pm, followed by a staged reading on Tuesday with a Q&A session, starting at 7:30pm. The lesbian-gay-bisexual-transgender senior community can tell stories at a workshop on May 7, noon–2pm, at the Bill DeFrank LGBT Community Center, 938 The Alameda, San Jose. The next day, at 6:30pm, also at the DeFrank Center, there will be a youth workshop with a performance of the play. All of those are free. The week culminates May 9–10 at 8pm with two performances of The Barber of East L.A. at MACLA's Castellano Playhouse; admission is $5–$10, but no one will be refused just for lack of scratch.
Butchlalis de Panochtitlan's residency is the centerpiece of MACLA's spring roster of shows. Other events include a screening of An Unreasonable Man, a documentary about Ralph Nader, on Thursday (May 1) at 7:30pm ($5–$10). At all-ages poetry slams on May 12 and June 19 at 8pm ($6), wannabe versifiers will vie for points from sharp-eared judges. David Perez conducts poetry classes for young people every Friday in May and June, 4–6pm; no charge. In its gallery, MACLA shows off the wide range of selections in its annual Latino Art Auction, which goes live on May 17. The gallery will also participate in the Zero1 arts festival coming in June—more on that beast later.
BUTCHLALIS DE PANOCHTITLAN workshops and performs May 5–10. All events, unless otherwise stated, take place at MACLA, 510 S. First St., San Jose. (408.998.ARTE)
Send a letter to the editor about this story.