04.30.08
home | metro silicon valley index | the arts | stage | review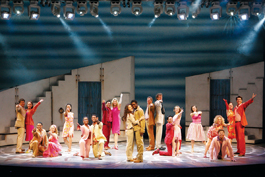 Photograph by Joan Marcus
WINNERS TAKE ALL: The cast of 'Mamma Mia!' at work
Mamma Knows Best
ABBA nostalgia brought 'em to their feet at AMTSJ
By Marianne Messina
THE ONE-WEEK presentation of the national traveling show Mamma Mia! at American Musical Theater of San Jose attracted a house full of squealing gen-Xers affirming, "We grew up on this music!" Minus the band ABBA and anything pertaining to ABBA, the musical is nevertheless stuffed to the gills with ABBA hits from the '70s and early '80s (written by Benny Andersson and Björn Ulvaeus). Under energetic music director Susan Draus, the show's band delivers in a big way with a battery of keyboards, wailing guitars and an out-front drum section driving the dance grooves and drama (like tympani in "Chiquitita") that make ABBA's music so infectious.
The story opens with young bride-to-be Sophie (petal-voiced Rose Sezniak) in a stardust kind of setting—ambient keyboards, luminous moon, rounded, abstractly Mediterranean structures of stony white (suggesting a Greek island). Sophie doesn't know who her father is because back in the day, her single mom, Donna (Susie McMonagle), a lead singer in the girl group Donna and the Dynamos, was quite sexually active. So Sophie invites all three potential fathers (as gleaned from Mom's diary) to her wedding, believing she will know her real father at first sight. Not so, goes the story line.
The book by Catherine Johnson follows twin trajectories, Sophie's search for identity and Donna's journey to get beyond the disappointments of youth. The plot unspoiler, here, is that potential dad Sam Carmichael (John Hemphill) once broke Donna's heart, leaving her after their intense romance to marry another woman. Knowing this history going in (instead of at play's end) would help explain Donna's moodiness and better support back-to-back somber ballads as Donna follows the sullen "Slipping Through My Fingers" (about her daughter) with the dejected "The Winner Takes It All" (sung to Sam). At any rate, McMonagle's ability to belt out a great ballad brings "Winner ..." to a rousing close.
Among the show's other unforgettable ABBA songs are "SOS," "Knowing Me, Knowing You" and "Dancing Queen," sung by Donna and the Dynamos' Tanya (Michelle Elizabeth Dawson using a hair dryer for a microphone) and Rosie (Kittra Wynn Coomer). Coomer's hefty, butchlike Rosie adds a lot of humor to this production. Just after potential dad Bill Austin (Martin Kildare) claims, "I walk a lone path," an amorous Rosie flutters her eyes and commences to win the avowed bachelor over with "Take a Chance on Me." This cute number starts with Bill tripping over chairs to escape Rosie and ends with him on his knees, face buried in her attributes.
Racy and femme-centric, the show's chick shtick includes "Does Your Mother Know," in which sexy Dynamo Tanya—with outfits from hip-slit dresses to orange-trimmed bathing suit and leopard wrap-around—stuns, flirts with and rejects a chorus line of buff younger men in tight, purple/black wetsuits. Choreographer Anthony Van Laast has worked these divers' flippers and goofy snorkels into a creative, visually striking choreography. Rosie capsules the themes—growing up vs. staying youthful—when she asks what happened to the fun-loving Donna, and Donna replies, "She grew up." Rosie comes back with, "Well, grow back down again." On their feet dancing through three encores, the tightly packed audience followed Rosie's advice—the show made it easy.
Send a letter to the editor about this story.