04.30.08
home | metro silicon valley index | the arts | stage | review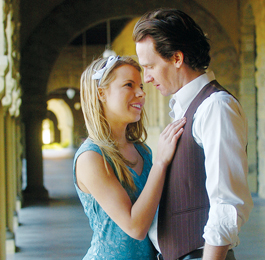 Photograph by Joyce Goldschmid
TUSCAN TANGO: Justin Taylor Nixon falls for Dominique Bonino during an Italian vacation in 'The Light in the Piazza.'
The Touring Inferno
A mother-daughter trip to Italy turns into a troubled romance in 'The Light in the Piazza'
By Marianne Messina
THE LIGHT IN THE PIAZZA' is a bold and strange little engine (music by Adam Guettel, book by Craig Lucas) that thinks it can be an Italian opera, with songs and even an early spoken scene, completely in Italian. Directed by Jeanie Forte with a delightful Palo Alto Players cast, this mother-daughter tour through Italy is visited by great pieces of Florentine art—painted annunciations and sculpted male nudes—which drop in from the flies. In the 1950s, as Margaret Johnson (Diana Torres Koss) takes daughter Clara (Dominique Bonino) back to museums and her other honeymoon haunts, Clara is less interested in the marble men than the live ones, or at least one live one, Fabrizio Naccarelli (Justin Taylor Nixon). Fabrizio seems to turn up everywhere, and while this dazzles Clara, Mom responds, "Yes, I've seen it before."
Head over heels for Clara, Fabrizio is supported—somewhat amazingly—by his family. Occurring just after World War II, during which Fabrizio's father (Russ Bohard) did some spying, the story has an undertow. Clara may not develop psychologically beyond the age of 12 due to a childhood head injury; Fabrizio's brother cheats on his wife; Margaret's perfect marriage was a sham. These facts cast doubt on the idea of a happy ending for Clara and Fabrizio.
Guettel's music goes out of its way to keep the ambiguity; light words may be matched with divergent, subversive music and stealthy, tiptoeing themes. Nor do these songs always believe in resolution; vocals may part ways with the chord implications at the end of a song. The wedding preparations are joined by a song with the foreboding title "Aiutami" (help me), and in it each member of the Naccarelli family sings a different melodic plea all at once in a dark cacophony. Even the sugar-sweet Clara, after earning applause for her ingénue-in-love song "The Light in the Piazza," goes off shortly thereafter in a jealous rage, "Clara's Tirade."
This production gives Guettel's intriguing music a full orchestra, including bassoon and harp for "Let's Walk" and "Love to Me," Fabrizio's love song. Nixon ends the song on an inspired, dulcet high note, adding a tender hug that's hard to resist, even in the face of doubts like Margaret's, "Love's a fake ... just a painting on a ceiling." Director Forte and the design team support Guettel/Lucas' interplay between light and shadow. When Clara sings of seeing the light (love, hope) in the piazza, she's bathed in an eerie sunrise orange (Michael Palumbo, lighting design). The wedding service is staged, backlit and shadowy, on the far side of a churchyard gate, while closer to the audience, Margaret is singing her fears. In Kuo-Hao Lo's set design—all about tall—Florentine arches and a grilled churchyard gate tower over the humans, diminishing their drama under something greater, perhaps the watchful presence of history. There's a kiss in the play that seems to rankle, or at least surprise, the audience, and like the kiss, the story's ending depends on what you take into it. The light Clara sees in the piazza may be no more than the call of destiny.
THE LIGHT IN THE PIAZZA, a Palo Alto Players production, plays Thursday-Saturday at 8pm and Sunday at 2:30pm at the Lucie Stern Theatre, 1305 Middlefield Road, Palo Alto. Tickets are $26/$30. (650.329.0891)
Send a letter to the editor about this story.