May 3-9, 2006
home | metro silicon valley index | silicon valley restaurants | review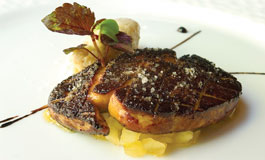 Photograph by Felipe Buitrago
Searing Talent: Foie gras is one of the dishes to which Mantra applies its distinctive approach.
Mantra All
New Palo Alto spot Mantra has got everything in the talent department
By Stett Holbrook
IF EVER THERE was a restaurant dream team, 2-month-old Mantra has got it.
Executive chef Robert Ciborowski's résumé boasts stints at the French Laundry and three Ritz Carlton properties. Chef de cuisine Thomas Horton worked in top Bay Area kitchens like Aqua, Fifth Floor, Postrio, One Market and the Left Bank in Menlo Park. Managing partner and GM Krishan Miglani owns Zingari restaurant in San Francisco and was general manager at the Hyatt in San Jose and Embassy Suites in Milpitas as well as food and beverage director for the Fairmont in San Jose and the St. Francis in San Francisco. Tandoori sous-chef Ashwani Kumar has more than 40 years of culinary experience. Managing partner Ashwani Dhawan is a Silicon Valley high-tech entrepreneur with a passion for fine food and art.
Mantra, which took over the space vacated by short-lived Stoa restaurant on Emerson Street in Palo Alto, is one of the most striking, adventurous restaurants to open in Silicon Valley in a long time. Mantra serves inventive French and American food that speaks with a moderate Indian accent. This isn't fusion but rather a more subtle blend of surprisingly compatible flavors and techniques.
Walk into Mantra and it's hard not be seduced by its dark and moody good looks. The long black bar gleams like polished marble. Bass-heavy electronic music pulsates through the lounge as black-clad servers dart about. In the dining room, water gurgles from a wall-mounted fountain and colorful modern Indian art dangles from thin cables below the lofty ceiling.
Sparks really fly from the appetizer menu. The yellow fin tuna "ribbons" ($14) was my favorite. Thick, slippery, almost translucent slices of tuna are served with soybeans and yuzu gelée and anointed with toasted orange oil. The open ravioli of paneer (Indian cheese), cauliflower and turnips was great, too. A rich, yellow curry bathed all the ingredients and a single, billowy sheet of silky pasta capped the dish. The Mantra bread basket ($7), lamb-filled naan, onion kulcha and paneer paratha, is as good as you'll find in any Indian restaurant.
It seems like almost every restaurant has to offer its version of a Caesar and Mantra's ($9) is better than most. A single sheaf of romaine lettuce arrives ringed by two crunchy brioche and Parmesan crackers that look a lot like Funyuns but taste much better. Like any Caesar, it's the dressing that makes the salad and the garlic and anchovy espuma (foam) made this one.
Seared foie gras with black truffle ice cream ($22) sounded too over the top to pass up, but it didn't translate as well on the plate. The La Belle Farms foie gras had an off, metallic flavor, and truffle ice cream, while novel, was too sweet and rich to pair with the duck liver.
Entrees are served on plates covered by domed white lids that servers remove with a flourish. The effect is impressive given the beautiful composition of the food. The kitchen handles fish particularly well. The fillet of wild striped bass ($24) was superb. Pan-fried a crispy golden brown, the fish was meaty and juicy and impeccably fresh. The oxtail and potato croquette served alongside was forgettable, but I loved the combination of the fish with the brightly flavored, blood orange sabayon served under it. Since it's so ubiquitous (or at least was until the local season was all but canceled) salmon can be a bit of a yawner. But not here where Ciborowski dusts the fillet with horseradish and naps it with a creamy and tart sauce made from red beets and star anise.
The dessert menu offers some of the most creative pastries you'll find on any menu south of San Francisco. The hazelnut and chocolate "parfait" ($7) is an ice-cream-bar-sized confection with a delicious, nutty flavor and a texture that is at once light, silky and creamy. A bowl of passion fruit soup ($8) surrounds a milk chocolate bombe like a moat. While deliciously chocolaty, the bombe was too thick and almost bent my spoon.
In spite of Mantra's deep talent pool, the restaurant doesn't quite live up to its potential. To be sure, most of the food I tried was quite good, some of it even transcendent. But the few clunkers I encountered made it clear the kitchen is still getting its footing.
The roasted baby lamb T-bones was a disappointment, a $27 one. Each micro chop yielded exactly three bites of meat. While tender, the lamb was so underseasoned I looked in vain for a salt shaker. I loved the accompanying chorizo and barely risotto but there was hardly any of it.
The danger in serving Indian food in an upscale setting that you can get for much less in a traditional Indian restaurant is people might say, "Hey, I can get this for much less in a traditional Indian restaurant." Which is exactly what I said after ordering the tandoori mix grill ($21). The meat (fish, chicken, shrimp and lamb) was flavorful and tender, especially the chicken, but Silicon Valley is awash in good tandoori joints where you pay a lot less for similar quality.
The service needs more work, too. GM Miglani, who on one occasion filled in for our AWOL server, exudes smooth professionalism that bespeaks his years of experience. But when our waitress did arrive she was perfunctory at best, delivering and removing plates with dronelike detachment.
Even though I made reservations several days in advance, we were seated in the restaurant's backroom with a view of the traffic to the bathroom, wedged between a wall and a loud table of 20 or so. I would have appreciated a heads-up that the table I reserved was in Siberia instead of the restaurant's far more appealing main dining room. On another visit, food runners didn't know who ordered what ("who gets the salad?"). In a restaurant with fine dining aspirations, this kind of service doesn't cut it.
Still, just two months old, Mantra is a restaurant to watch and an exciting addition to Silicon Valley's food scene.
---
Mantra Restaurant and Lounge
Address: 632-636 Emerson St., Palo Alto.
Phone: 650.322.3500.
Hours: Hours: Lunch 11:30am-2:30pm Mon-Sat, dinner 5:30-10pm Sun-Thu and 5:30-10:30pm Fri-Sat, Sun brunch 10am-2:30pm.
Cuisine: French and American
Price Range: $15-$32.
Send a letter to the editor about this story.