May 3-9, 2006
home | metro silicon valley index | music & nightlife | news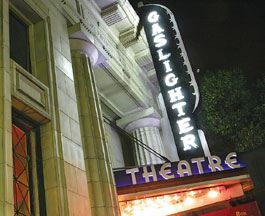 Photograph by Felipe Buitrago
Hot Topic: All-age rock gets the boot in favor of that oh-so-creative concept, the ultra lounge.
Lights Out
Campbell's Gaslighter Theatre switches hands and cuts off bands
By Claire Taylor
THE GASLIGHTER THEATRE has been a symbol of the city of Campbell, a vaudeville venue, an all-ages rock haven and the center of a "pay-to-play" controversy all at the same time. But now, after 37 years of business, current owners Mark and Susan Gaetano are shutting down the Gaslighter with the hope of opening a new venue elsewhere. Susan says her husband, Mark, purchased the venue in 1980 with his brother Richard and sister Peggy and operated it as a family project until Mark bought out his brother two years ago. But Susan says, in recent years in its current location, running it brought more frustration than enjoyment, and Mark began looking to sell the venue about a year ago. "[Mark] was getting tired of it, and the city of Campbell is so difficult to work with. ... We've been in a fight with them since 2002."
At a meeting with city officials from the Redevelopment Agency and Planning in 2002, Susan says the Gaetanos were asked to purchase multiple permits allowing them to do things they had already been doing for the past few decades, including late-night-hours and live-entertainment permits. She and Mark disagreed with the city's requests but tried to work with the officials, cutting back on the number of rock shows and the hours the venue was open and beefing up security. Still, Susan says it never seemed like it was enough. "Youth bands were always a problem with them," she says. "We've had some incidents with the bands, but it wasn't, like, every day—a couple a year when there are hundreds of people coming through and hundreds of bands."
Campbell Redevelopment Manager Kirk Heinrichs says the permits were justified because every venue is different, therefore requiring different permits. "[The Gaetanos] decided to have concerts to help mitigate the costs of running a theatre ... and so certain conditions were applied to secure the welfare of the community in terms of controlling crowds. We don't have a venue like that anywhere in Campbell. There's no place else that has rock concerts, so there will be conditions that are unique to that venue."
Heinrichs said that Nick Di'Arpino has purchased the Gaslighter and plans to turn it into an ultra lounge. "I think the good news about this is that the building is going to get fixed up," Heinrichs said. "It's a historical building and will have renovations done, that's the positive thing." He also said that there is a lot of work to be done to the building, including adding reinforcements before the new club can open.
Local bands express frustration with the loss of another all-ages venue in the South Bay. "Like any business, the Gaslighter had its pros and cons, but I truly believe that they worked hard to make a scene for the young adults of today," says Seth Cummings, bassist and pianist for My Former Self. "It didn't have the best sound, but it was a place where any hard working band could feel like rock stars for a night, no matter how big or small they were."
"I think the closing of the Gaslighter is going to hurt the scene a lot. Two or three years ago? Maybe not as much because there were places like the Cactus Club, the Chemical Free Zone, the Outhouse, etc.," says Kevin Kash, drummer of 5606. "San Jose is the 10th biggest city in the country, and we don't have any live music venues? Sounds weird to me."
The final theater performance at the Gaslighter will be on May 27 and the final concert, featuring bands Project Varona, Today, Tomorrow and Forever, StoryTold and others, will be on May 31. During its last weeks, the venue hosts almost more shows than it has all year, with four concerts each week—one last hurrah for the downtown Campbell landmark.
Send a letter to the editor about this story.