May 3-9, 2006
home | metro silicon valley index | columns | car culture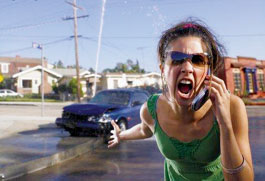 Car Culture
The Withouts
By Novella Carpenter
IT HAS BEEN a sad few days for me, mostly because the 7-year-old nephews (yes, plural) of a friend of mine were involved in a terrible car accident in Idaho. They were on their way to a funeral for their great-grandmother when a driver recklessly passed a bus, forcing their vehicle off the road. The kids sustained the most critical injuries and had to be airlifted to a trauma ward.
When I read the article about these boys, whom I don't know and have never met, I teared up. They were these beautiful children, whom their father called brilliant, athletic and lively. Their grandfather was quoted in the paper saying, "They are as pure as there is. God, they are beautiful." Though the doctors are hoping both boys will walk again, they may be paralyzed.
The worst thing is that the family doesn't have much money, and no one involved in the accident had automobile insurance. And like more and more Americans, the family doesn't have health insurance either. The kids' medical bills are going to be steep. The whole thing is just so troubling.
A few short years ago I would've been in the same situation in terms of auto insurance. Somehow, I managed to drive around without being insured and nothing bad happened to me. I've always hated the idea of insurance—it's sort of like betting that something bad will happen to you, and by virtue of betting, it's like a prayer that might come true.
And look, when you're poor but you need a car for work, sometimes it just happens that you can't afford to both fuel the car and pay for insurance. You make a decision, and bad stuff happens. That's why I was relieved to see posted at the DMV an 800 number for low-cost auto insurance. I called the number and started checking off the list. You have to meet the following criteria: 19 years old or older (check); no moving violations in the last three years (check); car may not be worth more than $20,000 (double, triple check); can't be for a college student claimed as a dependent (check); can't already have insurance (check).
If, like me, you've got these covered, one must meet the income requirement, which is 250 percent of the poverty level. In case you've been wondering, for one person, the poverty level is $9,800 per year. That means if you make $24,500, you qualify. Go ahead and give them a call at 866.602.8861, and they'll send you a list of agents who use the Low Cost Automobile Insurance Program.
So far this program has only been available for Los Angeles and San Francisco counties, but they've recently added Alameda, Fresno, Orange, Riverside, San Bernardino and San Diego counties. The cost per year is around $350. According to the program's website (www.aipso.com/lc), the concept behind the program was that low-income folks would buy insurance if they could afford it—that cost was the main barrier. Unfortunately, when I read the coverage terms, I was pretty disappointed. The liability limits are $10,000 bodily injury or death per person, $20,000 bodily injury for each accident and $3,000 property damage. This kind of coverage would barely pay for one week of treatment for my friend's young relatives.
The Insurance Information Network of California, which describes the low-income insurance program as an attempt to "stem the tide of uninsured drivers in California," reported that "the pilot program has met with mixed results since its inception, due in large part to competitive auto insurance rates in California at the time of the program's introduction and the fact that many poor people have few assets to protect."
Few assets to protect. I would argue that, yes, poor people too have assets to protect. This is what I hate about insurance companies—they think of people as dollar signs. The fact is, poor people simply can't afford insurance. They probably still can't afford insurance with this supposedly generous program—more than $300 a year is a lot for someone who makes $8 an hour. The low-income insurance program should include better coverage than $10,000 for a life. I think they're worth more.
Contact Novella Carpenter or send a letter to the editor about this story.