May 3-9, 2006
home | metro silicon valley index | music & nightlife | band review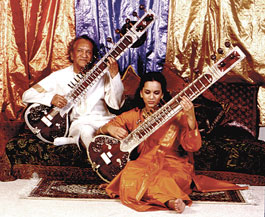 Family Values/b>: Ravi Shankar and daughter Anoushka do a crazy version of 'Anything You Can Do, I Can Do Better.'
Generation Next
The master of the sitar looks back on his storied past and forward to his Festival of India concerts
By Alan di Perna
GODFATHER of world music Ravi Shankar is the man who turned the Beatles on to India's rich musical heritage. At age 86, his mastery of the sitar is matched only by his role as India's cultural ambassador to the West. In recent years, he's been joined in that mission by his daughter and protégé Anoushka, a dazzlingly accomplished sitarist in her own right who is carrying the Indian musical heritage forward in exciting new ways. Ravi and Anoushka Shankar are currently headlining the Festival of India concert series, which comes to the Fox Theatre on May 3 and Santa Cruz Civic on May 9.
METRO: What is the concept behind the Festival of India concerts?
RAVI SHANKAR: The concept is a little different than my usual performances, where I play an entire concert in two parts with an interval in the middle. In this case, the first part will be an ensemble of about 10 Indian musicians playing four of my compositions on all Indian instruments. It is based in classical and folk forms, some pieces very rhythmic and exciting. My daughter Anoushka will be directing and conducting the first part of the performance. And then after intermission, I will play my usual sitar concert along with Anoushka, a tabla player and a background drone instrument, the tamboura.
Is the first section of the concert in any way an extension of the 'Music Festival From India' album that you made in 1976 with George Harrison producing?
I won't say that it's exactly the same because at that time I had more musicians—about 15. And we had more variety of instruments because some of the musicians were playing three or four different instruments. Whereas here, each musician will be playing the same instrument the entire evening. So it's a little different.
But some of the forms are the same, right? These shows will be opening with a Vandana, as you did back then? And there's also a Tarana on the program, as there was then?
That's right. The Vandana is a very short, 1 1/2-minute item. It talks about Ganesha, guru, yoga, kundalini . . . describing all these things and paying respect to them.
These are names and concepts that are now familiar to many Americans, owing to the great popularity that yoga has gained in the West. Has this development deepened Westerners' understanding of Indian music?
Of course. Like Indian music, yoga has become accepted very seriously and people are really genuinely fond of the great value it has. So everything like that helps. Now India is also becoming very popular for Bollywood films and so many things—for the dresses, ornaments and fashion. This is really something for some little country!
What was your original inspiration to undertake this mission?
It goes back to my childhood. At the age of 10, I came out of India to Paris. I came with my elder brother Uday Shankar. He was a dancer and he had a group that I joined as a little boy of 10. I toured with him in Europe and then came to America starting from 1932 up until 1938 when World War II started. I had the experience of hearing all the best Western music—folk, jazz, classical, ballets and operas. But I found there was no appreciative audience for Indian music. Most people thought that it was so boring—that it just went on and on and when will it stop? Things like that I had to hear and it used to make me really angry and not happy. So after I went back to India and had my [sitar] training, this became my mission. I felt it was very necessary for me to do this because at the time there was not a single other Indian musician who could communicate and talk with or explain anything to a Westerner. And I had that advantage. I could perform, give talks and write about the differences between Indian and Western music.
When did you first begin to realize that Anoushka had the potential to master the sitar and become an accomplished player in her own right?
From the very first day I started teaching her at the age of 8 1/2. I realized she was tremendously talented. I knew it from the beginning.
Was it difficult transforming the father/daughter relationship into a teacher/student relationship?
Because the times have changed I couldn't be like a guru, in the same way that I learned from my guru. It was a different time, different place, different approach. My training was in a small village. I went there and had to live and learn in the traditional way that had been existing for hundreds of years. But with my daughter, well in the first place she is my daughter. And also we started her training in London and then we traveled to America and were living in all these different places in a different world and a different type of life from what I experienced in my training. So I had to adjust and compromise many things. But it worked out.
Anoushka has recently released an album of electronic trance music, 'Rise.' How do you feel about that?
It is very interesting. It is basically Indian classical music, really, but she experiments with different ideas of sounds, things that she likes. It's very experimental and it has turned out to be very interesting.
You've done some experimenting on your own with East/West musical fusions—with Andre Previn, Philip Glass and others.
Yes, but I've never really tried it with electronic music—except for one record called Tana Mana (1987). I just did it for fun. I was not really seriously wanting to bring it out. But I tried using Emulators [an early computer keyboard instrument] to transform the sounds of Indian instruments. It was not exactly the same as the electronic music technology of today. But it was fun recording it, and it turned out to be very interesting and people said I must bring it out as a record.
As a musician, what is your own daily practice regimen like these days?
I wish I could practice more than I do. But because of my age, and traveling a lot, it's difficult. But I still try to keep a two hour regimen. And when I teach some of my advanced students . . . like I sit with Anoushka at home and sometimes we play together for four or five hours.
Does she challenge you?
In India we observe a lot of respect, so that kind of idea doesn't come up. But it is a wonderful feeling. There's a lot of playfulness there.
Ravi Shankar and his Festival of India play Wednesday, May 3, at 8pm at the Fox Theatre, 2215 Broadway, Redwood City, and Tuesday, May 9, at 8pm at the Santa Cruz Civic, 305 Church St., Santa Cruz; tickets are $55-$80. (408.998.TIXS)
Send a letter to the editor about this story.