May 3-9, 2006
home | metro silicon valley index | music & nightlife | profile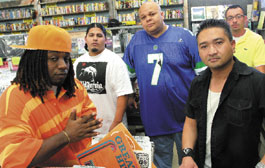 From left to right: Traxxamillion, Sam Orozco Jr. from the Iklectix, DJ Ready Red, John Rosalata from the Iklectix and Lynn Ness.
Track Stars
The boom-bap hip-hop prodigy. The club-banging 'slapp addict.' The gangsta rap pioneer. The dynamic pop duo. Four South Bay producers have four different approaches and even more stories to tell.
By Todd Inoue
Photographs by Felipe Buitrago
DJ READY RED is in a zone and happily crossfading, thinking of better days. Geto Boys, Bruce Lee and Scarface paraphernalia is scattered around his downtown San Jose apartment. A picture of his heroes, Grandmaster Flash and the Furious Five, stares down from the wall. Two copies of "Mardi Gras"—the legendary breakbeat record by Bob James—spin on two turntables while Red hovers above them like an overseer, confidently cutting up the bells with precision.
Next to the left turntable, a worn Bible is open and Psalm 91 is highlighted with yellow marker: He that dwelleth in the secret place of the Most High shall abide under the shadow of the Almighty. "When I was homeless that was the scripture," Ready Red says, before reciting the lines verbatim. "Pretty much whatever you're going through in life is covered up in there."
DJ Ready Red is a legend in the gangsta rap game. He is widely credited for being the first to incorporate samples of Scarface in a rap song. He's considered a prime architect of the current Houston rap explosion, watching it detonate from his San Jose apartment where he's lived for the past four years.
"What 2Pac say, 'California Love'? I'm experiencing it for the first time. Bay got it going on. I love the bay. There was always something about the Bay I liked."
After growing up around hip-hop culture in the late '70s and '80s in Trenton N.J., Red traveled to Houston, Texas, to help settle a family score. He decided to stay, immersed himself in the scene and met the label, Rap-A-Lot, and the rappers—Bushwick Bill, Scarface and Willie D.—who would later shock the world as the Geto Boys. Red was the co-producer and DJ on Geto Boys seminal albums Making Trouble and Grip It! On That Other Level (rereleased in 1990 with different art work and Rick Rubin tweaks as The Geto Boys). He also produced records for Willie D. and Raheem.
The controversy over explicit lyrics helped propel Geto Boys to ridiculous heights of scrutiny. When Grip It! was picked up and retitled for Def American, the CD manufacturer and distributor refused to press or release The Geto Boys due to songs like "Mind of a Lunatic" and "Gangster of Love."
Def American found a willing distributor, Giant, and carried on. "Mind of a Lunatic," a horror tale with lines about necrophilia and rape, solidified the Geto Boys' reputation.
The records were selling; the group was touring with Ice Cube and Too Short. But some fans were taking the messages the wrong way ("The turning point was a kid in Chicago came up to me and said, 'Yo, I'm smoking fools to your shit.' I said, 'What?!'"). Most of all, money wasn't straight.
"There'd be ridiculous royalty recoups that I found out to be crazy," Red says. "So when I wanted all my money, I got a lawyer and an accountant. They wanted to know what kind of formula was the accounting. I got all my money but became the bad guy."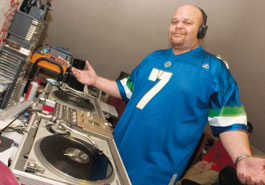 DJ Ready Red a.k.a. 'The Musical Enforcer'
Location: Downtown San Jose
Credits: Geto Boys, 'Making Trouble' (producer, 1987), 'Grip It! On That Other Level' (producer, 1989), 'The Geto Boys' (1990 producer w/ Rick Rubin), 'We Can't Be Stopped' (select tracks, 1991); Willie D., 'Controversy' (producer, 1987); Raheem, 'The Vigilante' (producer, 1988); Niamaj (2006)
Quote: 'I should have taken care of business better, otherwise I wouldn't be working the rest of my life. I've never seen a publishing check. I've never seen mechanical royalty rights. Every time I go to the store, I see new photos on reissues of our albums. I'd rather let the sleeping dog lie. I'm just happy to be living.'
Co-Sign: 'He's one of those early guys who was putting it down. Ready Red and all those dudes were the backbone of the whole Houston thing.' —Matt Sonzala of Houstonsreal blog and Damage Control radio
Red left the group on the eve of Geto Boys breakthrough We Can't Be Stopped. He can still be heard doing a Darth Vader-like intro on "Rebel Rap Family" and running things on "Punk-Bitch Game." The album eventually went platinum off the single "Mind Playing Tricks on Me."
Red concludes he "walked away from a gold mine" and struggle became his reality. Rap-A-Lot, Red says, refused to give Ready Red a cent for We Can't Be Stopped. Before long, his mind was playing tricks on him as he was broke, homeless and on drugs—all the while watching his former band succeed with "Mind Playing' Tricks on Me" (a track he says he helped arrange) without him. The song and its familiar riff of Isaac Hayes' "Hung Up on My Baby" haunted him wherever he went.
"I kind of went crazy," he says. "I turned to a substance that I never thought I'd turn to: crack. I would lace it. I got stuck doing that almost 10 years. I could still maintain because I was what you call a functioning addict. But every five minutes [emulates the intro to "Mind Playing Tricks on Me"], I thought I missed out on something big."
During one of his lowest points, Red was sitting in day worker depot Labor Ready when somebody put the TV on to a rap video show. "I'm sitting in there jonesing. Some guy puts on Rap Basement on the TV and on comes 'Mind Playing Tricks on Me.' Everyone goes, 'That guy down there used to be with them.' I said, 'Damn, I sure did.' That just made me want to get more [drugs].
"If you did a body of work and it's known all over the world, and you got nothing from it, how would it make you feel?"
His decade-long addiction to crack made him sell his possessions: his gold records, his turntables, his vinyl, his production gear. In 2002, he moved back to Trenton but after some soul-searching and a bad marriage, he accepted God as his savior, met a girl on a Sprint chat line and moved out to San Jose to clean up and be with her. The relationship was tumultuous and the duo split months later, but Red remained in the South Bay.
He works as an apartment manager in the building he lives in and security at Mineta International Airport. Yet with the day jobs, he's far from divorced from his DJ/producer persona. Red's working on tracks with Oakland MC Niamaj. His tiny room has a mixer, turntables, an MPC and recording equipment (DJ Q-Bert, a Ready Red fan, donated a turntable).
He takes pride in watching contemporary Houston rap acts like Mike Jones, Paul Wall, Chamillionaire and Devin the Dude build upon the scaffolding that the Geto Boys helped erect. He gets the occasional call to drop everything and reform the Geto Boys (which never pans out). It's taken a long time to let go of the bitterness and ignore the phone, but Red's ready to shock the world again. But this time, he wants to take hip-hop back to its roots, like his hero Grandmaster Flash.
"I just started acknowledging this. You know what? I did something. If I never do anything again, when I die, people will know who I am. They'll remember me. But that's what I did as a young man. Let me see what I can do now that I'm older and have more knowledge. How can I turn this around and uplift hip-hop?"
AS A TEENAGER, Traxxamillion worked for an uncle who harvested used auto parts and resold them. They would scour junkyards and auto body shops around the South Bay looking for usable pieces, fix them up and resell them. It was hard work and an honest living that enabled the young Andrew Hill student to pursue his musical dreams.
In a curious way, his current occupation as a hyphy producer du jour mirrors his job of yore: Traxxamillion digs into his Korg Triton, Pro Tools and G4 laptop, picks out the sounds and samples, then arranges them into gleaming discs of gold and platinum. He's considered a prime builder of the Bay Area "hyphy" sound with his hits "Super Hyphie" for east Oakland's Keak Da Sneak and "Grown Man" by East Palo Alto's Dem Hoodstarz.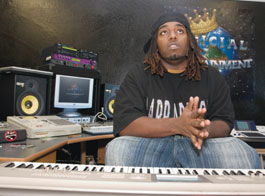 Traxxamillion a.k.a. 'The Slapp Addict'
Location: East San Jose
Credits: Singles: 'Super Hyphie,' Keak Da Sneak (2005); 'Grown Man,' Dem Hoodstarz (2005); 'Just Go,' The Team (2005); Full length: Tha High, 'Crowd Control' (2003, producer), 'The Slapp Addict' (2006, producer)
Quote: 'When I sit down and make my beats, I purposely make beats for the club. Even if it's a sad beat, it's a sad beat you can dance to. I try to make my beats in mind that one day it'll get played on the radio.'
Co-Sign: 'From the jump, Traxx had the ability to make club bangers. He always had that sound. He never had a "round the way" sound; we call it 'Big Picture' music. He has the ability to go nationwide.' —Smitty Grands, rapper from Tha High
Inside a Japantown studio, Traxxamillion reassembles the "Super Hyphie" beat that put him among the local beatmaking elite. He taps out the 808 bass pattern, fixes the tempo, loops it and pulls out a secret sound which he refuses to name, but its become part of his identity—what makes a Traxxamillion song click.
"I found this sound; it's in every Triton," he says. "That's my sound. I want to call Korg to tell them to take it out."
He adds snaps, a detuned lead (which resembles a Godzilla fart), tambourine ("A Traxxamillion beat is not complete without a tambourine" he says), a "swisssh" sound and an ascending "vrooooop" effect. Soon, the distinctive "Super Hyphie" instrumental thumps to life; all that's missing is Keak's gruff vocal treatment. "Super Hyphie" has become Traxxamillion's calling card and marketing tool. He's been asked to submit tracks for a Young Jeezy remix for "My Hood." Atlantic Records wanted Traxx's touch for Trick Daddy, Trey Songz and Cam'ron.
That all will have to wait, he says. "My main focus is finishing my album first."
That album would be The Slapp Addict. It's a "producers" album in line with vanity projects by Neptunes or Swizz Beats. Traxx lays the sound bed for Bay Area rappers Too Short, Mistah F.A.B., San Quinn, Dem Hoodstarz and the Team, who lend vocal cameos.
Working with established rappers like Too Short ain't no thing. "My motto is to let rappers do what a rapper does," he says. "I'm in tune with what I want to hear. If I go into a booth, I won't be satisfied until it sounds like what I hear in my head.
"[Rappers] ask, 'What do you think?' And I go, 'What do you think? Does it sound right?' I believe to never take an artist out of their element."
Traxxamillion raps a little, with his side project Tha High, and on the Slapp Addict single "Skrape," which is already burning up MP3 blogs. Traxx began as a rapper in underground group Lackadaisical before crossing over to the other side of the vocal booth glass. He remembers staying up all night to cook up a beat for a song called "Family Oriented." He added lyrics, dubbed a bunch of copies on his mom's cassette collection and passed them out at school the next day.
"The reaction was phenomenal," he says. "Everyone was loving it. It was me that rapped over it and made the beat. It was my first song to get away from the underground scene. But I always kept my knowledge of the underground. In my opinion, underground rappers spit from the heart and more lyrical. I always kept the lyrical. To me I have the best of both worlds. I'm on the other side now and I can use some elements in the underground that I can use in the commercial side."
Traxxamillion is mindful that San Jose isn't taken as seriously as Oakland, Vallejo or San Francisco in the hyphy game, but that's no reason he can't collect respect. He relates a story about a recent run-in at a gas station. A young man in the back seat of a car was staring at him mean. Traxx couldn't shake off the stare.
"I'm like 'Man, what's wrong with this dude? Does he got a problem?' So I walk past his car to my car to pump my gas. Then this older lady comes out and says, 'Excuse me, are you Traxxamillion? My son is in the car and he's listening to your music right now.' "
The kid with the screw face turned out to be a 19-year-old rap fan that lived around the block. In his earbuds pounded a ripped MP3 of "Skrape."
"That was a shock to me. That let me know maybe I'm a little special," he says. "All this is new to me. Last two years, I've been listening to and buying the CDs of the hyphy cats—the Turf Talks, the F.A.B.s, the [E-]40 Watters—it's just an honor to be recognized. Now I'm working with these cats. I'm still in awe. I'm in awe that cats are in awe of me."
IN 2005, Lynn Ness and his friends invented a competition called the "Beat Suite." The goal was to make the best beat using records from one artist. In the first round, the chosen artist was Chuck Mangione, whose output rivals the New Christy Minstrels and Leo Sayer in mass production scale. "You go into record stores and you can find his whole discography in the dollar bin," Ness says, clearly biting his tongue. "It's nothing against him. He was hot in the day. It's just a goofy inside joke."
During a record shopping mission to Berkeley and San Francisco, he and his Beat Suite crew each picked a different Mangione record and randomly exchanged them. They returned to their respective labs, began crafting beats from the horn master known for "Feels So Good," then convened together a month later to compare notes. Lynn Ness' contribution, culled from a live Mangione album, paired the horn player with an a cappella of gruff rapper Nine's "Whutcha Want." It shouldn't work but it does, and as the reconstruction project booms from the speakers of his Campbell apartment, Ness bobs his head in time as if hearing it for the first time. It's slick but clever, narrated by Nine's carcinogenic rhyme.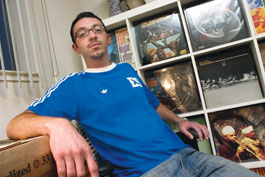 Lynn Ness a.k.a. 'Edeeq Betrous'
Location: Campbell
Credits: 'Ain't 2 Much' 12-inch single w/ L'Roneous, Yesh and Sach (2005); The Cookers w/ Aloe Blacc, Sach and Mista Sinista (Spring 2007).
Quote: 'There's a basic concept that I have with everything I do; I want there to be something in the song that's going to strike a feeling in a listener. Whether it's happiness, an introspective feeling, sadness—anything. It's never just a beat.'
Co-Sign: 'I like his choice of sampling. I'm a big fan of sampling and the breakbeat style. He comes with it.' —Sach, formerly of the Nonce, now of Name Science
Merging two different artists separated by decades and ideologies from across the pop music spectrum is a key mission of Ness. Grounded in jazz, schooled in Arabic percussion and fed a regular diet of early-mid-'90s hip-hop, Lynn Ness makes woofers beat with the fluid motion of the jazz players he idolizes and the beatmakers he emulates. Take a listen to his three song 12-inch single on his New Medina label and hear MCs L'Roneous, Sach (formerly of the Nonce) and Yesh spit fire over jazz-influenced boom bap. It's gloriously out of step with contemporary sounds, as if he lived sheltered from the latest KMEL playlist.
But call him a revivalist and you're in for a fight. Ness claims he doesn't pay attention to new stuff—things from eight years ago are popping up in his radar now—but he insists he's more than that. "Taking it to another level" is a tired cliché of music and sports, but coming from Lynn Ness, a genuine elevation of game can be expected.
"I'm definitely trying to merge two generations together," he says. "Expectations are different. Today, they want drums to bash them in the head. I'm trying to tone that down, but also have more beats that were 91-92-93, even Tribe stuff. I'm trying to do something different."
Different means taking up to two months to perfect a simple beat. It's studying Arabic percussion with a private tutor. It's communicating with MCs through snail mail. It's summoning the strength and motivation to work on tracks after putting in a 40-plus-hour week at his family's graphic design studio. It's beatmaking at its most pure and primal. Lynn Ness doesn't use breaks, preferring to knit a song's foundation by hand, tearing it to shreds and then beginning again.
"I do love breaks and history of where it came from, but I think it's a different time," he says. "You have to get more creative than using the same breaks that Pete Rock used. I respect those who are digging, but to use it in my music, it's too easy. It's too easy to rip off a break. I felt—especially from a hip-hop pressure standpoint—your drum machine is the one thing you're playing. I play out my actual drum patterns. It's the one thing I always bring to my production work; I can say, 'I did those drums.'"
Lynn Ness' work ethic comes from a fascination with jazz. His record collection is stacked with burners from John Coltrane, Miles Davis and Horace Silver. "They inspire me in a different way to produce hip-hop," he explains. "It's indifferent. I won't say that because I listen to jazz that I produce hip-hop with jazz ideas in mind. There's a difference. I try to produce and arrange in a way that's not only jazzy but it's good for the song at that moment in time. I draw on creativity from jazz."
Ness is working on a group project with Aloe Blacc, Sach and former X-ecutioner DJ Mista Sinista. Ness makes beats, Blacc and Sach spit rhymes and Sinista handles the scratches.
One of the hardest things for a producer to do is to step away from the console and pronounce a track done. Ness admits that sometimes a song may never be completely done, but he knows when to quit.
"When a song fits how I'm hearing it in my head, that's how I know it's done," he says. "Everything I do from the first to the last step is to get me closer to that sound in my head. Once I achieve that, I don't mess with it, even if I know I can do more."
ON THE surface, a cultural and generational chasm seems to separate the Iklectix duo. John Rosalata, 30, went to Gunderson High School; Samuel Orozco, 23, went to San Jose High. John studied classical piano for 12 years; Sam is a self-trained heavy metal guitarist. John DJs at Club Max; Sam moonlights with San Jose nu-metal band Modern Ruinz.
But put them together and a synergy develops. In their studio—housed inside in-law quarters near Japantown—the duo communicates with an eerie, intuitive clarity of an old married couple minus the arguing and tattered housecoats.
Killing time between projects, they honor a reporter's challenge to remix New Order's "Bizarre Love Triangle." Rosalata taps and loops beats and effects on his MPC while Orozco engineers and adds scratch funk guitar. Pitches are raised, tempos lowered, bass quantized, snares are locked in—all with barely a full sentence exchanged between the two. Rosalata and Orozco work quickly and the end result is a tweaked dance-floor-ready treatment that's more sleek and less mechanical—relocated from the Manchester heroin den to a palm-tree-lined boulevard.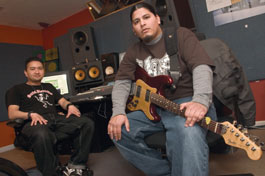 The Iklectix a.k.a. John Rosalata and Samuel Orozco Jr.
Location: Downtown San Jose
Credits: Spice-1 ('Cutthroat Game' from The Ridah), Ron E. Beck (Soul Cry), Modern Ruinz EP, Tony Lindsay ('From the Toes Up'), Lenny Williams
Quote: 'We take the artists into consideration first. It's not like we have music and plop it on them. We like to create around the artist's sound and background. We sit down with the people that we're producing, get a feel of who they were even before we make music. Part of the reason we're called the Iklectix is because we do everything.'—Samuel Orozco Jr.
Cosign: 'I was looking for that flow and magic and they had it. I'm looking forward to working with them again.'—Santana singer and solo artist Tony Lindsay
The Iklectix partnership runs smooth like the bottom of Hammers' shoes. "I can honestly say we're best friends," says Orozco. "We haven't had any conflict. As calm as we are right now, it's calmer when we're working on a song."
"No conflict," agrees Rosalata.
For the past three years, the Iklectix have quietly emerged as the go-to guys for local artists striving for contemporary appeal. They make the musical equivalent of the Miracle Bra, to uplift and/or sex up sagging careers. They stockpiled hard drives of ready tracks, able to present musicians with multiple looks. Or like the New Order exercise, they are able to customize it on the spot. A swamp blues guitar with Shadows Fall speed with an electroclash vocal and tempo? No problem. Rapper Spice-1, drummer Ron E. Beck, Tower of Power's Lenny Williams and Santana's Tony Lindsay have all indulged in the Iklectix's low-key chemistry.
Whereas other production gurus leave an audio imprint—e.g., Timbaland, Swizz Beats, Just Blaze, Neptunes—the Iklectix are vehement in making artists sound like themselves. They check their personal preferences at the studio door allowing the singer to recognize themselves within a song.
"Our goal is to not have a sound," says Rosalata. "We want them to have their sound first. We put an emphasis on creating their sound instead of us being in the forefront."
This "artists first" mentality allows them to record music from across the spectrum. Avenged Sevenfold-type attacks, swooning reggaeton, tender R&B ballads, Irish folk and gangsta rap—the Iklectix are competitive eaters at the world's pop buffet.
They are working with Phoenix-based label Genre Records and writing songs for their stable of artists including R&B singer David Hernandez. Their dream project—Ricky Martin—might fiddle with their street cred but the Iklectix are drawn to challenges.
"Ricky Martin would be cool," Sam chuckles in assertion.
"Ricky Martin would be great simply because we'd love to give him a fresh sound, something totally different," Rosalata adds. "He's mostly in the pop Latin category, but I see him going somewhere else. Where that is, I don't know."
This affirmation of Ricky Martin sounds odd coming from a Filipino guy in a Social Distortion T-shirt and a Chicano metal head, hair pulled back into a ponytail, clutching a guitar. Yet the Iklectix are united in the belief that their gifts shouldn't be limited to one genre—one can practically hear the engines of creativity revving in anticipation. It isn't the destination that's important, after all, it's the journey and the Iklectix want to be in it for the long haul.
Send a letter to the editor about this story.