05.06.09
home | metro silicon valley index | columns | silicon alleys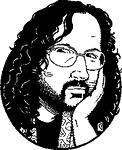 Silicon Alleys
Music All About
By Gary Singh
THIS WEEK, it's all about live music. Other places can have their Bumpershoots, their Coachellas, their South by Southwests or even their musical-saw festivals, but beginning next week, San Jose has Left Coast Live. (See story on page 16). Just as its organizers are using this festival to kick-start a music-based nightlife in downtown San Jose, I will use it to kick-start the rest of this column.
This coming weekend marks the Metro Fountain Blues Festival on the campus of San Jose State University (and sponsored by Metro, among others, since 1997). This will be the 29th edition of the festival; hardly anything lasts 29 years in this town, so everyone involved—especially the Associated Students and producer Ted Gehrke—should be applauded for their efforts. The festival's website (www.fountainbluesfestival.com) contains a short history of how it all started, along with the lineup for every single festival since the very first one.
The roster reads like a who's who of the blues landscape. For the first festival, the A.S. originally decided on blues because: "1) the blues is an art form that cuts across every demographic line known to man, 2) blues artists usually don't cost an arm and a leg to contract, and 3) there was almost no blues in San Jose at that time." Now, I'm sure there existed many people in San Jose with the blues in 1981, but there was no established scene for blues fanatics. About 1,000 people showed up to that first festival.
The organizers knew they were onto to something, and for the second incarnation, John Lee Hooker headlined. The rest is history. Over the years, the likes of Bo Diddley, Etta James, Koko Taylor and the legendary Buddy Guy have all graced the stage. It ain't like the old days when everyone could bring in their own booze, but with the current logistics, you can feasibly hang out in the beer garden and still see the entire show.
The festival's kingpin, Ted Gehrke, is an institution in San Jose. Involved with booking shows here for decades, there couldn't be a better person to consistently run the blues festival year in and year out. If this festival ever goes away, it will leave a gaping hole in the cultural landscapes of both San Jose and SJSU. With Left Coast Live debuting next week, one would think potential collaborations and/or joint sponsorships are not too far away. Cross your fingers.
In any event, axman extraordinaire Derek Trucks will headline the blues festival this year. Easily the greatest guitar player you'll ever see on a San Jose stage for only $5, Trucks regularly gigs with the Allman Brothers, and he also toured the world with Eric Clapton last year. When Trucks played in San Francisco a few weeks ago, Carlos Santana made a surprise unannounced appearance and joined him onstage.
And speaking of Santana, if everything went as planned by my deadline, Carlos also showed up at a press conference at the Fairmont in downtown San Jose last Tuesday. Linda Ronstadt was by his side as they announced the 2009 San Josť Mariachi and Mexican Heritage Festival, which takes place during the last week of September. This is Ronstadt's second year as artistic director of the festival. On Sept. 27, a special concert tribute to Cesar Chavez will tear up the HP Pavilion. Both Santana and Ronstadt, along with Los Lobos, will perform. Tickets go on sale soon.
Since the San Jose Mariachi Festival features much, much more than just the core classical repertoire of mariachi music, the purists usually get irritated and cry blasphemy, but hey, this is biggest gathering of its kind anywhere in the United States. It is a unique-to–San Jose festival, and people from all over Northern California descend upon the local environs to check it out.
And let us not forget some good ol'-fashioned reggae-fueled thrash-hip-hop tribal sounds, as local faves Insolence will play at a free daylong marathon at West Valley College, also this Saturday. Tons of other bands will appear beginning at 1pm, including Kung Fu Vampire, San Jose's only back-flipping hip-hop cabaret goth cackler. Bring your festival shoes.
Contact Gary Singh or send a letter to the editor about this story.