05.06.09
home | metro silicon valley index | music & nightlife | band review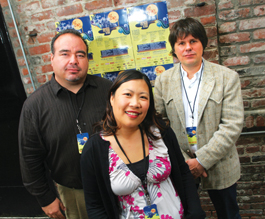 DRIVING FORCES: Left Coast Live benefited from the concerted efforts of event producers Chris Esparza (left), Sheila Bernus Dowd, and Michael Brilliot
Hot Sounds in the City
Fed up and het up, music boosters joined forces to bring Left Coast Live festival to downtown San Jose
By Gary Singh
TWO YEARS AGO, folks from different parts of the local music spectrum gathered to vent their frustrations with what seemed like the entire city of San Jose. They eventually went public with their complaints about how San Jose lost its live-music mojo—and their dream that it could get the beat back.
Musicians, club owners, promoters, producers, people from arts groups, industry types, street intellectuals and DJs—pretty much anyone with any remote connection to what could be called a "music scene"—all attended those initial public meetings.
What started as a peanut gallery offering a frenzied mishmash of concerns eventually morphed into a long process that has now led to Left Coast Live. The ambitious five-day extravaganza of gigs and panel sessions culminates with a blowout festival in downtown San Jose on Friday, May 15.
On that final night, two outdoor stages will occupy South First Street, while 80-plus bands will perform at dozens of venues all over downtown. Many places that normally don't present live music will jump into the fray. Classic rock, jazz, R&B, punk, classical, world beat and all sorts of sounds in between will be performing. Legendary Hammond B3 alchemist Booker T. will headline the main stage.
Throughout the week leading up to the shows, Left Coast Live will sponsor a variety of seminars. The topics will include the intersection of Web 2.0 tools and music, and ideas on how to make local music thrive in San Jose.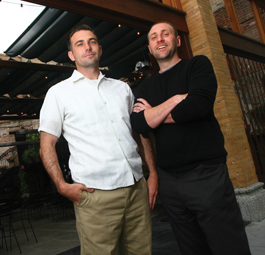 STAND-UP GUYS: Brendan Rawson (left) and Josh Russell from 1stACT Silicon Valley helped propel the festival to fruition.
Adrenaline Boost
No one knows what exactly what Left Coast Live will turn into, but at the very least, everyone involved wants it to function as an adrenaline boost for San Jose. They want to give people of all shapes and sizes a feeling that they are welcome downtown. Someday, the organizers hope, live music will always be ingrained in everyone's consciousness and automatically on everyone's radar.
Local producer and restaurateur Chris Esparza leads the Left Coast Live enterprise.
"I'm not doing this to let people know I have some secret good-fairy plan for downtown," Esparza declares. "I'm doing it because, one, I want to get people turned on to live music, and, two, turned on to people who play live music. I want to see them, all at the end of this, feeling, like, 'Oh, wow, something just happened.' And maybe there's a glimmer of hope."
With the diverse mix of people, as well as the legions of amateur musicians who have given up trying to make it commercially here, massive untapped potential exists in Silicon Valley.
"It would be fantastic to equate San Jose with one of those places where great music is everywhere," says Sheila Dowd, one of Left Coast Live's producers. "And that's sort of our larger vision. What we want to present is that ultimately you'd walk around downtown, and wherever you're going, you can hear music, and you can have access to music."
Moreover, a general recap of how Left Coast Live evolved suggests that if all the right people pool their resources at the right time—and if the city plays a helpful leadership role and not a regulatory, controlling role—then a truly rocking, organically grown festival can actually happen here.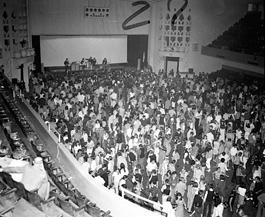 CIVIC AFFAIRS: The San Jose Civic Auditorium was one of the main venues for rockers passing through the valley.
Club Crawling
During the winter of 2006/07, while meeting once a week for a few months, a handful of citizens gave themselves an apt moniker: South Bay Live. They met over food and drinks while discussing how to put live music back on everyone's agenda. Local musician Tavius Aiton was one of those people.
"Initially, what we had talked about," Aiton recalls, "was the issues with law enforcement and their overall bombarding presence downtown; city issues with ordinances, clubs and licensing and the kinds of things the city was really saying. On one hand, they were saying, 'We're for it'—but on the other hand, making it very difficult to present and promote live music."
The group eventually decided to bring the conversation to the general public. A meeting was held at the California Theatre on March 22, 2007. The aforementioned cast of characters, including me, attended. They even had a whiteboard.
"That's when South Bay Live went from just a few people at the table talking about what to do to a community participating in the conversation," Aiton says. "The idea was 'Let's broaden the conversation and get more people involved,' and [then] narrow it down to some things that we can actually do to make a difference."
More sessions followed. All the usual time-tested grousing emerged: How it's impossible to "make it" here as a musician; how the business climate leaves a lot to be desired; how licensing and permits are required for every little stupid thing; how the police handle closing time at the clubs; how people in San Jose just don't go out to support live original bands any more.
However, a few solid initiatives did materialize, one being a "club crawl," an idea then in the works for the San Jose Jazz Festival, where jazz fans, rather than split after the day's events, would hang around and check out live music in downtown bars.
That concept, which later succeeded during the following two jazz festivals, morphed with an idea already brewing in Esparza's head. Esparza had envisioned a one-night, live-music extravaganza where all the clubs, bars, cafes and corner lots could showcase some sort of music. People would buy one all-encompassing ticket that came with a wristband that enabled them access to any of the events that night. The club crawl idea transformed the same old bitchfest into something much more tangible.
"There was a big need to have action," Esparza says. "We didn't want to take a step toward action without having listened to a broad spectrum of people involved in music. Once we did a couple of those meetings and heard the initial vomiting of people complaining—about trying to do live music, and now hard the city is, or the police, or this and that—after we got that done, then ideas began to spring forward."
Aiton agrees: "We found that there weren't enough people willing to get involved and actually tackle each of the initiatives. So what happened is that most of the people who came into the initial meetings gravitated toward the club-crawl idea."
The original name, South Bay Live, remains, comprising many of those original constituents, using the San Jose Jazz Society as an umbrella for nonprofit status. They remain active on several fronts, most notably the organization of live music at the Theater on San Pedro Square. After Left Coast Live emerged from the original flurry of ideas, Esparza brought on a few partners and engaged the city, and the concept grew from there.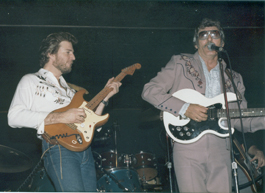 COUNTRY ROADS: Rockabilly legend Carl Perkins (right) jammed with local guitarist Gary Pomeroy of Daddy O and later the Groove Kings at the Saddle Rack in San Jose in 1983.
Follow the Money
One thing the group needed was seed money, and they got it form 1stACT Silicon Valley. This local leadership network is dedicated to "inspiring leadership, participation and investment at the intersection of Art, Creativity and Technology," which is what the "ACT" stands for.
Funded by the likes of Apple, Cisco, Applied Materials and a few hefty philanthropic foundations, 1stACT also provided incubation money for the 01SJ (ZeroOne) Festival, the Great Cities Speakers Series and the current cosmetic redesign of the SoFA District.
1stACT's goal is to help make downtown San Jose Silicon Valley's urban core, to strengthen the arts and culture ecosystem and to engage people in arts and cultural experiences. The group's favorite buzzword is "catalyst."
"We're only planning to be around for five to 10 years, so we're not an organization that's here forever," explains Josh Russell, 1stACT's director of Communications and Emerging Initiatives. "So what we want to do is get involved in catalytic types of activities, things that we can move the needle and make significant change and then get out of the way."
Brendan Rawson, 1stACT's director of Cultural Participation, picks up the narrative: "We thought about how to set up a structure for a festival concept that will be able to continue forward after we're not involved anymore."
This means engaging a wide swath of venues and musicians and providing incentives to make a successful project. "Instead of doing the traditional downtown San Jose outdoor festival on a set stage," Rawson says, "we wanted to put it more into the businesses, ... sort of jump-start these venues to have more live performances."
Russell adds, "We're not looking at it as just giving money to one event but looking at that event as the way to kick-start live music in San Jose on a more regular basis."
And it looks like many people are indeed catalyzed. Barbara Wahli, a local promoter, booked many of the rock acts for Left Coast Live. She says that the amount of venues volunteering to be included went way beyond anyone's expectations. She agrees that the entire event could boost a live-music mentality among local businesses and customers.
"I think for one," Wahli tells me, "that it'll show a bunch of venues who don't normally do live music that live music is really successful."
She adds, "And it'll make them realize that they could start doing it on a regular basis ... and that that would make more live venues exist in San Jose, and it'll let people know we have a vibrant downtown again."
According to Wahli, "People have a misconception. They think of downtown and they think of club nights and all these people in the streets causing havoc, and it's totally not like that. And this event will show them it's not like that."
Silver Bullet
In the end, the timing for Left Coast Live is right, because the city is struggling to make downtown nightlife attractive for people over 25 or 30 years old and who don't want to hang out in the dreaded meat market dance clubs. One intention of Left Coast Live is to aid in that process.
"Live music is not the silver bullet," Esparza concedes. "But it's a silver bullet to kind of make downtown and put a little life into it."
Even better, everyone involved believes that Left Coast Live will help cement a much-needed live-music culture that San Jose can call its own.
"We're making this [event] special for San Jose," claims Esparza. "We designed it because we're local. We're not bringing SxSW to San Jose. We're not bringing Bumpershoot to San Jose, but in the sense we're looking at those models and saying, 'How do we make it right for this town?'"
Kim Walesh, chief strategist for the city of San Jose, is on board as well. "This is an opportunity for San Jose to continue developing a distinctive cultural voice," she says. "Left Coast Live is going to, in a very exciting way, reflect who we are and showcase who we are, whether it's boomer garage bands that our friends are in, to introducing more people to incredible local jazz legends, to interesting solo performers, or people who are totally new to us."
Another consensus across the board is that the festival will help stir things up enough to the point where people will lose their negative preconceptions of downtown.
"It's great to come to Music in the Park, it's great to go to the jazz festival, it's great to go to all those things, but it's either once a year or only in the summer," Dowd explains. "And how amazing would it be if we created this culture where downtown is always hopping? And it's not, like, a scary thing."
Finally, Walesh reiterates that the city's overall strategy is for the festival to accelerate a more music-based nightlife not limited to just clubs.
"What's important to me," she says, "is that Left Coast Live is the beginning of a return of live music to a variety of downtown venues, week in, week out, throughout the year. If we just have a one-week festival and we don't use this as a platform for adding live music of more kinds to more venues downtown, every weekend and every weeknight, we will not be successful. And that's what I like about this. It's intended to lead to more fundamental change, not just add another terrific festival to our portfolio of festivals."
Left COAST LIVE takes place May 11–15 with events and shows throughout San Jose. Tickets are $15–$20. For complete schedule details, see the special pull-out section in this week's issue. (Full Disclosure: Metro is one of the sponsors of Left Coast Live.)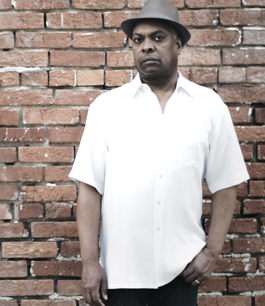 COUNTRY ROADS: Rockabilly legend Carl Perkins (right) jammed with local guitarist Gary Pomeroy of Daddy O and later the Groove Kings at the Saddle Rack in San Jose in 1983.
A Tremendous Twilight
Booker T. headlines Left Coast Live
WHEN baby boomers moan about a long-gone work ethic, it's easy to ignore. The way things are looking, we probably won't be able to retire anyway. But the old-timers may have a point. This spring, classic soul legend Booker T. Jones, 64, brings us an album that proves that he's not resting on his laurels. He'll back up that assertion with a headlining set at Left Coast Live.
Although a successful songwriter and performer, Booker T. Jones remains renowned mostly as an "alchemist" of the Hammond B3 organ, particularly for his work leading the MGs, the Stax house band that buoyed luminaries like Otis Redding, Wilson Pickett and the Staple Singers. Recorded in only a week, Potato Hole is likely to augment his legacy, with his signature keyboard lyricism stretching to new sonic textures beyond trademark hits "Green Onions" and "Time Is Tight."
Right from the brash opener "Pound It Out," Jones sounds miles away from the lounge-y cool of "Green Onions," thanks in large part to the triple-guitar attack of backing band the Drive-By Truckers and fourth axman Neil Young. Jones' instantly recognizable organ licks are flanked by power chords, distortion and dirty blues solos, making for the boldest sound in his catalog. "Native New Yorker" has the biggest Neil stamp on it, with its heavy guitar stroll and Jones' piercing keys seemingly mimicking Young's famous falsetto tenor.
But Jones presents many moods throughout the record, including the serene love letter to his wife, "Nan." Here he plays chiming acoustic guitar, electric guitar and, of course, the organ, which sustains the gorgeous two-minute piece with astoundingly communicative melodies.
While his distinctive soloing may evoke great jazzmen, Jones's accessibility is afforded by his concise rock & roll song structures, evinced here in his covers of Outkast's "Hey Ya" and Tom Waits' "Get Behind the Mule," the latter presented in a kinetic, brilliantly plodding arrangement. The expressiveness of Jones' playing makes one hardly miss the lyrics. This instrumental success reaches its zenith in the epic, slavery-themed title track, whose relentless drums and grinding guitars aid Jones' extended organ solos in a narrative that's damn near understandable. In addition to his renewed creativity, the soul veteran has brought imagination back to rock & roll.
David Sason
Send a letter to the editor about this story.