05.06.09
home | metro silicon valley index | silicon valley restaurants | review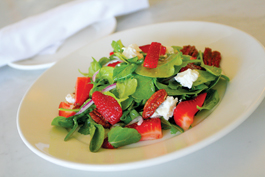 Photograph by Felipe Buitrago
GREEN AND RED: Strawberries and arugula make an enticing salad at Mayfield.
Rustic Yet Refined
Palo Alto's new Mayfield Bakery and Cafe serves satisfying, farm-fresh meals
By Stett Holbrook
IT IS plain to see what Mayfield Bakery and Cafe is trying to do. The restaurant is yet another new business in the suddenly happening 50-year-old Town and Country Village on El Camino Real, a red-tiled landmark of peninsula shopping that has undergone a major remodel.
With its simple but handsome décor, open kitchen fronted by a long counter and tidy stacks of split almond logs tucked against the wall for the great smelling wood-burning oven, the 3-month-old Palo Alto restaurant presents updated versions of seasonally driven Mediterranean and American classics—big, bold, rustic flavors and simple preparations that aim to let locally grown ingredients speak for themselves without any undue manipulation or pretence.
You know the stuff: Niman Ranch burgers, spit-roasted meats, frisée salads with crumbled bacon and a poached egg on top, pizzas, grilled fish, crusty, fresh bread and hearty, satisfying desserts.
Although it checks in at a lower price point, Mayfield seeks to mine the same vein of rough-hewn yet refined farm-fresh deliciousness as the nearby Village Pub, a Woodside restaurant under the same ownership. It's the kind of virtuous, satisfying food that has come to define Bay Area dining.
While the ingredient-over-technique aesthetic is the Bay Area's stock in trade, it's not enough to simply put premium ingredients on a plate and expect them to shine. And as often as not, the food at Mayfield comes off as good stuff that doesn't quite rise above the sum of its parts.
While Mayfield has the look and feel down cold and generally expert, knowledgeable service, the food too often falls into the gray box of mediocrity, that netherworld between bad and great occupied by the OK, the not-bad and the pretty good. It's the little things—the judicious application of salt, the right combination of ingredients, the counterpoint of acid or fat—that elevate a handful of greens into a really good salad or a piece of fish into a memorable entree.
Take, for example, the spit-roasted leg of spring lamb ($24). Paired with English pea risotto and a salad of baby escarole and mint, the dish sounded too good to pass up. It wasn't. The slices of lamb had a one-dimensional, flat flavor that was a poor showcase for the meat—meat that wasn't helped by being tough and chewy in places. The "salad" was really just too-long pieces of escarole and mint leaves tossed in a hot pan. The side dish of risotto was fine but nothing special. Taken together the dish didn't add up.
Nor did the grilled dorado ($24). The fish, also known as mahi-mahi, was well grilled and served with roasted little potatoes and topped with a spring onion and green-garlic aioli. It was all fine but instantly forgettable as soon as it was gone.
The wood-oven-baked mussels ($14.50) looked fantastic. They were served with a rugged-looking smoked tomato sauce, and I expected big, wood-smoke-infused flavors. Instead I got sweet, fresh but bland mussels and a rather timid tomato sauce that needed help from more garlic, a splash of wine, a smatter of capers, something to enliven it.
My waiter at lunch talked up the roasted turkey and provolone sandwich ($9.75), but except for the light and crusty toasted pan de mie, it was thoroughly unremarkable—just turkey and cheese between two slices of bread.
From the list of side dishes, grilled asparagus with preserved lemon and olive oil ($5) was perfectly acceptable but left everyone at my table feeling like we could make the same thing at home. I go to restaurants looking for that je ne sais quoi, but that little something extra was in short supply with this dish. The beer-battered onion rings ($5) would have been a clear winner if they weren't so dang salty.
But when the kitchen hits the mark, the results are delicious. I absolutely loved the crisp Brussels sprouts with chiles and lemon ($5) on the lunch menu. The sprouts are left whole but ruffled up so that the leaves caramelize and crisp up in pleasingly different ways. The squirt of lemon and the hit of chile peppers temper the oily richness to create a really great, simple side dish.
For me, the burrata bruschetta ($12) represents Mayfield's cooking at its best. Two crusty slices of grilled bread are topped with the fresh, sweet, gooey over-the-top cheesy goodness of the burrata (mozzarella filled with cream and more mozzarella), grilled artichokes and the salty-tangy spike of a rough-chopped green-olive vinaigrette. Smoky, crunchy, sweet and salty combine for delicious results.
Creamy potato and green-garlic soup ($7.50) drizzled with a grassy extra-virgin olive oil had me pining for more. I also liked the straightforward rotisserie chicken ($16) paired with a butter-lettuce salad gilded with fat chunks of Hogg's bacon, avocado, blue cheese and a boiled egg. It's really a deconstructed Cobb salad, and I liked it better than the real original.
While I didn't dig into the bakery's offerings, all the bread served in the cafe was quiet good, from the warm and crusty braided rolls that come with meals to the poppy-seed bun on the hamburger and the complimentary baguette you get at the end of dinner as a parting gift.
Indeed, bread and pastries are one of Mayfield's strengths. The restaurant's affection for Americana extends deep into the desserts. The s'more tart ($7.50) takes the campfire classic and reworks it into a silken chocolate tart with a dense and rich Graham cracker crust served with a toasted marshmallow and side of creamy chocolate ganache.
I haven't had an ice cream float for years, but the black cow (chocolate gelato, cinnamon and Dad's Root Beer, $5.25) was a delicious reminder of how good they can be, especially when the temperature outside was approaching triple digits during my visit last week.
Less is often more, but it's what you do with less that makes it become something more. I like where Mayfield is trying to go, but too often I was left wanting, well, a little more.
---
Mayfield Bakery And Cafe
Address: 855 El Camino Real, Palo Alto.
Phone: 650.853.9200.
Hours: 11:30am–4pm and 5–9pm Mon–Fri; 9am–4pm and 5–9pm Sat–Sun.
Cuisine: American.
Price Range: Dinner entrees $11.75 to $32.
Web: Mayfieldbakery.com.
Send a letter to the editor about this story.