05.06.09
home | metro silicon valley index | movies | current reviews | film review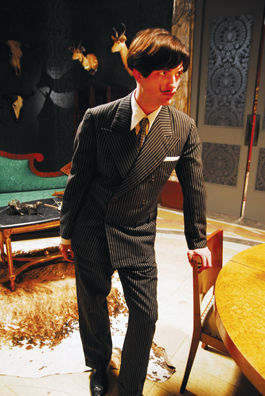 HELLO, DALI: From one kind of vamp to another, Robert Pattinson plays Salvador Dali in 'Little Ashes.'
To Surreal With Lust
'Little Ashes' biopic melts away faster than one of Salvador Dali's watches
By Richard von Busack
SO Little Ashes is the first movie that's anything like a biopic of Salvador Dali, and after watching it, all I can say is this: either this movie is dead or my watch has melted. The high-definition Sony DV camera director Paul Morrison used for shooting this inexpensive Spanish-financed film is appropriate in a sense. The pale, greenish, rotting-cream color this camera gives makes the leads look decadent; in moments of hotter light, the flesh appears more like runny orange sherbet.
Unfortunately, what we see is like watching a gang of students smoke cigarettes while occasionally grumbling about the bourgeoisie. Dressed in argyle sweater vests and saddle shoes, the great minds of surrealism fail to do anything really surreal. The highlight of outrage is taunting some old ladies at a dinner party; there, Federico García Lorca recites a poem about a pogrom against Gypsies, while a pair of Spanish soldiers gnash their teeth.
Teen-scream star Robert Pattinson, as Dali, is isolated and androgynous in the early scenes. A Louise Brooks haircut on a man tends to make you stand out in school. I kept thinking Emo Phillips had snuck into camera range. Later, in the 1930s scenes, he plays a man some 10 years older than himself.
As the elder Dali, Pattinson wears the famous reverse handlebar mustache, which looks like a piece of licorice a child might stick to his face in order to portray Snidely Whiplash. He pirouettes in a dressing gown around a room stuffed with taxidermed animals and seems very much like an Adam West–era Batman villain. "Who are you pretending to be today?" asks Lorca (Javier Beltrán). It's really a line for Adam West.
Like those villains of yesterday, Dali even keeps a gangster's moll, in the form of his wife, Gala (Arly Jover). "She's slept with every artist in Paris," Matthew McNutly's Luis Buñuel grumbles; every artist except one, apparently—or so one can judge when one hears that kind of complaint.
Little Ashes takes its title from a Lorca poem. The movie aims to sell us the forbidden pash between Dali and the renowned poet. "You're raw, like some animal that has been skinned," Dali claims. Said passion comes to a boil during a somnolent trip to a fishing village on the Costa Brava, where the two men bathe in blue bubbly water, a moment of intense erotica equaled only by a synchronized swimming tryout. atching over this scene, the moon slips shyly behind a cloud, in anticipation of the similar dance of moon and clouds in The Andalusian Dog. (We see the actual clip of that surrealist masterpiece; tragically, there's far more life in it than there is in this awkward and embarrassing film.)
The real-life Lorca is a martyr, and this movie has no room for those who aren't; this is one of those lives-of-the-saints texts that Buñuel and Dali set out to profane. Beltran's Lorca looks unwell as McNulty's Buñuel complains about the maricones of Madrid and keeps threatening to shove off to Paris. Dali himself goes Franceward, so that he and Buñuel can drink champagne with topless chorines, while stock footage of the Follies Bergère flickers in the background. To which one can only reply: tsk, tsk.
Morrison is basically right. Dali was in many ways an evil man. He was a slanderer, a self-promoter and a mercenary. Nothing sticks like dung, as they say, and André Breton's almost-anagrammatical nickname for Dali, "Avida Dollars," is deathless. But treating Dali as a theatrical pervert and cowardly closet case focuses on the less-fascinating side of both the artist and the man. If this weren't a movie in which the characters are forever introducing themselves and each other as geniuses, would it have any more interest than any other tale of dormitory sexual experimentation?
Comparing sinister, decadent and polysexual living with patriotism and hopeless steadfast love, Little Ashes chooses ... guess what? What the censors always correctly guessed about the movies is that God-fearing gentle people often come in second to rogues. Dali's own perhaps unlikely autobiography—Orwell called it "a striptease act conducted under pink limelight"—includes a bat-biting episode that tops Ozzy's, as well as a story of the artist rubbing goat dung on himself to charm Gala with its aroma. It's always a problem, trying to smear a man who rolls in it on his own. I'm not sure what Morrison (who did the lugubrious Solomon and Gaenor) thought was interesting about Dali: That he was cute when he was young? Or was it the irony of a man going around crying "no limits" when he was too scared to carry out a homosexual relationship? (Again Orwell: "It is not given to one person to have all the vices.")
Trying to re-create Lorca's poetry onscreen is hopeless. Beltrán, the Spanish lead in this English-language film, recites Lorca in the original and then translates it in voice-over. It's a method as useless as having the fresh-faced Pattinson trying to pose as the Great Masturbator himself.
No one since Philip Kaufman (Henry & June, Quills) has been able to balance the sex life and the artistic life in famous-name biopics. And since we see little—if any—of Dali's copyrighted art onscreen, all one can do is repeat the old argument to justify his existence. Despite his proto-fascism, 1936's Soft Construction With Boiled Beans is an essential sussing up of the full horror of the Spanish Civil War. It is the work of a man with his feelers out, and Little Ashes only sees the bug, not the antennae.

LITTLE ASHES (R; 112 min.), directed by Paul Morrison, written by Philippa Goslett, photographed by Adam Suschitzky and starring Javier Beltrán and Robert Pattinson, opens May 8.
Click Here to Talk About Movies at Metro's New Blog
Send a letter to the editor about this story.