05.06.09
home | metro silicon valley index | music & nightlife | band review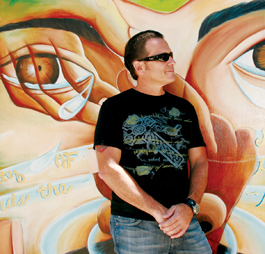 BLUES FIDELITY: San Jose's Tommy Castro knows that where you were born doesn't matter if the music is true.
Blues Valley
Local heroes Tommy Castro and Chris Cain join a heady lineup with Derek Trucks at the Metro Fountain Blues Festival
By Garrett Wheeler
MISSISSIPPI and Texas. Chicago and Memphis. These are the territories of the blues, that ghostlike predecessor of rock & roll still lurking beneath the surface of every form of popular music. The city of San Jose, by contrast, does not arise in conversations about the blues. No museums here are dedicated to its local histories, and Highway 61, the Blues Highway, lies a few thousand miles away.
Few would automatically think of the Silicon Valley as a fertile habitat for an art form that is believed to have originated in Africa before crossing the oceans and taking hold in the plantations of the South. And yet the blues is around us, in the Bay Area, and specifically in San Jose, as proved by the annual Metro Blues Festival, now in its 29th year, which brings a day of blues acts to town on May 9 at SJSU.
Guitarist Tommy Castro was born and raised in San Jose, a fact that often draws quizzical responses.
"The first thing people say when I tell them where I'm from is: No, where are you from originally?" Castro says. "I guess they expect me to talk differently or something, because they always end up telling me I don't sound like I'm from San Jose."
Perhaps it's Castro's bluesy drawl that fools listeners, or his astonishing command of the electric guitar. Whatever the case may be, Castro's reputation as one of the premier blues players around is no joke—the man can play. Just ask Carlos Santana, who once said of Castro that "the blues is in good hands." Even the crowned King of Blues himself, B.B. King, found inspiration in Castro's guitar playing, inviting Castro to open for him on his 2001 tour, and then again the following year.
Through the course of Castro's career, which began in the late '80s, he has shared the stage with everyone from Buddy Guy to John Lee Hooker, and recorded a dozen critically acclaimed albums. He has won awards ranging from the 1993 Bay Area Music Award's Club Band of the Year to the 2008 Blues Music Awards' Best Contemporary Blues Album and B.B. King Entertainer of the Year.
Castro's recent signing with Alligator Records, one of the pre-eminent blues labels in the country (label mates include Buddy Guy, Robert Cray and Johnny Winter) marks his entrance into the upper echelon of the modern blues universe.
How did a kid from San Jose rise to such prominence on the international circuit? Actually, the answer is simple: the local circuit. "When I started out, there was a little group of people in San Jose that were really into the blues, so everything came pretty natural," says Castro. "Everybody would get together on Sundays down at JJ's Blues Club, and we'd all jam—there were a lot of local guitar players."
One of those local guitarists would have a profound effect on Castro musically and, perhaps, psychologically as well. "Chris Cain was one of my biggest inspirations when I started out. I used to follow his band around to watch him play; he was absolutely on fire," remembers Castro. "When he made a record and starting touring the country, and other countries, I remember thinking, 'Wow, there goes Chris, a guy from San Jose making a living playing blues music around the world. I guess it is possible.' I didn't have the talent he had, but I thought if he could do it, maybe I could too."
Cain, renowned for his virtuosity in both blues and jazz settings, released a handful of albums on Blind Pig records, the same label that would later sign Castro. The two guitarists have a close bond formed over years of shared gigs and late-night jam sessions, and Castro is excited to have Cain performing with him at this year's Metro Fountain Blues Festival; their set starts at 4:45pm.
Castro will also have his full band in tow, which includes Keith Crossan on tenor sax, trumpet player Tom Poole, bassist Scot Sutherland and drummer Ronnie Smith. "It's going to be a cool set," Castro says. "We've got a great batch of tunes and a lot of talent to go with it."
And then, of course, there's event headliner Derek Trucks, at 6:30pm. A child prodigy turned seasoned vet by age 28, Trucks represents the newest generation of blues-guitar heroes, bringing new life to a century-old craft. By age 9, Trucks was an established genius on the slide guitar, leading his own band by his early teens.
Barely out of high school, Trucks hit the road as a member of the Allman Brothers Band, and by 2006 he found himself recruited to play alongside Eric Clapton on his 2006 and 2007 tours. But even his remarkable résumé can't express the kind of magic that pours out of his amp on a nightly basis.
"First of all, Derek Trucks is one of the all-time great guitar players," says Castro when asked about the festival headliner. "He's an innovator, an amazingly accomplished player. Soulful. He has such a strong connection, not religious, but a spiritual one, the way he approaches his music. When he plays, there's not a big party going on, it's really a serious thing because he's so connected with everything. I really admire him, and I think he's one of the most important guitar players to come along in many years."
Trucks' new album, Already Free, displays an electrifying blend of back-country blues and progressive funk, cut exclusively at his home studio in Jacksonville, Fla. Since the 2006 release of the critically acclaimed album Songlines, the Derek Trucks Band has been touring incessantly and living on the road for nearly 300 days a year. At this point, Trucks and his six-piece band function like a well-oiled machine, routinely delivering awesome performances highlighted by Trucks' jaw-dropping slide work.
In addition to Tommy Castro and the Derek Trucks Band, the Metro Fountain Blues Festival will also feature performances by John Wedemeyer and Friends (12:30pm), the Bay Area Blues Society Caravan of All Stars (1:30pm), the Candye Kane Band with Laura Chavez (2:30pm) and Lurrie Bell's Chicago Blues Band (3:35pm).
For Castro, a high-caliber festival is just another reason why San Jose is a great place for the blues. "I've had the fortune to perform at the festival since the late '80s" Castro says, "and it's always a good group of friends and talented local cats that can really play the blues."
THE METRO FOUNTAIN BLUES FESTIVAL takes place Saturday (May 9), 12:30–8pm on the campus of San Jose State University. Admission is $5 (free for SJSU students with valid ID cards). (408.924.6262)
Send a letter to the editor about this story.