05.06.09
home | metro silicon valley index | music & nightlife | band review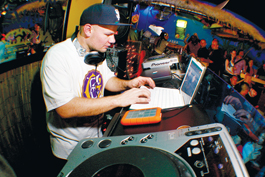 Photograph by Felipe Buitrago SPIN ZONE: DJ Aspect keeps the dancers happy at Tres Gringos.
Round and Round
By Colleen Watson
WHEN WE walked in, everyone was at the back. Tres Gringos in San Jose is a decent-size club, and yet the crowd was squished in the rear of the building. As we got closer we realized that everyone was on the tiny dance floor. Sitting under a thatched tiki rook and moving behind an arsenal of shiny gadgets and a laptop was DJ Aspect, who appears every Thursday at the club. But even with his high-tech gadgetry, he stays true to his roots: "I still use turntables. I am a record collector." He adds, "We are real DJs; we use all records, no CDs." He has been a DJ for the past 10 years and understands what his crowds like. "Knowing your crowd is very important; every place is different."
At Tres, the crowd wanted popular mainstream hip-hop songs that they can dance to. And DJ Aspect kept them coming, receiving yells of appreciation from the crowd at pretty regular intervals. "I wanted to be a DJ since I was in junior high," he told me. He also does promotions for various hip-hop and reggae shows in the area.
Cheers went up as a Lady Gaga number came on. Girls shook their hips in time to the beat, and guys either tried to keep up or watched from a distance. DJ Aspect smiled at the crowd and fiddled with more of his equipment. He never stopped moving. He summed up: "When you feel like you have a crowd and they're so in touch with you—something feels very right."
Tres Gringos
83 S. Second St., San Jose; 408.278.9888.
Send a letter to the editor about this story.