05.06.09
home | metro silicon valley index | columns | Wine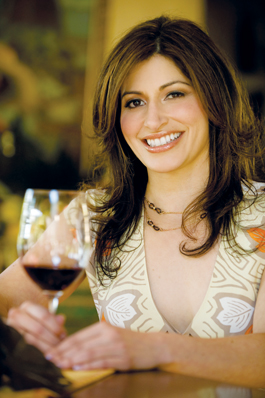 The Wine Column
Ask the Sommelier
By Stett Holbrook
LISA RHORER is co-owner, general manager and wine director of Cin-Cin Wine Bar in Los Gatos. Rhorer left the world of high-tech marketing to pursue her passion for wine. She graduated from the Professional Wine Studies Program at the Culinary Institute of America in St. Helena and earned membership in the Court of Master Sommeliers. She built on that knowledge as wine buyer for Whole Foods and sales manager for Spanish wine distributor Vinos and Gourmet, and she worked behind the counter at two popular Bay Area wine bars.
METRO: Why did you decide to pursue a career in wine?
LISA RHORER: I was influenced by wine at a young age growing up in a household where wine played a significant role at the dinner table. Wine and food brought about a sense of conviviality. My father was enrolled in a wine education program and shared his passion for wine by teachin=g me about it when I was 10 years old. I was allowed a sip here and there as he explained the nuances of the wine and the region it originated from. Later in life, I had the opportunity to change my career and I asked the proverbial question, what career do I really want to pursue in life? A career in wine was the only choice for me. I learned from the ground up. That path led me to co-own Cin-Cin. I am drawn to wine, as it has the power to bring people together; it can be a complex, elegant, intellectual, fascinating and sensual beverage. And when you pair the right food and wine combination, it can be a harmonious experience.
I've had the pleasure of studying wine abroad from some top winemakers in France, Austria, Italy and Spain. I continue to learn, be enticed and challenged by wine. I hope I can pass on my wine enthusiasm to the staff and guests at Cin-Cin.
What makes the wine list at Cin-Cin special?
Our wine list encourages people to think "out of the box" and try a varietal or a region they haven't heard of before. Cin-Cin has a very eclectic list, and we have a variety of ways guests can experience wine: by the taste, glass, flight and bottle. You can also purchase bottles to go. We focus on purchasing wine that is created by eco-friendly means, with minimal or no chemicals used to produce the wine. We also try to eliminate the intimidation factor in selecting wine in a few ways. I train our staff on our wines and teach them how to talk to guests to ascertain what styles our guests may like. Food and wine pairing is also important. We want to create the perfect food and wine combination for our guests. All this equates to a better-educated server on the floor who can connect the right wine with the right person in an approachable manner, creating a great experience.
What wine or wines are you passionate about right now?
I cannot resist a good Austrian grüner veltliner or riesling. German riesling from the Nahe region is also a big favorite. Other favorites include marsanne and roussanne blends from the Rhone region as well as from the Priorat region, they are divine. I'm also enjoying the daiginjo-style sakes.
What are some of the best wine values now?
Do you like the prestige and taste of high-priced wines from Napa? I can connect you with a wine from Spain for a fraction of the cost. Wines from Spain are part of my heritage so I have a special affinity for them. There are some innovative producers coming from Spain. Spanish wines are also great cross-over wines for the California palate at a fraction of the cost. Check out white wines from Priorat, Rueda, Valencia and the Peneds, or red wines from Campo de Borja, Jumilla, Rioja, Priorat and Ribera del Duero.
What is your go-to wine for everyday, casual drinking?
My go-to wines include wines that have a good taste-to-value ratio and that transport me to another place: Xavier Frissant "Les Roses du Clos," Touraine Amboise, France, '07, from a grape called fie gris (old sauvignon blanc clone); Cooralook, Pinot Noir, '08 from Australia; and Reymos Espumoso, (nonvintage), a sparkling muscatel wine from Valencia, Spain.
Send a letter to the editor about this story.