05.07.08
home | metro silicon valley index | columns | 5 things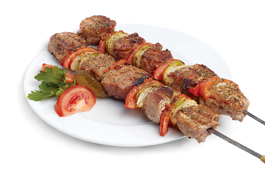 5 Things to Love
Great Kebab Restaurants
By Stett Holbrook
EVERYONE with a Weber owes a debt to the nomadic tribes of the Middle East, the original grill masters. Here are five notable restaurants that serve kebabs, the quintessential Middle Eastern grilled meat on a stick.
Ariana's Kabob House 4342 Thornton Ave, Fremont. 510.792.6122.
De Afghanan Kabob House 37405 Fremont Blvd, Fremont. 510.745.9599.
Kabab House Halal 2521 Newhall St, Santa Clara. 408.984.2204.
Palms Restaurant 2707 Union Ave, San Jose. 408.963.2001.
Rose International Market 1060 Castro St, Mountain View. 650.960.1900.
Send a letter to the editor about this story.