05.07.08
home | metro silicon valley index | columns | silicon alleys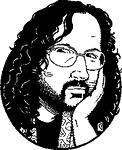 Silicon Alleys
Woolworth It
By Gary Singh
WITH all the recent spats about historical preservation and my fond retro-kitsch memories of downtown San Jose's old Woolworth Building, I felt like a higher cosmic intelligence was directing me southbound to fill the hole in my soul when I discovered a redevelopment mecca in Ventura County—the Woolworth Museum. Someone in downtown Oxnard, Calif., had restored that city's old Woolworth building and turned it into a museum, so I just had to make a spiritual trek and investigate the place. The place is a tour de force of historical preservation.
The Woolworth Museum is the brainchild of one Mr. David Feigin, who calls himself a "lunatic revivificationist"—that is, someone who "revives" old buildings, and then defends and nurtures their mystical eminence. And what better place to engage in such activity than an old Woolworth building? When Feigin first bought the empty, two-story, 16,800-square-foot structure, he brought in a lawn chair and sat alone for hours in the vacant cavernous place, just so he could "hear the building."
Many books are already published on all that was Woolworth, that famous variety store chain that gave the English language the term "five-and-dime." You could waltz in and do your cheap shopping while others mowed through greasy heart-stopper specials at the food counter. It was a place where graying waitresses would always refer to you as "honey." Sadly, the entire U.S. operation cashed in about 1997, and all Woolworths across the country closed. Feigin and his wife/business partner Nancy Greenfield gobbled up Oxnard's abandoned Woolworth's in 2002.
"It was the only one left that was still in its original state and hadn't been turned into something else yet," she told me.
The place is now subdivided and converted into, among other things, a new all-ages live music cafe, additional office space upstairs and, of course, the museum itself, which showcases all sorts of Woolworth ephemera —trinkets, postcards, old stamp machines, books, autographed photos, arcade games and the likes thereof. Almost any kitsch Woolworth artifact you can imagine is here. The cafe even features retro décor and a Woolworth-style lunch counter. Even though Feigin himself has nothing to do with the original Woolworth business, he decided not to slap some cheap hideous facade on the place. He tracked down a warehouse in New York that still had the original Woolworth gold-leaf lettering one used to see on the outsides of all the stores, imported it in and fashioned it for the front of the building, just like the old days. Still a work in progress, the museum intends to become a destination place, especially for those die-hard Woolworth fanatics.
Mike Driscoll, a travel writer based in Brookfield, Ill., has been collecting Woolworth memorabilia for 25 years. "I've always traveled to see them because of the Americana aspect," he said. "It used to be a lot of fun to go to towns like Lodi in the '70s. I would just trek through every town that I could. ... I would go to Palo Alto quite regularly. ... They all had that feeling. You just got a sense of America's past when you went there. So we used to trek to Woolworth's in every state."
Turns out Driscoll is only one of a vast underground network of Woolworth collectors throughout the United States and he says he's even traveled to Barbados and Southampton, England—places where Woolworths still actually exist. And he fully intends to visit Oxnard.
"Woolworth was Main Street America," he said. "You sort of have this feeling of the county courthouse across the street from Woolworth's when you go." There you have it. If San Jose wants to be a destination place, it needs to get some soul and build its own Woolworth Museum.
Contact Gary Singh or send a letter to the editor about this story.