05.07.08
home | metro silicon valley index | the arts | stage | review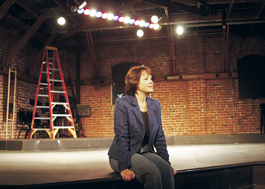 Photograph by Dixie Sheridan
HOME AT LAST: Cathy Spielberger Cassetta surveys Tabard Theatre's new space at Theatre on San Pedro Square, where the company is currently producing 'Pandemonium.'
Small Spaces,
Big Ideas
From the Pear to Tabard and Northside, the South Bay's small theaters are stretching their artistic horizons
By By Marianne Messina
THE SOUTH BAY'S small theaters and their quiet accomplishments form the backbone of the local theater scene. They make the area attractive to actors and other theater artists, not just by providing work, but by offering opportunities to try new things and expand creatively. Though small theaters generally have small money, they don't always see that as a limitation.
Diane Tasca, artistic director for the Pear Avenue Theater, enjoys the freedom of small theater. "It kind of frees us from the expectation that you're going to see lavish sets," which, as Tasca points out, "is the part that just eats up the money." Tasca actually prefers putting the emphasis on "the script, the acting, the interpretation, the directing." And the Pear audience "allows us to stretch their imaginations."
In Pear's upcoming Northanger Abbey, two archways and a few props will morph into the streets and sites of Bath, England. Tasca adapted a lesser-known Jane Austen novel, finding direction, not limitation, in the Pear's small budget. "Works in the public domain are appealing," she says.
Her script maintains Austen's witty dialogue, period language and narrative device. Characters address the audience; actors play multiple roles, another exigency of small theater that actually means meaty, creative opportunity for actors. As in the case of Jennifer Erdmann, an equity actor who appeared at the Pear while working toward equity status, small theater can forward the careers of up-and-coming talent.
"We believe in mentoring and giving people opportunities," says Cathy Spielberger Cassetta, artistic director of San Jose's Tabard Theatre Company. Created to provide theater experiences for families with children ("They're not going to see or hear anything offensive"), Tabard coincidentally provides a much-needed service to larger South Bay theaters: future audiences.
The delightful play Pandemonium, Tabard's current, all-ages production (running through May 10), is a first play by actor Susannah Greenwood (whose credits include Tabard, Pear and Northside Theatre Company). Greenwood's play about the global quest of Greek Titan Epimetheus (Nathan Zobel) to round up the escaped evils of Pandora's box strikes a nice balance between silly antics and informed wit.
During the production, Tabard's child actors freely spill onto the floorways of Tabard's new permanent venue, Theatre on San Pedro Square in downtown San Jose. Before Tabard got the contract to reside at (and manage during the summer nonprofit season) Theatre on San Pedro Square, venue-shopping for every show had became so stressful Cassetta thought Tabard was finished.
"For seven years we've been like Moses in the desert, wandering from venue to venue," she said to one Pandemonium audience. So she snapped at the chance to end the uncertainty—even though the TOSPS contract is onerous. "We got married to the venue before we had a time to date," Cassetta remarks, characteristically confident she can turn the year-round venture into a thriving arts center.
Generally, new plays are a big risk, especially for small theaters with maybe three to five available slots. Still, South Bay small theaters are taking the risks. The Pear season typically includes two slots for new work. (Jeff Carter's Homeland Prayer, about a wounded soldier returning to his family, will premiere after Northanger Abbey).
Among the new-play success stories is Northside Theatre Company's premiere of The Sugar Witch by Nathan Sanders. Northside's artistic director, Richard T. Orlando, says that his instinct told him to take on the new-play risk because in reading The Sugar Witch he could easily envision it working onstage. His instinct paid off. After a bidding war between two big publishing houses, The Sugar Witch will be issued by the Samuel French company and promoted not just nationally but globally.
"There's going to be a long life for the play that we premiered. That's really the payoff," says Orlando. "Being on that inside flap as the first place that did it, that's always nice too. ... It'll say premiered first by Northside Theatre Company in San Jose, Calif."
PANDEMONIUM plays Friday at 7pm and Saturday at 3 and 7pm at Theatre on San Pedro Square; NORTHANGER ABBEY plays May 16–June 8 at the Pear in Mountain View. See Stage listings for details.
Send a letter to the editor about this story.