05.07.08
home | metro silicon valley index | the arts | books | review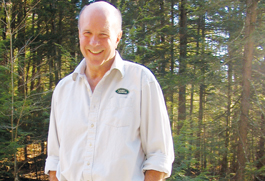 Photograph by Setsuko Winchester
BIOGRAPHER TO THE SCHOLARS: Simon Winchester specializes in the lives of eccentric thinkers.
China Hand
By Michael S. Gant
WHEN a mammoth work of scholarship is called for, we usually turn to the English. James Murray labored a lifetime over the Oxford English Dictionary, growing a Galdalfian wizard's beard in the process. Cantabridgian Joseph Needham (1900–95) spent more than 50 years producing Science and Civilisation in China, a shelf-filling masterpiece that changed the way the West perceives China. And when a biographer is needed for such scholars, there is none better than Simon Winchester, a graceful narrator of historical events who knows the value of a real footnote (the discursive kind at the bottom of the page, and not relegated to the back matter). As he did for Murray in The Meaning of Everything, Winchester introduces general readers to the remarkable achievements of Needham in his latest book, The Man Who Loved China (HarperCollins; $27.95 hardback).
Needham fits Winchester's preference for profiles in eccentricity. Not just a top-flight biochemist and embryologist, Needham was a "bespectacled, owlish, fearless adventurer—a man who, since he was also a nudist, a wild dancer, an accordion player, and a chain-smoking churchgoer, was seen by some as decidedly odd." As if that litany of personality quirks didn't suffice, Needham was also a socialist and a dedicated Lothario. His marriage to Dorothy Mary Moyle (a major biochemist in her own right) was wide open, mostly notably in the case of a Chinese scientist named Lu Gwei-djen, who came to Cambridge in the mid-'30s. Needham's affair with Gwei-djen sparked his fascination with first the language and then the culture and history of China.
During World War II, the British government assigned Needham to do diplomatic work, assisting Chinese scholars in the parts of the country not occupied by the Japanese. Based in the wartime capital, Chongqing, Needham embarked on several major expeditions during which he uncovered evidence of substantial scientific and technological breakthroughs that predated Western advances. It was Needham who established that the Chinese had led the way in a wide variety of technical and intellectual discoveries: from gunpowder to asbestos, from moveable type to the axial rudder. In 1954, after years of planning, Needham started publishing Science and Civilisation in China and "slowly and steadily managed to replace the dismissive ignorance with which China had long been viewed."
In addition to tracing the "firsts" in Chinese science, Needham also tackled the thorny question of why Chinese science seemed to stagnate around the time of the Ming Dynasty, just when European science started to accelerate. Science and Civilisation eventually proliferated to 24 volumes and counting, with 15,000 pages and 3 million words. Several collaborators assisted Needham, but the book retains his extraordinary stamp throughout.
Needham's story, encompassing history, politics (his leftist positions won him no friends in England), amor, donnish peculiarities (libertine Needham "forbade the installation of a condom-dispensing machine" in a college bathroom) and weird coincidences (a 1978 lecture in Chicago was attended by Ted Kaczynski, who may have picked up some tips on the misuse of gunpowder), settles perfectly into Winchester's comfort zone as a biographer. My only complaint is that Winchester stints the intellectual substance of the work in favor of the man's personal peccadilloes, but his summation of Needham's scholarly life is beautifully evocative for any bibliophile: "He loved his office: he loved being surrounded, almost encased, entombed, enwrapped, and swaddled by the accumulated thousands of books and stacks of papers and scrolls, and by walls that were hung with pictures and charts and maps and lined with the file cabinets, supremely well-organized, that helped him in his work."
SIMON WINCHESTER talks about THE MAN WHO LOVED CHINA on Monday, May 12, at 7:30pm at Kepler's, 1010 El Camino Real, Menlo Park. Free. (650.324.4321)
Send a letter to the editor about this story.