05.07.08
home | metro silicon valley index | silicon valley restaurants | review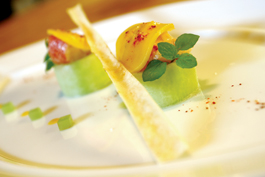 Photograph by Felipe Buitrago
T.J. COOKER: Cucumber mango lobster salad at Chez T.J.
Seeing Stars
New Chez T.J. chef Bruno Chemel has high ambitions, exciting menu
By Stett Holbrook
FOR MORE than 25 years, Chez T.J. has been one of Silicon Valley's top spots for French-inspired fine dining. Set in a beautiful historic house built in 1894, the restaurant consistently and quietly served some of the most elegant meals this side of San Francisco.
But when chef Christopher Kostow came aboard two years ago, the sleepy restaurant became a sensation. Kostow is an outrageously talented chef who took the restaurant to another level with his inventive, avant-garde brand of contemporary French cooking. When France's Michelin restaurant guide published its second Bay Area edition last year, Chez T.J. picked up two stars, one of only six restaurants in the Bay Area to do so.
Given his youth (he was only 29 when he started at Chez T.J.) and ambition, I had a feeling he wasn't going to stick around long. Sure enough, St. Helena's Meadowood restaurant, another Michelin two-star restaurant, stole him away early this year.
But the restaurant has a good shot at staying in the limelight with new chef Bruno Chemel. Chemel is a French-born and -trained chef with an impressive résumé. His last job was at La Suite in San Francisco, a restaurant that earned a fistful of good reviews. In Southern California, he was executive chef of Aqua at the St. Regis Monarch Beach Dana Point, where he earned five stars from the American Academy of Hospitality Sciences, presided over by celebrated chef Jean Georges Vongerichten. He also studied under Japanese chefs in Japan and worked as executive chef at Ambrosia restaurant in Tokyo. He opened Cliquo, a critically acclaimed restaurant in Honolulu. He received three stars from The New York Times while he was executive chef at Le Chantilly and he also worked as a culinary professor with famed chef Joel Robuchon in France.
All of which is a long way of saying Chemel has some serious chops and he aims to keep those two stars.
"That's my goal," he says in his thick-as-vichyssoise French accent. "Maybe even three stars, who knows?"
He's definitely swinging for the fences at Chez T.J. While I found some dishes too spare and cerebral, Chez T.J. remains an exciting place to eat under Chemel.
For dinner, your choices are the $80 per person menu gastronomique or the extravagant chef's tasting menu for $115 per person. Wine pairings for each go for $125 and $180, respectively.
As soon I was seated, a server bearing a brimming basket of house-made fresh baked beads arrived. The flat bread and focaccia are particularly good. Next came an array of flamboyantly delicious amuse-bouches, pop-in-your-mouth freebies to warm up your appetite. Particularly memorable was the pink beet bonbon, icy beet juice blended with whipped cream and topped with goat cheese and balsamic glazed caviar served in a light pastry shell. It's gone in one bite, but its memory lived on in my mouth for quite a while.
On both visits I ordered the menu gastronomique, a four-course meal in which you select from a number of choices for each course. From the first course, the Hudson Valley foie gras trio (which carries a $15 extra charge) is essential. The dish pairs foie gras pâté with leeks and truffles, and a foie gras torchon and sautéed foie gras with a dab of Maui pineapple marmalade. It's all over-the-top fatty deliciousness, but the quivering lobe of pan-seared goose liver was so abundantly rich and luxurious it left me lightheaded.
Another great, albeit more restrained starter is the cucumber-mango lobster salad. The buttery sweet shellfish is spooned into a hollowed-out cucumber section and topped with a little crème fraîche.
Chemel's menu is intensely seasonal and he makes elegant use of spring mushrooms in the two second-course dishes I tried. The striped bass "roti" is a small perfectly sautéed nugget of fish matched with velveteen chanterelle mushrooms and ramps, a kind of wild leek. The meaty white fish was great with the tart-sweetness of the cabernet sauvignon jus dabbed next to it.
The other standout was the scallops. The fresh day-boat scallops feel slippery and squeaky in the mouth and are a great match for the ethereal foam dabbed on top, while the thinly sliced and marinated morel mushrooms and pencil-thin stalks of asparagus anchored the dish to the earth.
While there's technique and labor behind Chemel's dishes, on the plate his food is an exercise in restraint. There's a lot of white space on his plates and he uses food as a kind of edible ink on the china canvases, dabbing a bead of sauce here and a few strands of vegetable and delicately composed meat there. Sometimes the less-is-more aesthetic could use a little more food. But when it works, the presentation reminds me of a Calder mobile with the disparate elements all hanging delicately in place.
Chemel shoots off most of his fireworks in the first and second courses. The third-course dishes I tried were good, but not as exciting as what came before. It's interesting to compare light and dark meat in the chicken and squab dish, but for me it was the jewel-like side vegetables—red spring onion, baby spinach and English peas—that were most memorable. The dry-aged Angus sirloin is OK, but even with a Szechuan peppercorn sauce it only amounts to a rather ordinary little piece of steak.
Sparks fly again with the desserts made by pastry chef and local boy Ryan Shelton. Although I found the sauce too sweet in the strawberry-almond flood, the unadvertised addition of Pop Rocks–like carbonated dust was a fun surprise. You can hear the crackle of the dessert from across the room. Best of all the desserts is the "café-chocolat," a tour of chocolate that includes a sticky rich mud pie, coffee gelée and Irish cream baba, a yeasty, moist cake.
Service at Chez T.J. is precise and efficient, but it left me cold. I don't expect a song and dance, but when you drop the kind of money you do at Chez T.J. a little warmth and personality would be nice. As it was, the grim-faced servers described and delivered each dish with all the charm of a robot, albeit a well trained one. Lighten up, guys. Eating out is supposed to be fun.
Chemel has been cooking for 25 years, and while 41 is not old, he's at the age when a peripatetic chef starts to look for a place to settle down.
"My idea is to stay here for good," he says.
Let's hope he does.
---
Chez T.J.
Address: 938 Villa St., Mountain View.
Phone: 650.964.7466
Hours: 5:30–9pm Tue–Thu and 5:30–9:30pm Fri–Sat.
Cuisine: Contemporary French
Price Range: $85–$115, without wine pairings.
Send a letter to the editor about this story.